The 'WOW' factor whacks you in the face as you enter W Retreat, Samui. A gigantic silver W shimmers proudly on the cliffside against the clear blue sea. Emerald and fuschia booths dotted in a shallow infinity pool, cup cool cocktail sippers, and downtempo beats set the mood. De Niro and Nicholson, in Pop Art guise, glance down. It could be too cool for school, but somehow the balance is right. The black clad, heavily coiffured staff might look a tad intimidating, but they're not. They chat away like you've known them for years. They seem genuine...
The stylish W brand is renowned for its quirkiness. Little well-thought-out quirks like the complimentary Sweet Spots (scattered, hidden huts stocked with Magnums, lollies, water and soft drinks for guests to indulge). How they refer to their spa therapists as Mixologists (because they magically mix essential oils). The way everything around the resort begins with the letter W; WOO this, WAVE that. It's almost like I'm being hypnotized into W land. I don't mind, I 'Well' like it here. What?
As dusk draws in, downtempo steps up. The retreat's hub, WOOBAR, transforms into what feels like a hip private members club. It's known as the coolest bar on the paradise isle of Samui and, in uniform with the rest of this resort, it's WICKED.
The Room: WOW suite 606. A HUGE apartment-suite with a full size pool overlooking the jungle. One of 75 all-pool villas, there's a separate living area with a sofa-bed, flat screen TV, a dining room and a serparate kitchen with mini bar, fridge and cooking area. The bedroom wing has a king-size bed, flat screen TV, indoor and outdoor monsoon showers and a double circular bath tub. There's a good supply of Bliss products and a turn down service with a green teddy in jim-jams...
The Spa: The AWAY Spa is set in the SPA & ENERGY building on a hillside below the WOOBAR. TONIC, the spa café sits adjacent to a stunning stone sauna room, then steps lead up to the FIRE & WATER zone with serene treatment suites surrounded by hypnotic mini waterfalls and ocean views. There's a mani and pedi suite, hair salon and spa shop and each spa treatment suite has it's own relaxation area. Spa Products: Dermalogica and house blended essential oils.
The Treatment: The AWAY massage is an anti-jet lag treatment using a choice of balancing essential oil combinations. There's a choice between Wonderfit, Wonderful, and Wonderlust. (There it is again!) I opt for Wonderlust, which is a combination of calming Ylang Ylang (a flower native to Thailand) and uplifting Passionfruit.
A Himalyan salt and eucalyptus foot scrub is followed by a stretching and gentle pulling of the limbs then a kneading Swedish massage. The treatments finish with a light Indian head massage.
Other Treatments Include: Gold Facial Therapy. An anti-ageing treatment using Gamma PGA, (which is thought to be ten times more hydrating than Hyaluronic Acid) to improve elasticity, reduce fine lines and soften the skin.
To Eat: The Kitchen Table serves a wonderful breakfast banquet, à la carte lunch and dinner. Namu for posh Japanese ocean side dining. Try the incredible lobster noodles! Snacks are served at WOOBAR and on the beach at SIP.
Prices are per person based on two adults travelling and sharing a Jungle Oasis room, price includes all applicable taxes and fuel surcharges which are subject to change. Prices are based on select departures in October and November 2013. Book by end of July.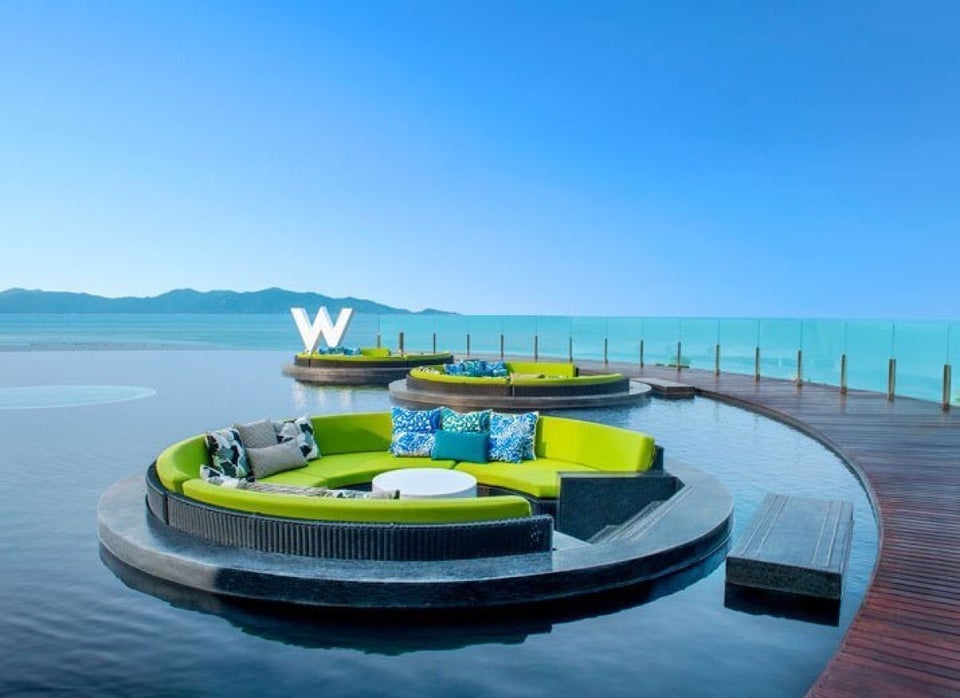 W Retreat, Koh Samui, Thailand