I love writing reviews, I really do. But this was one I was reluctant to write. No, not because it was not worth reviewing. Quite the opposite! Matakauri Lodge is SO wonderful that I want to keep it all to my selfish selfie self. But I realise that it is my duty to regale the story of my precious moments here and to tell you that this place is one of those that you will never forget and one that you will probably choose not to tell any of your friends about, because like me, you will want this place all to your selfish selfie self.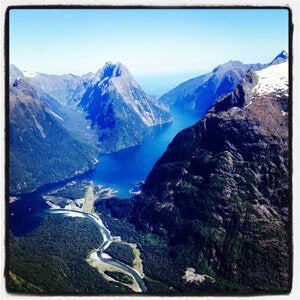 I had just spent five weeks and 1,800km driving and living in an RV the length of NZ for my new TV show. You would be forgiven for assuming that my love affair with Matakauri was borne from the fact that I was finally able to rest in something that didn't have four wheels or I had to plug in at night. But it started the moment I pulled up outside and was greeted by Stephen. I paused. Was Stephen an old school friend? An old work colleague? A distant relative maybe? No, Stephen's warm welcome and familiarity was no happenstance. Here at Matakauri you're made to feel as though you are a part of this family. A family that was created because its owner fell so in love with the 'Milton Sound' trip he decided he had to share the experience with his friends and family. And of course with the need for a place for them to stay - Matakauri Lodge was born. Sitting at the bar (which is check in, without having to check in) chatting to the friendly staff (my new family) I was expecting said owner to wander through with tea and cake in his jim jams, yet, it soon became clear that this comfortable "at home" atmosphere has been carefully planned, and you only own the gaff only when the govn'er is away.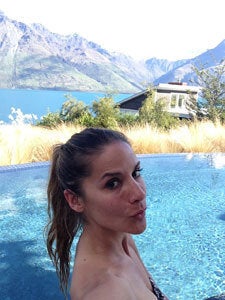 The phrase "A room with a view" doesn't quite cut it here. First of all, this isn't just a room, nor is it just a view. It's a cottage with a view that robs your breath for a fleeting moment that you think you may never breathe again. Situated on Lake Wakatipu, I almost fell flat on my face on the walk to my cottage because I couldn't look where I was going. My eyes were fixed on the Remarkable, Cecil and Walter Peak mountain ranges that wallop you in the face. This must be the kinda stuff those acid taking hippies saw in the 60's...My hallucination was to continue as I entered one of the eight precious outlying cottages, a stone's throw from the main lodge. A private porch, a walk-in wardrobe a bathroom and a bedroom with sitting area and open fireplace so large, that I could have parked the crew's eleven RV's in. But the interior designer Virginia Fisher would probably have something to say about that.
The bed was palatial, elevated up some stairs to accentuate the view (not that it needed to be accentuated any more). A mini bar stocked with quality nibbles, jars of liquorice and nuts, a TV hidden behind a picture - all very James Bond. So like Miss Moneypenny, I slipped out of something more comfortable and into the piece de resistance, an oversized tub with a window view of Lake Wakatipu, so vividly blue and green, as though a disney movie just sneezed all over it. Walt would have been proud.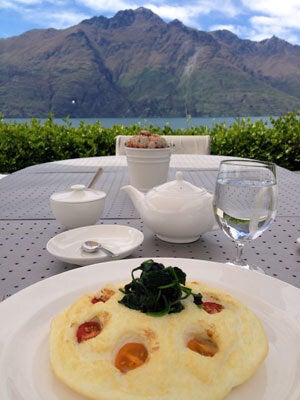 Dinner time is flexible. Like most things here, your wish is their command. When they asked in advance for my dietary preferences, who would have guessed that the chef was going to create a menu just for ME. And i mean literally. I was presented with my OWN menu. With my OWN name. It read like a what's what of Amanda Byram's favourite food. I felt like i was being seduced by Matakauri, my date for the evening. Choosing was the hardest part since all of the choices had been created for ME, Myself and I. After much deliberation I chose the Poached Paradise Prawns with coconut, cucumber and papaya salad with Nam Jim dressing. And the North Island Tarahiki fish, smoked eggplant, snow pea and spinach with caper and raisin puree. Deciding against the dessert was noted, but knowing that when a woman says 'NO' to dessert she really means 'YES'. I was handed a plate of incredible homemade chocolates to round off my date with the new love of my life. Matakauri.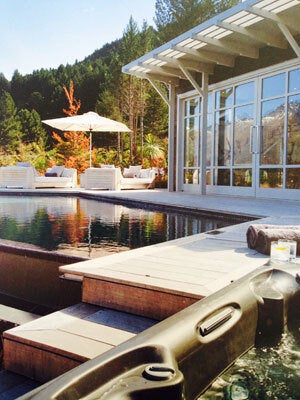 The entrance to the Spa is past the luxurious infinity pool, jacuzzi and a fully equipped gym. Scoff you may at the notion of working out in such beautiful surroundings, but that's kinda the beauty of this gym. I'm not sure the pain in your glutes will matter even if you drop a thousand squats because yep you guessed - the view from this gym will take your mind right off it and beats the sight of any 6 packed hunk or sweaty adonis. Dumbbells down and into the spa for a well deserved treatment - after 6 weeks on the road my body was screaming out for some TLC. A range of options from The Alpine Temptation, The Snowflake Massage, body wraps, massage, facials, manicures and pedicures. I chose the signature facial and back massage and drifted off midway, dreaming I had landed on the most beautiful place on earth. I awoke to realise that it was a reality.
Breakfast. A mini buffet fit for the princess you feel that you are here. Sit outside and take it all in, you just can't get enough of that lake. The govn'r may be in another flash pad elsewhere in the world, but for the time you're here, you have the key to his place. It really is a Home away from Home. And to steal Dorothy's line... There's no place like it.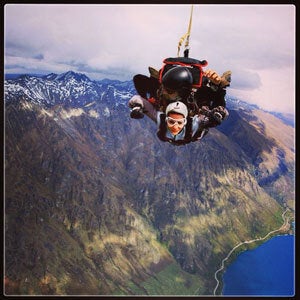 The Milford Sound fly-cruise-fly, the reason that Matakauri was born. You cannot come to NZ and miss out on this experience. A short flight in a six seater plane takes you from Queenstown to the magnificent Milford Sound over lakes, glaciers and fiords. This is the stuff that The Lord Of The Rings was made from. Literally. Once at Milford Sound a small launch cruise takes you the full length of the Sound. If you're as lucky as I was you will spot whales who swam right up to my boat. There was magic in the air that day, and I can only guess that's true to say about everyday in New Zealand. www.milfordflights.co.nz
Then for those who are looking for an extreme adrenaline buzz, I HIGHLY (literally) recommend facing all fears and jumping 134m from the Nevis bungy, like I did. Death defyingly brilliant.
And while you're at it, don't forget to throw yourself out of a plane over Queesntown. As long as you land in one piece, I promise it's an experience you will never forget. The boys at NZONE Skydive will take care of your life!
Words: Amanda Byram. Amanda's new show RV Rampage airs 26 May on The Travel Channel UK (freeview42/Sky 252/Virgin 288/Freesat 405