Don't get me wrong, holidays are truly wonderful but my skin often suffers once I'm back home.
Regular slatherings of SPF means blocked pores - my heat rash leads to blotchiness and combined with the air pressure on flight home I'm left with troublesome outbreaks. Add a sprinkling of sun damage and I'm in need of a complexion overhaul.
So praise be for ila's new range of products. After feeling the effects of a long haul flight,
I was more than happy to offer up my face in order to road-test the Brit brand's Gold Cellular Age-Restore Collection. The range of anti-ageing skincare has recently launched at Harrods and this is where I headed to give it a try.
As if walking into the luxury of London's finest department store isn't enough to make you
feel decadent, the sumptuous setting of Urban Retreat, Harrods' hair and beauty salon, gets you in the mood for some serious pampering. Add to this the promise that ila's organic skincare promises restored and youthful skin without the use of harsh chemicals, I knew this facial would be a treat.
And it is. Inside the spacious treatment room, my lovely therapist explained that ila works
on all levels - the products rebalance your chakra energy so I'd be leaving with a soothed mind as well as glowing skin. The Gold Cellular Age-Restore Collection in particular uses ethically harvested Ethiopian frankincense and a trio of pure gold minerals, which are beautifully fragrant and feel blissful.
The cleanser was applied first to remove all my make up, followed by a gentle exfoliation to remove dead skin cells and unblock pores, then a refreshing spritz of calming toner. A wonderfully hydrating mask was then applied which I could literally feel sinking in to my stressed skin. While the mask gets to work at re-hydrating, plumping and firming, a deeply relaxing head massage melts away any remaining tension. So relaxing, in fact, that I nodded off half way through and woke to smooth, hydrated skin.
I strolled out on Brompton Road feeling totally rejuvenated - fresh-faced, spoilt and wonderfully relaxed. This facial really was the perfect antidote to my post-holiday breakout - blocked pores, puffiness and stressed skin, be gone!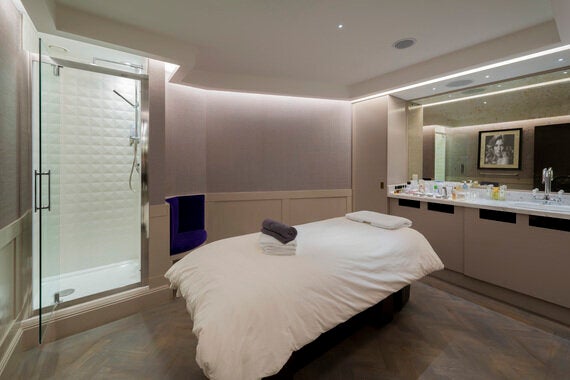 ila's Gold Cellular Age-Restore Collection is available now at Harrods.