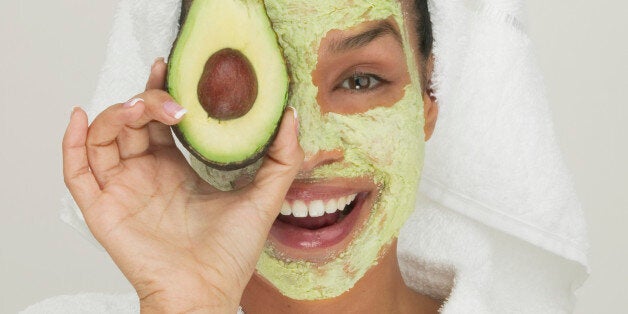 Problem skin can have an incredibly negative impact on the way we feel - prolonged problems can cause low self esteem, anxiety and sometimes, in extreme cases, depression. The last thing we need are false, often expensive, 'quick fix' promises (and there are a LOT of them out there). Can a good facial really help improve problem skin? We sent some stressed, hormonal, blotchy, pimpled and generally 'fed up' spies to investigate. Here are their our top five finds:
1. The treatment: Bliss No 'Zit' Sherlock with peel
I had initially booked in for Bliss' 'Steep clean' facial, but after an analysis of my skin, my therapist advised that the 'No 'Zit' Sherlock' treatment would be better for my specific problems: nasty pimples, milia (white spots that hide under the skin's surface) and some black heads. This is one of the great things about Bliss: the staff will guide you from what you think you need to what you actually need. The all-systems-go facial began with full cleanse and exfoliation, and then my facialist applied Bliss' famous oxygen mask - having your faced wrapped in cling film is slightly odd, but this alternative to steaming leaves skin soft and pores open, ready for extractions. Of which there are quite a few. I then had the peel - which fizzed on my face, and was a bit tingly - but it is a real spot buster. A few days later, my skin was clear. A calming mask was applied next and I was treated to a shoulder massage. The treatment is quite full-on, but because the harsher elements are combined with soothing creams and excellent massage, jittery spot-prone skin will not come away feeling sensitised. Recommended products for my skin included the Alpha Beta spot treatment and the Steep Clean mask.
It was all capped by the really excellent changing room facilities at the Bliss spa: there are hair straighteners, hair dryers, deodorant, a variety of Bliss creams and washes, and even contact lens solution.
Those with frequent break-outs in certain areas - my spotty chin was clear a few days post-treatment. If you have particular problems with black heads, you might opt for the 'Steep clean' treatment instead.
a) it works and b) it is targeted - my therapist honed in on my problem areas (that darn chin).
No 'Zit' Sherlock facial with peel, 75 minutes, £145
Bliss Spa, 60D Sloane Ave London, SW3 3DD
The Bliss website says this treatment is not recommended for those who are pregnant, using Retin-A, Accutane, Avage, Tazorac, Differin, have had recent laser or plastic surgery, or are sunburned.
2. The treatment: Eve Lom Signature Facial
The whole experience of Eve Lom's Signature Facial at SPA NK was deeply soothing as well as results-focused. I arrived at the sweet-smelling branch of Space.NK in Notting Hill and was led down to the even more mellifluously scented spa area. Warm treatment bed beneath me, the facial began with an analysis of my skin: my therapist, Ashleigh, noted that my break-outs seemed to be hormone and stress related (not uncommon). The Eve Lom products used during the treatment really were sublime: delicately scented, deeply cleansing and all in all really excellent. Ashleigh applied Dynaspot, Eve Lom's targeted spot cream, which contains antiseptic tea tree oil and salicylic acid to promote healing and fennel and chamomile to tackle inflammation - indeed, spotty skin is often sensitive, and I was really grateful for the use of products that acknowledge this. The extractions were done carefully and thoroughly with minimal redness following the treatment. The lymphatic massage and acupressure left my face well-sculpted and my cheeks lifted.
To top it off, the back, neck, shoulder and arm massage that accompanied the treatment was really memorable: my therapist tackled knots in my neck that dedicated back treatments have failed to address in the past. I was sent away with recommendations to deep cleanse the face morning and night and use the clay-based Eve Lom Rescue mask once a week.
Recommended for all skin types, the Eve Lom Signature Facial is perfect for those wanting deep relaxation as well as very clean skin. If you don't have spots but have other skin problems, such as dryness, redness or oily patches, the treatment will be tailored to meet your needs.
The massage rivals those you'd get if you booked in for a back treatment - this is a facial with bells on.
Eve Lom Signature Facial, 90 minutes, £120
SPA NK, 127-131 Westbourne Grove, Notting Hill, London, W2 4UP
3. The treatment: Dynasty Clinic facial
In the City of London, the Dynasty Clinic came highly recommended by friends as Mecca for problem skin sufferers. Since I came off the Pill five months ago, what started as one pimple soon became a swarm of painful, angry spots across both cheeks and chin. My confidence was dwindling.
Having had severe skin problems herself and finding little solace, clinic founder Jenny Harding has learnt and used her own techniques in the battle against acne. All of the products she uses are also her own creations, mixed by doctors.
Testament to this is her beautiful skin - like that of a china doll. I was despairing and despondent, but Jenny reassured me that my acne could be cured following her regime.
Jenny removed all of my make-up and cleansed my face. Whoever said beauty is pain wasn't lying - for the next hour my spots were scraped, squeezed, pierced and rid of the grime that was inflaming my overly hormonal skin.
Following the extractions, a gloopy enzyme masque was applied to my sore face, and my freshly empty pores were tightened under this thick creation. Whilst previous patients haven't been keen on this stage, I quite liked it.
One week later, and taking Jenny's advice, I went to get a doctor's prescription for Minocin, the acne antibiotic. I am following her other instructions to the letter - cleansing twice each morning and night with Dermagel, using a clean flannel each time. The battle against my acne has begun and I look forward to my next appointment with Jenny.
Serious, targeted treatment of skin suffering the consequences of fluctuating hormones.
I left the clinic with a pink blotchy - but squeaky clean - face, lots of pots of Jenny's creams, and a fresh new outlook. The next morning my angry skin felt flatter and calmer than it had in months, I couldn't wait to contact Jenny (as she had requested) to tell her about my skin's rapid improvement.
Dynasty Clinic Facial, 120 minutes, £80
Dynasty Clinic, 4th Floor, 65 London Wall, London, EC2M 5TU
4. The treatment: SkinBreeze Facial with Debbie Thomas at Hari's Salon
The SkinBreeze facial is a no-nonsense treatment for damaged, scarred and acne-prone skin - and delivers great results. The treatment is based on a four-step formula - consultation, cleanse and tone, treatment and targeting, and moisturise and SPF - and involves microdermabrasion using an orbital rotating hand piece that massages and soothes the skin, as well as exfoliating to a depth tailored to your needs. It is good for problem skin because it involves crystal-free microdermabrasion, lessening the risk of sensitisation.
Leading celebrity skin care expert Debbie Thomas performed my treatment at Hari's salon, in Knightsbridge, and I knew I was in safe hands. She immediately spotted my spots (sorry) and explained the potential causes (excess sugar intake, hormones, stress) - and lifestyle changes I could make to prevent them - without making me feel small.
I have had microdermabrasion previously and I felt it had left my skin sensitised, but I was impressed with the SkinBreeze formula that involved a round head being passed over my skin. Rather than painful, it was relaxing. A blue LED was passed over the skin: apparently, spots don't like blue light, so exposure is one tool in the arsenal against pesky pimples. Next, Debbie applied SkinBreeze serums - again, tailored to my skin's needs - and deployed a device that shot an oxygen infusion into my skin, to better aid the absorption of the serums.
A calming mask and massage - using the microdermabrasion tool with a different head - followed and the vibrations made my skin plumper and left my cheeks glowing.
Extractions do not form part of the SkinBreeze treatment at every salon, but Debbie incorporates them. Her technique was second to none, using a small tool that led to minimal redness, and enabled her to remove the very smallest of blackheads.
Post-treatment, my skin was so smooth that my glasses kept sliding off my nose, and a week or so later, none of the spots that Debbie had eliminated had returned.
Really excellent results on a variety of skin problems - the LED used can be altered depending on whether clients are seeking to repair wounds and stimulate collagen (red light) or tackle acne and calm the skin (blue light). What is more: the treatment lasts just an hour - a benefit for those with busy schedules.
This is a serious treatment for serious skin problems but Debbie offers it with a smile and I really got a sense that my skin was in safe hands.
SkinBreeze facial, 60 minutes, £185 with Debbie Thomas or £145 with a senior therapist.
This treatment was performed at Hari's salon, 305 Brompton Road, London, SW3 2DY
5. The treatment: [comfort zone] Active Pureness Rebalancing facial
At the Ena Salon in Holborn, the [comfort zone] Active Pureness Rebalancing facial is ideal for those with unpredictable skin (yes, I raise my hand in admittance of this here), who are looking for results without harsh treatments. The products used are gentle yet effective, and include white peony, for its anti-inflammatory properties.
The facial began, as do all [comfort zone] treatments at the salon, with a 'tranquility welcome ritual' - an inhalation of the brand's deeply relaxing Tranquility oil blend, containing rosewood, vanilla, rose, cedar and orange. Then came a thorough cleanse and the treatment continued with a gentle exfoliation; after each stage the products were wiped away with warm flannels. There were no extractions, which might mean this treatment doesn't feel "vigorous" enough for some, but for those with a real aversion to therapists literally getting underneath their skin, it would be ideal. The best part was the uber-thick, cooling mask applied after the exfoliation and targeted treatments: my therapist peeled it off in one go once it had set, which was very satisfying, and I really felt it drawing out impurities and excess sebum from my skin.
The Active Pureness products specifically used in this Rebalancing facial include extracts of sage, balm mint and orange fruit water, and made my combination skin (spots here and there, patches of dryness with an oily T-Zone) feel, well, rebalanced. The final application of the brand's Hydra Fluid moisturiser kept my skin shine-free but well-hydrated for the rest of the day.
Those looking for an alternative to every oily/combination skin line aimed at teenagers - these are problem skin solutions for grown-ups.
Comfort Zone products can be bought at the salon to complement the treatment.
Comfort Zone Active Pureness Rebalancing Facial, 55 minutes, £75
Ena Salon, 5 Great Queen Street, Holborn, London, WC2B 5DG
Related