With nominations for the Women of the Future Awards now closed, and the announcement of the shortlist imminent, previous winner, judge and founder of international nail brand, Nails Inc. Thea Green, explores what makes a successful businesswoman and why today's rising entrepreneurs are the ones to watch.
"What does it take to be a successful entrepreneur?" After leaving my job in journalism to launch Nails Inc in 1999, it's a question I've been asked countless times, and I suppose, given that the business started from scratch and now has over 59 UK outlets and a strong international presence, I should be pretty qualified to answer. But the simple answer is - there is no magic formula and even now I'm learning something new about running a business- being an entrepreneur is a constant learning curve.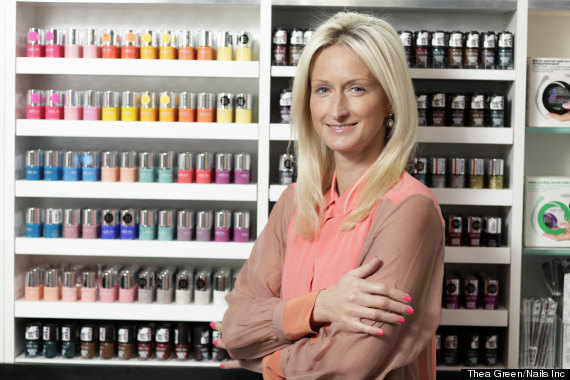 Thea Green, founder of Nails Inc
At nails inc we work really hard to maintain our market leading position through constant product innovation and providing the best possible customer service. It's what helps us to remain one step ahead of the competition - knowing what our customers want, even before they think it. Inevitably you spend so much time focusing on your own business and growing it that sometimes you forget how important it is to share ideas, information and experience with other entrepreneurs. I have always placed a lot of importance on meeting other businesswomen, not just ones who have more experience than me but new entrepreneurs who are so original in their ideas, they are reshaping my vision of what it means to be successful on a daily basis.
Being an entrepreneur means you have a huge personal investment your business. It's your dream. And when you have put your heart and soul into something to ensure it is successful as possible. Which is why, when I won the Entrepreneurial Woman of the Future Award in 2010, I was hugely humbled and honoured - it was a nice reminder that clearly I was doing something right.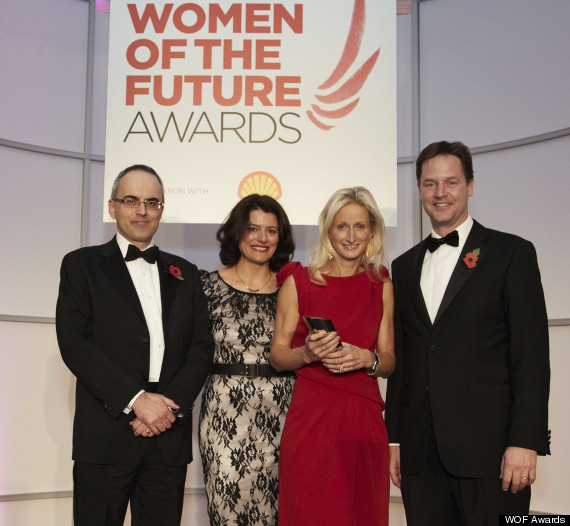 Thea at Women of the Future awards with (l-r) David Harrison, vice president of Visa Commercial, Miriam Gonzalez-Durantez and Deputy Prime Minister Nick Clegg
Throughout the early stages of my career, strong and ambitious women were my role models. If I could achieve half of what they had, then I'd be happy, so being placed in the same bracket as them, and being told that, as a Woman of the Future, I too am a role model for young women, was a real highlight in my career.
But aside from the external recognition for me and the whole nails inc team, the Women of the Future Awards held in association with Shell, provided me with something I hadn't anticipated when I first received my nomination - the chance to meet some of the rising generation when I was invited to return as a judge of the entrepreneur category in 2011. It never fails to amaze me what a wealth of talented young businesswomen this country has to offer and I find that I am increasingly inspired by these new pioneers.
In an ever changing market-place and an undoubtedly tough economic environment, it's crucial that aspiring entrepreneurs move with the times and continually develop new and dynamic ways to capture the attention of their target audience. Last year's entrepreneurial candidates employed a multitude of creative methods to lift their businesses off the ground and frankly, their innovation and originality completely bowled me over.
I was captivated when I heard how Hayley Gait-Golding, founder of healthy snack range, BEAR Nibbles sold her own house and moved back in with her parents to raise the start-up capital needed to fuel her dream. Her resourcefulness and determination to stop at nothing to achieve her goals was so refreshing and something I felt I could identify with. From speaking to Hayley for just five minutes, it was clear to me that she eats, sleeps and breathes her brand, and with such a level of dedication she undoubtedly has an extremely successful path ahead of her as an entrepreneur.
Alyssa Smith is another young business owner who promotes and markets her bespoke jewellery collections with such an abundance of energy and passion it's infectious. After meeting at last year's judging day, her drive and enthusiasm for her products was so apparent I was compelled to buy two of her popular 'tweetie' necklaces on the spot.
Likewise, I was hugely impressed by fashion designer, Alexandra Popa. Her range of beautifully designed, yet ever-so-slightly raunchy, lingerie collections were born out of her own desire to shake up the women's intimates industry. The brand has been breaking boundaries in underwear ever since its inception in 2007 and Alexandra's fearless attitude and unapologetic desire to make change happen underpins every level of her boundless success.
So the question still remains: "What makes a successful entrepreneur?"
There is a whole host of skills and attributes that come in handy when running your own business and even the most experienced entrepreneur will always be faced with challenges. But one thing is clear, role models are crucial when searching for inspiration and tomorrow's generation of businesswomen is a rich and plentiful source.
Thea Green is a former winner of Women of The Future Awards.
For more information click here.
The awards ceremony will take place at the London Marriott Hotel Grosvenor Square on Tuesday 20 November and is hosted by Real Business in association with Shell.