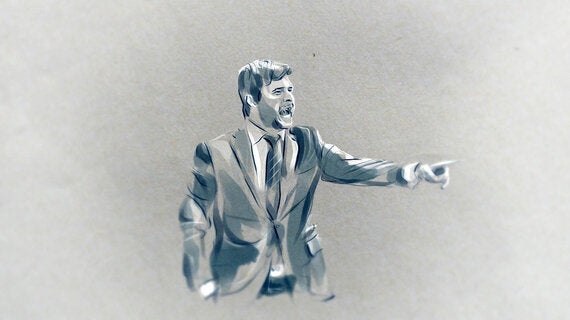 Pochettino yet to define a first eleven from Tottenham's big and ordinary squad. Illustration Richard Swarbrick.
Tottenham lost three nil at Chelsea but was it really that bad? They had 61 per cent of the possession and almost as many shots as Chelsea and they were definitely the better side for the first quarter of an hour. And yet, somehow, Spurs were never really in it. Very good sides - and Chelsea are most definitely that - play with total conviction. This game was over before the teams came out of the tunnel because the result had already been determined in the players' minds. All those in blue shirts played like they knew they were going to win. All those in white played like they expected to lose.
Except Harry Kane. Once again the young man from Chigwell completely outshone his more illustrious and better paid teammates by playing with conspicuous courage and creativity. The contrast between him and 26 million pound Erik Lamela is particularly striking. The Argentinian did almost nothing of any positive consequence all night before his surprisingly late substitution. One paced and one footed, it's now hard to resist the conclusion that the reputation he arrived with was only so prodigious because it was built in a league where ponderous is the default tempo. He tends to do better in Europa League games where the opposition is more Italianate, but he has found it impossible, so far, to adapt to the relative freneticism of the Premier League where he hasn't managed a single goal (let alone a ribena, or whatever it's called).
Chelsea have better players than Spurs because Spurs are run like a business, by a business and Chelsea are run like a train set by a billionaire. So Spurs losing at Chelsea is like the proverbial bear defecating in the forest. It happens. There's little point in getting all mopey and introspective about it. The important question is whether the team can withstand the psychological damage. The rare good performances this season, like QPR at home and Arsenal away, were not followed by an upsurge in form and confidence. Crystal Palace - not a good side - come to visit on Saturday in a game Tottenham must win if they aren't to throw away the promise of last Sunday's impressive victory over Everton .
Pochettino is still struggling to define a first choice eleven from his big and frankly ordinary squad. His decision to drop Soldado after his collector's item goal against Everton was eyebrow-raising but few managers will tip up at Stamford Bridge playing two strikers so either Kane or the Spaniard were always likely to be left out. The fans disgruntlement at Soldado's omission was mild compared with the ire that Kane's demotion would have sparked.
We can expect Soldado to return on Saturday and the reintroduction of Kyle Walker would also be welcome given the inadequate displays we've seen from various stand in right backs this season. Two home league wins in a row would break new ground for Tottenham and restore confidence ahead of what looks like an increasingly pivotal game, the League Cup quarter final with Newcastle. A win in that one would leave Spurs just two games from Wembley while a good result in the upcoming away game at Besiktas would mean a favourable draw in the first knockout round of the Europa League in the new year. Like Erik Lamela, Tottenham look likely to have their best moments in the cups this season.