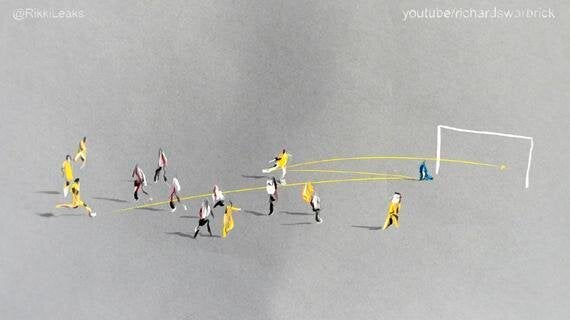 Last January Spurs visited Swansea and played an in form Emmanuel Adebayor up front with Christian Eriksen just behind him in the number ten role. The result was an exhilarating attacking performance in which the Dane tormented the hapless Swans from start to finish and Spurs ran out easy three-one winners. But since then Eriksen has only been picked in a central position a handful of times. In fact throughout his time at Spurs, he has been shunted out wide to accommodate lesser talents, first by Andre Villas Boas, then Tim Sherwood and now Mauricio Pochettino.
On Sunday Spurs returned to Swansea and, in order to include both Roberto Soldado and Harry Kane, Pochettino started Eriksen on the left. Even when the Spaniard was withdrawn after another futile display, the manager stuck his replacement, Dembele, behind Kane in the centre. But in the game's closing stages Eriksen unshackled himself - whether or not it was with the boss's consent we do not know - to roam menacingly around the Swansea half and he immediately became the game's pivotal figure. Watching him prowl the final third, pinging passes around, probing for an opening, the prospect of his fashioning the chance or scoring the goal that would plunder the points seemed like a growing inevitability. And so it proved.
There were one or two other good Tottenham performances in the two-one win. Harry Kane and Kyle Walker's efforts were Herculean and Hugo Lloris and Ben Davies emerged with credit too. But Christian Eriksen is time and again proving to be a cut above. It was his corner that landed on Kane's head for the first goal and his unerring shot inside the near post that stole the three points, just as a similar strike had at Hull City three weeks before.
Like Tottenham's other prominent performers, Eriksen is industrious but he also has extraordinary vision, a deft touch, an uncanny ability to select the correct pass, accurate dead ball delivery and a lethal shot. In terms of technical quality he is easily the best central midfielder Spurs have had since Luka Modric.
Somehow, despite all the moaning, the turgid play, the ordinary players, Franco Baldini, Poch's accent and the small pitch, Spurs are just four points off the top four, two points behind Arsenal, three clear of Liverpool and still in all the cups. But without Eriksen, the picture would be a good deal less rosy.
In October there was talk of Tottenham offering him an improved contract to run beyond the current one that expires in 2018 but it came to nothing. More recently, there have been rumours of deep-pocketed Paris Saint Germain taking a keen interest in him. Two things need to happen with Eriksen. The first is to grant him the roaming playmaker role that the divine Glenn Hoddle once performed with such show-stopping Godliness. Permanently. And the second is to give him a whopping pay rise. Like Bale before him, he's proving to be a regular source of unlikely league points and, with the rest of the team somewhat prosaic in comparison, his contribution is priceless.
Related