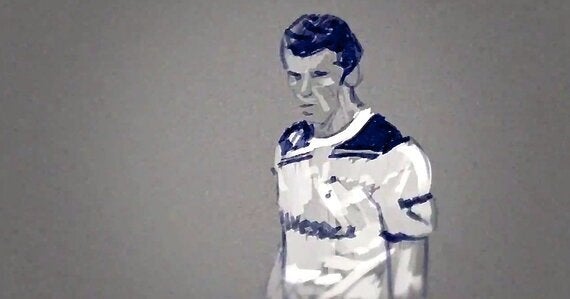 Gareth Bale, one of the stars of Redknapp's thrilling Tottenham side.
(Illustration by Richard Swarbrick)
Two games into the new season, is a pattern emerging? Half way through Tottenham's Europa League game on Thursday night at little AEL Limassol things looked very bleak. Outplayed and a goal behind with expensive misfits like Soldado and Paulinho looking particularly pusillanimous, social media was crawling with doom-mongers and budding Poch-outers. But the manager's half time team talk and a couple of well-judged substitutions somehow turned the whole thing around just as they had on Saturday at West Ham and another unlikely but ultimately deserved away victory resulted.
Apart from the head coach's flair for game management, there were one or two other reasons for cheer. Harry Kane continues to look useful, Lloris was brilliant again and best of all, Erik Lamela came on and changed the game. The enigmatic Argentinian, who had cut a frustrated figure on Saturday, was suddenly a picture of potency, merrily opening up the Cypriot defence like a tub of humus to tee up Soldado and then Kane for two top class finishes.
Last Autumn, Lamela performed similar Europa heroics against Sheriff Tiraspol only to be confined to the bench in the subsequent league game with Newcastle at the Lane. It seemed crazy at the time not to allow him to build on his new found confidence and his season went down hill from there. Surely Pochettino won't repeat AVB's mistake; after all he started him at West Ham and, having only played the last half hour in Cyprus, he should have legs fresh enough to set about roasting a less than lithe QPR defence on Sunday lunch time. If he's in the mood that is.
The great sub-plot in Sunday's encounter is the return of not one but two prominent members of the Managers Sacked By Daniel Levy Club. Glenn Hoddle, a man whose bullet proof deity-status among the fans was hardly dented by his uncelebrated stint in the hot seat, can expect a hero's welcome. Harry Redknapp's reception may be more mixed despite the fact that most of the on-pitch memories of his three and a half year reign - including a roller coaster ride in the Champions League - are close to golden. Redknapp's best sides contained the likes of King, Modric, Van Der Vaart and Bale and attacked with thrilling and sometimes reckless abandon. The teams that have graced White Hart Lane since have been bromidic by comparison so some polite applause is probably the least he deserves.
If Pochettino is to match or better Redknapp's achievements, one of the first things he needs is a successful conclusion to this transfer window. If he can bring in the centre back (Fazio?), the midfielder (Schneiderlin? Fellaini?) and the forward (Remy? Welbeck? Destro?) he craves he'll have a team he can start to call his own. But with the squad already full to bursting, others will have to leave first and offloading highly paid, declining professionals with long contracts is difficult, although at the time of writing Michael Dawson's move to Hull looks like it could be back on and young Tom Carroll's just left for a loan spell at Swansea. And of course, if all else fails, Arry's usually willing to take a couple of players off our hands come deadline day.
Popular in the Community