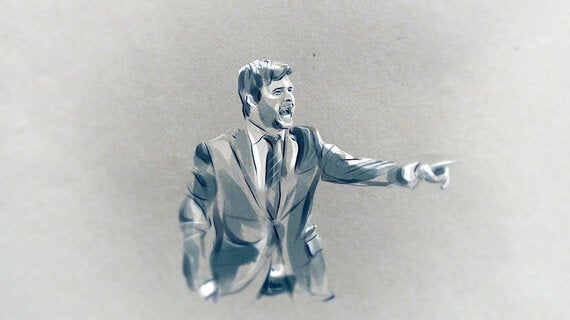 Mauricio Pochettino is exactly what a highly paid coach should be. Illustration by Richard Swarbrick.
And it never really began
But in my heart it was so real
Last weekend's home defeat to Aston Villa put Spurs fans out of their misery. A draw or a scraped victory might have prolonged the false hope of getting into the top four; now at least all hope has been laid to rest for another season.
Many of those who had to witness Tim Sherwood's grotesque victory grin spent the aftermath roaming the internet nominating culprits. Prominent among them was manager Mauricio Pochettino, hailed as the new messiah in the heady days of January and February, but now the subject of caustic revisionism.
Two weeks previously five Tottenham players were called up to the England squad and while Kyle Walker and Andros Townsend were not new, if you had suggested last summer that Danny Rose, Harry Kane and Ryan Mason would get call ups before the season's end you would have been thought barmy. Nothing should dilute the acclaim they deserve as individuals, but their extraordinary rise must be credited in large part to the remarkable work of their boss.
Anyone who thinks Pochettino has merely been lucky to turn up at a time when these players have started to excel should glance at what he did at Southampton. In the time he was there he turned a bunch of largely uncelebrated professionals into big stars. Luke Shaw, Adam Lallana and Ricky Lambert became England internationals and got dream moves to big clubs as did Dejan Lovren and Callum Chambers.
The truth is Pochettino is exactly what a highly paid coach should be but so few are - someone who helps players extract the maximum level of achievement from their innate talent for the benefit of the team. This not only makes him the kind of boss players want to work for, but also the sort of custodian club owners dream of. You would have got nothing more than loose change for Rose, Mason and Kane at the start of the season. Now they are worth upwards of thirty-million quid, which is why Daniel Levy spends much of his working day pinching himself.
Pochettino has over achieved with a squad bloated with overpaid egotists and his work will be easier when the bulk of the old guard has been offloaded. Silky ball players Alex Pritchard and Tom Carroll will return from good loan spells at Brentford and Swansea for the start of next season and wunderkind Dele Alli will arrive at White Hart Lane from MK Dons. These are just the sort of young players that Pochettino brings on. Meanwhile Paul Mitchell, the uber-scout poached from Southampton, may be able to add more low profile talent that could benefit from the Poch effect. Hell, he might even get Erik Lamela firing.
With a new stadium to be paid for, transfer funds will be tight in the coming seasons so Pochettino looks to have arrived at exactly the right time. Those who doubt his powers should look at the progress of Shaw, Lambert, Lallana, Chambers and Lovren since they stopped working with their old boss. In every single case it has stalled.