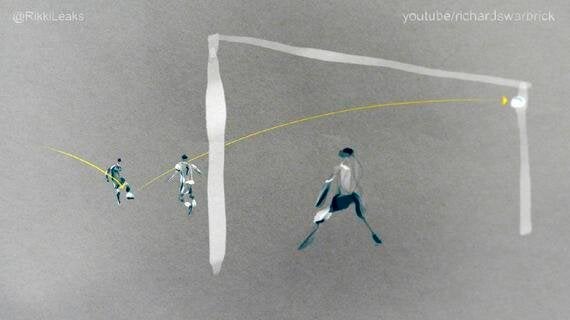 Erik Lamela scored the kind of goal against Burnley he's previously saved for internationals and cup games like this wonder strike for Argentina against Germany. Illustration Richard Swarbrick.
An away win at high flying Swansea, an emphatic cup quarter final victory over Newcastle and, finally, the defeat of a lowly premier league team at home after the debacles against Stoke, West Brom and Palace have meant that Christmas has arrived slightly ahead of schedule for Tottenham fans. And yet, despite three good wins in six days, it is results elsewhere that are really engendering the festive cheer. Manchester United's failure to beat ten man Aston Villa confirmed suspicions that despite an impressive recent points haul, Van Gaal's men are yet to click. Similarly the game at Anfield between Liverpool and Arsenal demonstrated that neither side is particularly formidable. Liverpool outplayed a flaccid Arsenal throughout but lacked conviction in the final third and were grateful in the end for their snatched point.
No regular Spurs watcher would claim that the Lillywhites are firing on all cylinders either but they are not playing any worse than their main rivals for the Champions League slots that we all assume will remain after Man City and Chelsea have bagged the top two places. And they are improving. Eriksen started the season slowly but is now looking like one of the Premier League's best creative midfielders again while Harry Kane has gone from youth team understudy the verge of the England squad. Even Erik Lamela is getting better. His goal against Burnley was the kind of sublime strike he's previously reserved for Internationals and cup games - on Saturday he actually looked like he might start to do some damage in the League.
At the back there are reasons for cautious optimism too. Walker and Davies look like a high quality pair of full backs and Vertonghen's partnership with Fazio, who seems to have settled after some calamitous early season decision-making, is coming along.
The potential down side to putting a run together at this time of year is that It can make it difficult to persuade the chairman to spend money on new players. But Daniel Levy's most recent signing is celebrated super-scout Paul Mitchell - 'head of recruitment and analysis' - so you'd expect some movement in the transfer market, otherwise why get him? Kane's form has made the requirement for a new centre forward seem less pressing than it was but even the most ardent Soldado supporters have given up hope on his ever becoming a regular Premier league goalscorer and Adabeyor has faded away into the background again, this time perhaps permanently. If Levy could prize away, say, Berahino from West Brom or Bony from Swansea he might be tempted to invest. An experienced Premier League centre half and a high quality engine room man like Villa's Fabian Delph would not go amiss either. But recent history tells us that players will only arrive if the necessary money can be raised by sales, so much will depend on whether Levy can offload players like Paulinho, Adebayor, Dembele and Soldado at good prices.
Fringe candidates for the top four like West Ham and Southampton may fall away due to their comparatively small squads and Everton just don't look good enough. Arsenal are a team that will turn up intermittently and accumulate points accordingly.
Some sides play well before they begin reaping the points they deserve - by all accounts Liverpool have started to look good without getting the results - while others grind out the points and use the resulting confidence to eventually ignite the latent flair and potency in the team. It could be that both Spurs and Manchester United fall into this category.
Tottenham will go to Leicester on Boxing Day game as firm favourites and two days later they'll have a chance to measure themselves against United at White Hart Lane. If both teams take the field on the back of victories, maybe they'll click at the same time. Could be quite a game.