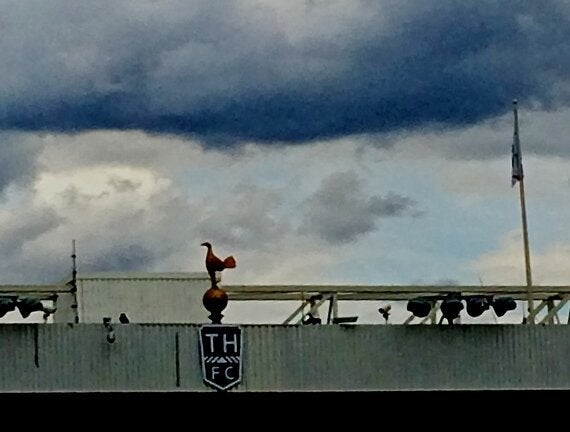 Storm clouds are gathering at White Hart Lane
Two or three times this season, Tottenham fans have kidded themselves that their team is better than ordinary. The most recent occasion was following the exuberant victory over Everton just six days before Saturday's game against Crystal Palace. 'We beat Everton, we played well, we really are a good side after all' went the thinking. Three days later Spurs were swatted aside by Chelsea and then they were outplayed on their own ground by a Palace side who'd just lost at home to Aston Villa.
Ask Everton supporters where they are right now and you'll hear the same degree of alarm you would get from any Spurs fan. They consider their team to be going backwards and many see manager Martinez as a charlatan who is being found out. Maybe this explains why their defeat was just the latest false dawn for Tottenham. Following the early season victory over QPR there was real optimism but QPR have gone on to lose every single away game they've played. After the gritty display at the Emirates it seemed like a corner might have been turned but its now clear that Arsenal, more than ever, are lily-livered lightweights with no stomach for a fight.
Not one decent Premier League side has turned up at White Hart Lane this season and been outplayed. Some - West Brom, Newcastle, Stoke - have come with modest reputations and left with three points and no one who attended Saturday's 0-0 draw could have complained if Palace had done the same. The Spurs fans watch one degradation after another and ask, 'how can these lesser clubs, with their inferior players, keep bettering us?'. But the question is flawed. They do not have inferior players. Bojan, Shawcross, N'Zonzi, Berahino, Lescott, Bolasie, Zaha, Jedinak, Hangeland, Sissoko, Tiote, Coloccini etc: they'd all stroll into this Tottenham team.
Ordinary sides that are well organised and full of commitment can achieve things. Managers like Sam Allardyce and Tony Pulls have built successful careers demonstrating this. But ordinary sides who lack cohesion and motivation get relegated. Towards the end of the Palace game Spurs' players were, once again, all over the place; no ideas, no belief, no precision in passing or thought. Even the previously fired up youngsters Bentelab, Kane and Mason seem like they've been sucked into the morass. Eriksen, the one genuinely classy outfielder Spurs have, looked increasingly forlorn as the game wore on.
Mauricio Pochettino came with a reputation for being able to organise and motivate players that weren't necessarily superstars. We're still waiting for him to do that at Tottenham and if he doesn't hurry up this bad situation could get a lot worse.
Things can turn around - look at Newcastle. They were a laughing stock a few weeks ago and now they're flying. Allardyce has affected a similar transformation at West Ham. It can be done and sometimes something clicks just when the fans are least expecting it. It's hard to imagine expecting it any less than we do now.
Image copyright Theo Delaney
Popular in the Community