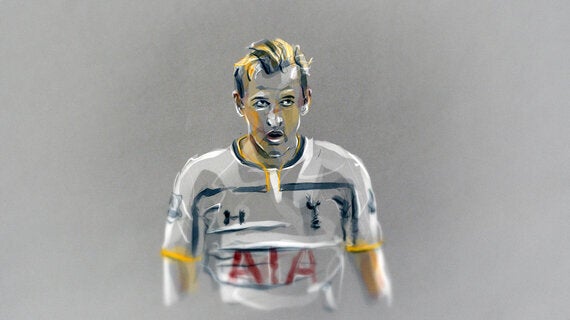 Harry Kane scored yet again for Spurs in the Europa League but will he start against Stoke City on Sunday? Illustration by Richard Swarbrick
Such is Spurs fans' nervy state of mind that before Andros Townsend smashed home his self-earned penalty on 35 minutes in the game against Asteras Tripolis they feared another humbling might be imminent. Despite Tottenham's 75% possession, the familiar meandering, fruitless build ups made for uncomfortable and uninspiring viewing.
Of the illustrious, international maestros starting in the attacking midfield berths, it was England's Townsend who looked the least ineffectual and after his nicely shaped cross was nodded home by Harry Kane for the second goal, it should have been plain sailing. Instead, the second half saw the home side spurn a succession of chances before converting a late penalty forcing Spurs to hang on for the 2-1 win and fully justifying the continuing apprehension of the fans.
Quite why Tottenham Hotspur find themselves in the kind of morass where they struggle to beat a team with a 7,000 seater stadium continues to be the subject of tortured debate among the faithful. Is the problem psychological or are the players just not very good? Those who think it's the former blame the manager for failing to organise and inspire his expensive personnel. Those who cite the latter point fingers at chairman Levy and his sidekick Baldini for buying footballers that are mediocre.
Back in the Premier League, every game seems like it's a high stakes affair for the manager mostly because the last eight have produced just two wins. Leading up to the visit of Stoke on Sunday the big question was supposed to be who would be selected to play up front but, while Kane and Soldado laboured in Greece, Adebayor had his feet up in London so it looks like he'll get another chance to get his finger out. It's still possible, however, that Kane - the people's choice - might be deployed behind him in a second striker role. If so we may see Eriksen, who was withdrawn at half time on Thursday, dropped for the first time this season.
Of course the more optimistic types will tell you that both players and manager are actually of the highest calibre and it's just a matter of time before they click and start to produce fluent, joyous football that will propel them into the Champions League, bagging a cup or two along the way. At least this used to be the view of the optimistic - it's now increasingly regarded as the outlook of the delusional.
But you never know. Despite the prevailing gloom, Pochettino's record is ten wins and four defeats in all competitions so far. He remains in both the League Cup and the Europa and just three points off fourth place in the League, well positioned in a chasing pack that contains Liverpool, Everton and Manchester United. If he can achieve all this with a sluggish, misfiring squad, imagine what he'll be able to do once he's got them finely tuned and boosted by a couple of astute signings in January. There's always a bright side if you're prepared to rummage around for it.
Popular in the Community