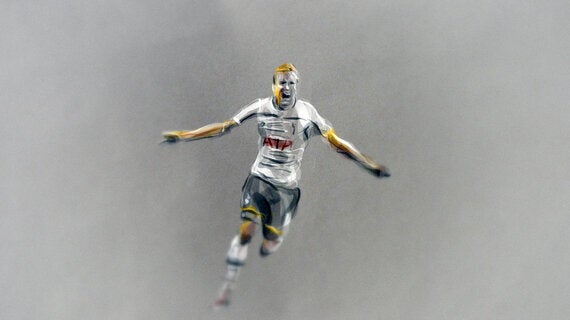 Harry Kane needs to play up front as Tottenham's lone striker. Wednesday night's game against Sheffield United confirmed what Saturday's against Sunderland had strongly suggested, that right now Kane is a much better centre forward than either Roberto Soldado or Emmanuel Adebayor and to play him out of position in order to accommodate either of them does not make sense.
The season's best performances - the spectacular New Year's Day demolition of Chelsea being the prime example - have come with Kane alone up front and Christian Eriksen directly behind him in the number ten role. These are the natural positions for Tottenham's best two attacking players allowing them the freedom and space to wreak havoc in opposing defences.
The problem is, with Spurs continuing to prosper in three cups, some rotation is necessary. Tempting though it is, Pochettino needs to resist the urge to play Kane in a deeper role when either Adebayor or Soldado play up front. Instead he needs to be rested, either on the bench, in case of emergencies, or at home with his feet up.
Spurs were generally less than scintillating against an admirably resolute and occasionally dangerous Sheffield United. The 1-0 lead they will take to Brammall Lane for the League Cup semi final's second leg should be sufficient to help them through to Wembley, but the failure to fully dominate and see off a team that has won two of its last ten games in League One will be a cause for concern. Adebayor took to the field sporting the captain's armband but any hope that the honour would inspire him went unfulfilled. He laboured inconsequentially for an hour, his most notable contribution coming when he banged his arm into the face of United's 17 year old midfielder Louis Reed risking a red card but, in the event, only provoking a yellow. When he was replaced by an equally impotent Soldado, he went off to the same boos that had greeted his introduction from the bench on Saturday.
Ideally Spurs would take advantage of the open transfer window and bring in the goalscorer to propel them towards three trophies and Champions League qualification but the chances of finding a ready made, top class front man that's available - let alone the necessary cash to clinch a deal - are very slim. The departure of Kyle Naughton to Swansea has raised five million pounds but that doesn't buy you much of a striker and Daniel Levy isn't likely to dip into his rainy day money.
Nacer Chadli, on compassionate leave following the death of his father, and Nabil Bentaleb, playing for Algeria in the African Cup of Nations, were also missed on Wednesday. Like Kane and Eriksen, these two have played important roles in Pochettino's good run since the dark days of autumn and their returns cannot come soon enough.
Next up for Tottenham in the fourth round of the FA Cup on Saturday are Leicester City who, given their perilous position at the wrong end of the Premier League, may rest some important players. Pochettino should take the opportunity to do the same before next Wednesday's second leg in Sheffield.