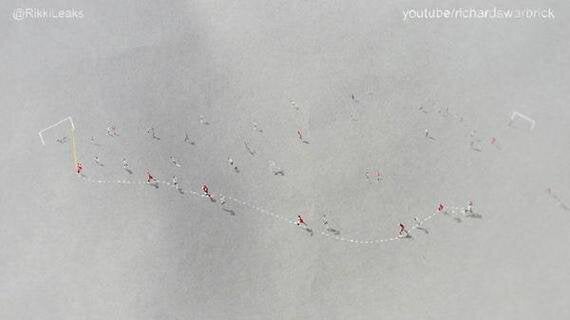 Tottenham's second consecutive home defeat raises questions about Moussa Dembele's midfield contribution. Illustration by Richard Swarbrick.
Nobody at White Hart Lane saw this coming. A truly dismal display by Tottenham against a team that was billed as the worst in the division. It was supposed to be a piece of cake. Instead, West Bromwich Albion's 1-0 win was thoroughly deserved and the shots on target count really took the biscuit: the visitors had four, Spurs just one.
A shocked Mauricio Pochettino refused to use the Europa League trip to Belgrade as an excuse pointing out that only one of the players who started, goalie Hugo Lloris, had done so on Thursday. Indeed he was at a loss to explain his team's malaise but did say that the main symptom was a lack of tempo.
Speaking to long time Spurs-watcher Rob White immediately after the game his conclusion was similar. But why the lack of zip? What's slowing everything down? The problem, we regrettably concluded, may be Moussa Dembele.
It goes against your better instincts to be negative about a player as classy as Dembele. He has many qualities - he is a good passer, has an assured touch, great physical presence and dribbles well - but he is not inclined to ping the ball around quickly. Instead, when receiving it deep in midfield he tends to take several touches and attempts to go past one or two opponents before laying it off, often backwards. This not only risks losing possession in dangerous areas, it slows things down. Capoue, his partner in front of the defence, plays the ball simply and quickly. So do the energetic Bentaleb and Stambouli who had such excellent games against Partizan. But Dembele's natural game seems to run counter to the high tempo, positive passing one Pochettino wants Tottenham to play. Unless the former Fulham man can adapt - and so far there is no evidence to suggest that he can - he must surely lose his place.
Of course, even if the lack of a spark in the engine room provides some mitigation, there were plenty of other poor performances among the Spurs line up. On Wednesday night there is an early opportunity to bounce back when Championship table-toppers Nottingham Forest come to visit for a League Cup game. With Saturday's trip to Arsenal in mind, it will be interesting to see whether Pochettino selects the notional second eleven that he plays in the Europa League to keep his best team fresh, but after Sunday's debacle it may prove difficult to decide which is which. Apart from Stambouli and Bentaleb's claims for Dembele's place, either of Vertonghen or Federico Fazio must surely be considered a better bet at centre back than the alarmingly erratic Chiriches. Adebayor would also be fearing for his place if the alternatives, Soldado and Kane, had more compelling cases to make.
Following a rocket from the boss and with a refreshed line up, Spurs should - should - have too much for Forest, but whatever permutation trots out at the Emirates you rather fear for them against Arsenal. For Pochettino to turn it around in six days and get something from the derby will take remarkable reserves of mettle and acumen. Spurs fans are already anticipating the game with a sense of noxious dread.
Popular in the Community