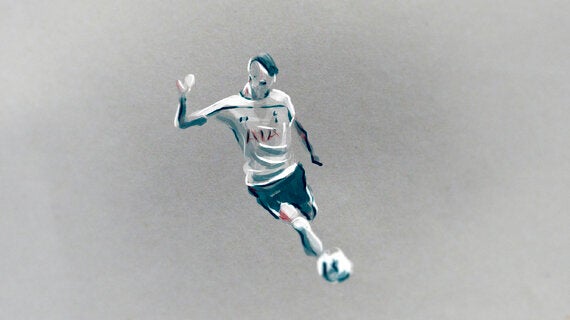 Do Christian Eriksen and Erik Lamela (above) really have the potential to be as good as Modric and Bale? Illustration by Richard Swarbrick.
If you're a football fan predisposed towards optimism, you spend a fair bit of time constructing arguments to justify your sunny outlook. You rationalise a belief that your team's players are good and getting better and that your manager has a clever plan that is progressing towards some kind of splendid consummation.
Then the players come out of the tunnel and play with such leaden ineptitude that you feel they're openly mocking you.
Things were OK at half time against Newcastle; not great, not really good, but OK. Spurs were a goal up and cruising against a team looking every bit as supine as its meagre billing had promised. But Toon boss Alan Pardew - the man the Geordies love to hate despite his teeming fondness for himself - had spotted an opportunity in Tottenham's lacklustre demeanour that even his ineffectual charges might be able to exploit. A few minutes before the second half got underway he sent his players out to perform a warm up drill on the side of the pitch, the kind you normally only see pre-match. Suitably pumped up, they kicked off and scored within eight seconds setting the tone for a second half in which they were quicker, sharper and hungrier than Spurs, running out 2-1 winners and celebrating in wild incredulity at the end with the rapturous away fans.
Afterwards, a bilious looking Mauricio Pochettino explained the whole debacle in simple terms. There's nothing wrong with the tactics, he assured us, and the players are not physically deficient in any way. The problem is psychological. Younes Kaboul echoed his words when he said the team need 'to fight more on the pitch and play with more conviction'. No shit! The problem is these are the very qualities that they - the manager and the captain - are supposed to instil.
On the other hand, Tommy Docherty, the great journeyman boss of the pre Premier League era, was once asked what made a good manager. 'Good players' he answered, without hesitation. Yes, the players' mentality was weak against Newcastle, but watching them you couldn't help wondering whether the main problem is that they are just not good enough. 'The quality Spurs have got in that group is phenomenal' said a disingenuous Pardew afterwards by which he meant: 'I beat them therefore I am a God-like genius'. The truth is that while not so long ago the Tottenham line up featured world class talent like King, Van Der Vaart, Modric and Bale, it doesn't currently have a single player of the same quality. Some of us have talked ourselves into believing that the likes of Eriksen and Lamela have the potential to reach their level, but yesterday there was zero evidence to support such optimism.
Up in the TV studio Gary Neville suggested that the Thursday-Sunday playing schedule necessitated by the Europa League is hard for players psychologically because it throws their week out and they end up having their day off on Monday when everyone else is at work. Poor sods.
Next week, following Wednesday's encounter with Brighton in the League Cup, it's another Sunday game at Aston Villa. Spurs are generally better away from home. They could hardly be any worse than they were against Newcastle.