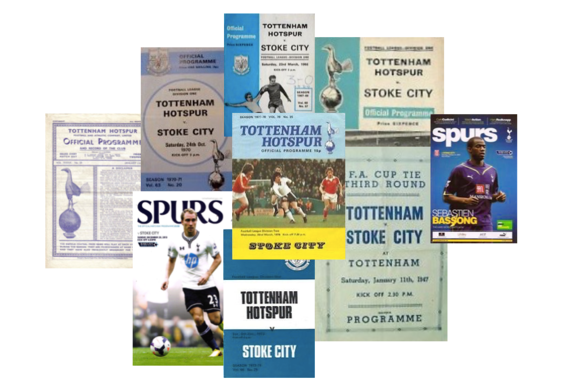 Tottenham Hotspur v Stoke City - not what it used to be.
Last season rather petered out for Tottenham. Broadly speaking it wasn't bad, but with any chance of a top four finish long gone and fondly held hopes of avoiding Europa League qualification also dashed, some of us who attended the last home game against Hull struggled to stay awake.
But the faithful will return to the Lane on Saturday reinvigorated by the break and the cautious optimism that has resulted from a decent showing in the unlucky one nil defeat at Manchester United last weekend.
Stoke City are the opponents on Saturday and a game against them is supposed to be the ultimate test of grit. If your players can cope with the Potters' grotesquely nihilistic football it tells you something about them. Something good. That's the conventional wisdom anyway but recent Tottenham v Stoke games suggest they are no more reliable a gauge of future fortunes than a glance at the tea leaves.
Take the season before last when Stoke turned up to White Hart Lane just after Christmas and were so comprehensively outplayed that even sober Spurs fans were heard to wonder aloud whether Tim Sherwood wasn't the buffoon they had all taken him for. They weren't asking for long.
Last season Stoke visited in Autumn and gave Tottenham a rigorous seeing to. Everybody left the ground that day steeling themselves for a relegation battle and wondering how long Sherwood's successor Mauricio Pochettino would last. But it turned out to be the season's nadir. Indeed it was the making of the manager because he took steps to root out the malign influences in the team, promoted some youthful understudies and never looked back.
But these examples aren't the only reasons to dismiss the idea of the Stoke game as the Premier League's great litmus test. The truth is Stoke aren't really Stoke anymore. No longer all pointy elbows and grim determination, they now have exotic foreign ball players with unlikely names like Xherdan Shaqiri, Ibrahim Afellay and Marco van Ginkel. This new model Stoke, fashioned by aesthete Mark Hughes, is designed to pose very different questions to those asked by the Tony Pulis version.
All of which makes the game rather enticing for Tottenham who are always a much better bet in a football match than a war. If nothing else it might be good to watch.
Of course the main pre occupation at this time of year is the transfer window and the hysteria surrounding the need for new recruits before it shuts. At the time of writing the arrival of pacy Cameroonian Clinton N'Jie from Lyon is thought to be imminent and another forward plus an additional midfielder would be most welcome assuming they are any good.
Once that's done and dusted, barring a run of disastrous results, everyone will get back to freaking out about where the team will be playing its home games in 2017/18 while the shiny new arena is completed on the site of old White Hart Lane. We are Spurs fans after all - we demand our omelettes made without the breaking of eggs.