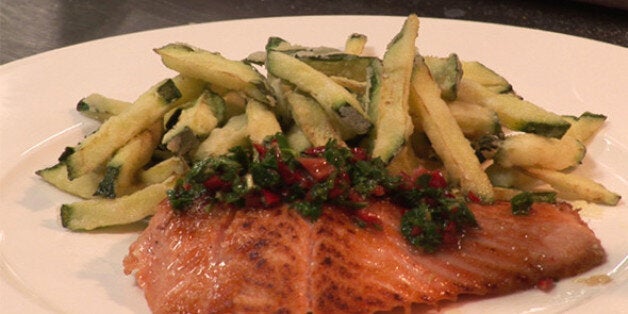 Salmon trout is such a delicious fish and cooked this simple way the fish will remain juicy and you will get the best flavour and texture. The chilli mint sauce with the courgette fritti is a great combination and very simple to prepare.
When you buy the fish make sure it is not cut too thin otherwise the fish will dry out. You could use farmed salmon for this dish but it will be fattier and will not have the depth of flavour of wild salmon trout.
The fresher the courgettes the crispier your fritti will be. Have a great week!
Seared salmon trout with zucchini fritti, fresh chilli and mint
2 x 180g pieces of salmon trout
6 medium sized courgettes (cut into batons)
1 tbsp of chopped fresh mint
1 tsp of red wine vinegar
Sunflower oil to fry the courgettes
Heat a heavy based frying pan until it is very hot. Season the salmon trout with sea salt and pepper. Rub over the olive oil then place in the hot frying pan and cook for two minutes. When there is a nice crust on the salmon trout flip it over carefully and cook for one minute.
Take the pan off the heat with the salmon trout still in the pan,the residual heat will warm the salmon trout through to the middle so it is not raw and will keep it really juicy.
Place the batons of courgettes into the milk then throw them into the flour and make sure they all have a nice coating on the outside.
Carefully deep fry them in sunflower oil until they are crisp. Take them out and place the courgette fritti on to a kitchen towel to absorb any oil.
Cut the red chilli in half and remove the seeds. Cut finely and mix together the chopped mint and tsp of red wine vinegar. Add a tsp of olive oil to bring the sauce together.
Serve the salmon trout on a warm plate with the zucchini fritti on the side and the fresh chilli and mint sauce on top of the salmon trout. Try with a glass of chilled soave.