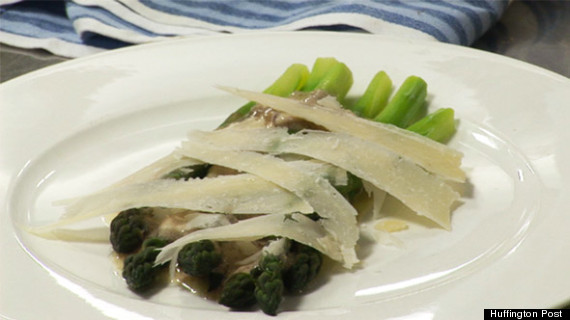 This is a very simple recipe and a great way to eat asparagus. The anchovy butter is so good you will spread it on toast the next day. Do not refresh the asparagus in cold water as this will dilute their flavour.
Make sure the butter is in salted and is not straight out of the fridge when you blend it with the anchovies otherwise it will be hard to emulsify. Have a great week!
Ingredients - serves two people
400g of select English Asparagus
6 salted anchovy fillets in olive oil
100g of butter
1/2 clove of garlic
1 good quality lemon
Method
Take the asparagus and peel the ends with a potato peeler to use as much of the asparagus as possible.
Blanch the asparagus in boiling salted water until they are tender but not soft. You can check by putting a sharp knife through the asparagus.
In a pestle and mortar crush the garlic with salt to a paste then add the anchovies and bash until smooth add the juice of one lemon and work together so you get an emulsified sauce. Add the soft butter and work again so everything is smooth.
Take the asparagus out of the water and dry on a towel. Place on a plate and put a generous amount of the anchovy butter on top. Finish with a few shavings of parmesan and black pepper.
Try this with a glass sauvignon blanc.