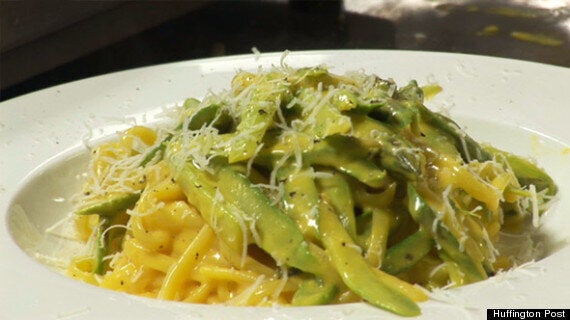 This is another great way to use English asparagus as you so not need that much and using the style of carbonara works really well with texture and flavour of the spears.
This dish shouldn't take longer than about 10 minutes as you are cooking the asparagus in the water with the pasta. This is a meat free dish but would work if you wanted to finish off with crispy pancetta. Have a great week!
1 clove garlic crushed with sea salt
In a pot of boiling salted water cook the linguine. While the linguine is cooking prepare the sauce. Snap off the tough ends of the asparagus then with a sharp knife slice at an angle. Keep the sliced asparagus to one side.
In a sauté pan at room temperature beat the three egg yolks until they are broken up with the crushed garlic with salt. Add a few spoons of the pasta water and keep to one side.
When the pasta has been cooking for about 5 mins add the asparagus to the water the pasta is cooking in.
When the pasta is al dente remove the linguine and the sliced asparagus from the pan and add it directly into the sauté pan that is at room temperature. Add the parmesan and put the pan on a medium heat and toss the pasta so the sauce starts to coat nicely. Add a few spoonfuls of pasta water if the sauce is a bit too thick. Serve with more parmesan and plenty of freshly ground black pepper. Try this with a glass of chilled Lambrusco.