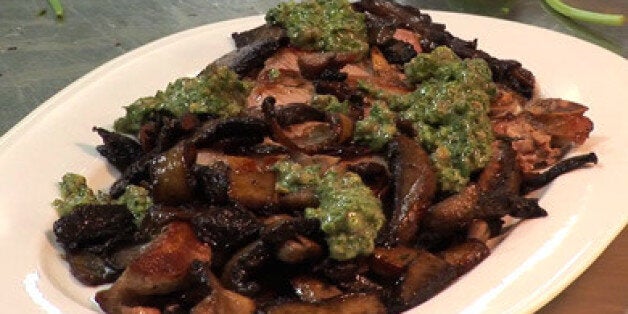 Pork chops can be really dry and uninspiring but try cooking them this way so they stay really juicy. The portobello mushrooms add lots of flavour to the chops and makes them taste even better. If you do not like pork, try doing the same recipe with either veal chop or rib eye.
When you buy the pork, make sure it has a nice amount of fat on it because fat is flavour when it comes to cooking pork. The salsa verde cuts the richness of the pork and gives off a fresh herby flavour which goes really well with the mushrooms. Have a good week!
400g of portobello mushrooms
1 clove of garlic finely sliced
1 tsp of chopped fresh thyme
2 tbsp of chopped flat leaf parsley
2 anchovy fillets finely chopped
1 tsp of red wine vinegar
Season the pork chops with salt and pepper, half of the thyme and rub olive oil all over.
Heat a heavy based large frying pan and cook the pork chop on both sides for 3 minutes each side or until crispy, remove from the pan and leave to rest.
Add the sliced portobello mushrooms to the frying pan and cook with the garlic, remaining thyme and 2 tbsp of olive oil. Cook for about five mins or until they become dark and syrupy season and return the sealed pork chops back to the pan and spoon over the mushrooms so they cook together. Cook for a couple of minutes so the pork stays pink and juicy.
To make the salsa verde mix all the chopped herbs together with the olive oil mustard vinegar and anchovies so you get a smooth sauce.
Serve the pork chops with the portobello mushrooms on top and plenty of salsa verde. Try this with a lovely glass of Chianti Classico.