On Monday I was in Paris, with Giles from Mallett.We had run round the auction rooms at the Drouot, which they are sadly renovating, cunningly destroying an immaculate 70's interior just when it is becoming the height of cool. They are replacing it with a ghastly confection of chrome and wood which will probably be ripped out in 30 years, just when it stands a chance of looking interesting as a period survival. We ventured to the Carré on the rive gauche where we bought a couple of fab things. Giles and I then celebrated over lunch at Lipp. Giles is sensible and prudent and had poached haddock with boiled potatoes. I don't remember what I was having because all my attention was spent on Giles' potatoes. They were broadly rugby ball in shape with what could best be described as carved sides. They glistened slightly and sat like basking seals in the shallow waters of the fish juice. Giles disdained them for reasons of controlled greed whilst I tucked in. They were just slightly waxy and were a soft bite suffused with flavour, a hint of salt and their own potato essence. These were the perfect "pommes vapeur" something so ineffably French that one felt instantly transported to every French moment in the memory banks.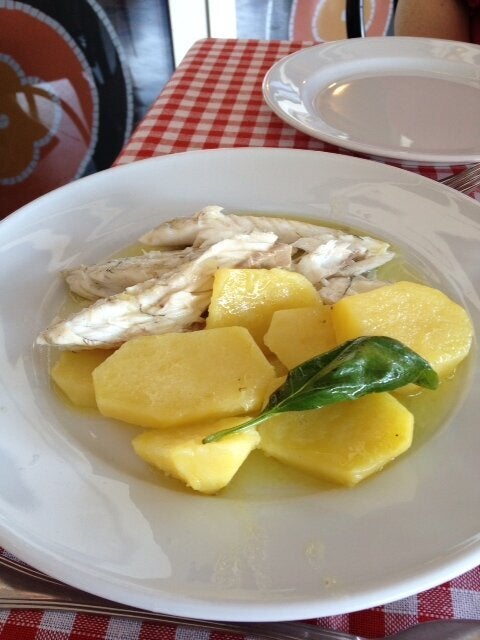 Potatoes can be so evocative. They are chips and pommes frites. They are boiled and vapeur. They can be baked, mashed, fried, rolled or cut into a fathomless myriad of shapes and sizes. There are probably hundreds of different species and yet they are all the same, recognisably a potato from a mile off. Simultaneously they manage to be deeply rooted in their individual culinary cultures. No ingredient has quite the same chameleon nature. In Spain, Italy or any European nation, no matter where, the same magic takes place. In Naples on Friday at La Bersagliera in Santa Lucia the sea bass and boiled potatoes achieved the same indigenous perfection. But I am getting ahead of myself.
Masterpiece had an event on Wednesday for the London decorator scene. The magazine World of Interiors co-hosted as they are Masterpiece media partners. Our team had organised a drinks party at an extraordinary house belonging to a wonderful Iranian couple in South Street. Just over the road from the famous Art Deco house built by Bendor for Coco Chanel. With the interiors they have combined in an individual and beautiful way, superb contemporary art sits alongside ancient and renaissance pieces. The furniture is just as eclectic and the overall achievement is both arresting and comfortable. The decorators attending were duly impressed.
On Thursday I flew to Naples and my potato rendezvous at La Bersagliera. Naples is always a shock and a surprise. The mess and the chaos on the streets disguise a systematic way of life that is probably unchanged for 3000 years. For example if you take a taxi in Naples you can choose a fixed fare or use the 'contadore' - the metre. The fixed fare is negotiable but then set as they scrupulously write it down for you on splendid official looking sheets of paper. The metre it turns out is negotiable too. But at your destination and never downwards. At the end of your trip there is always a 'supplemento' which whatever the actual total on the metre turns the final bill into a sum much greater than the original fixed tariff. It is like a weird sort of morality tale. If you trust the guy in advance as a person, it is better than trusting the man via the machine. I don't know what the moral is but it is multi layered and too complex for me. But the paper is definitely the winner.
Naples is full of antique shops and second hand warehouses. Though they love the internet and mobile phones and other trappings of the 21st century the city throbs with a love of the ancient. The infamous but always super charming taxi drivers often recount tales of recent archaeological discoveries and often share their own excitement with a favourite find or discovery. I had a taxi driver who loved scuba diving and had a room full of broken pots which he listed to me over a long traffic bedevilled ride. No other city in the world could boast so many enthusiasts for broken pots, shards of ceramic and twisted metal. The shops are dusty and apparently full of unloved objects but it is a charade. These objects are revered and cherished. Each grizzled diminutive dialect speaking vendor waxes grandiloquently on the subject of each treasure in his or her emporium. It is not just salesmanship; they really love the things they own.
There is one dealer in 20th century things who focuses (not unsurprisingly) on 20th century Italian design. He has curly black hair, dark rings round his eyes and a fluttery enthusiasm. He has a makers name attached to every work, which I think he mainly makes up. However his taste is impeccable and whilst his warehouse is beyond cramped everything seems to emerge unscathed and beautiful. Somehow he is always able to find something we cannot resist.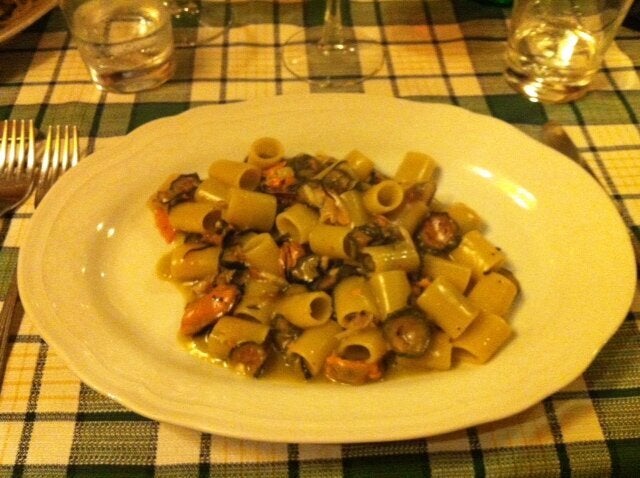 In the evening we dine at San Ferdinando which is in the Nardones. This wonderful place appears to have been a restaurant since the late 19th century and serves quite simply the best Neapolitan food I have ever had. We began with pasta and I had a miracle of a dish - tubette with mussels and clams. It was dark and mysterious and had a taste of such intensity that one mouthful was almost enough. But like the fine food junkie I am, I had to have more and more. After an embarrassingly short space of time the plate was gleaming white and empty. On came a fantasy of Orata (bream) and more magical potatoes. Again a well carved, waxy, perfectly cooked balance between bite and softness, along with a sufficient suffusion of fish juices, oil and potato. Heaven, but tempered. The end of a week in celebration and respect for the potato had come. We also had red wine, an extraordinary liquorice toned black red wine from campania called Marziacanale, an Aglianico but a delightfully twisted variant. A genuinely extraordinary wine that was great to drink but one that I would not court again. The experience was good but not repeatable. We drifted after dinner back to the hotel which was not too far away but felt like a long walk after such an epic gastronomic event. Sleep came fast but endorsed the intensity of the experience through memory.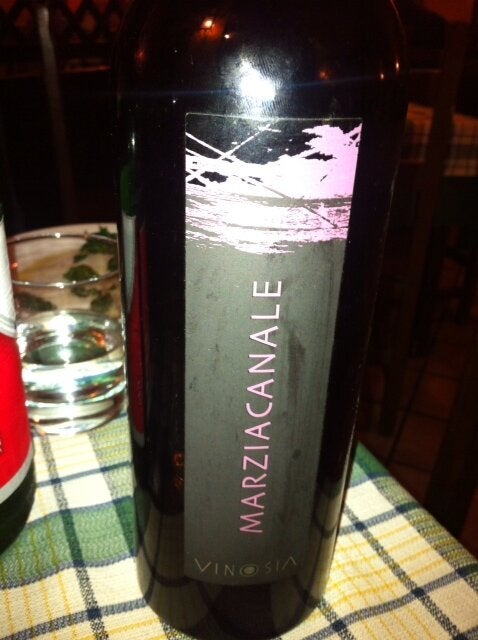 Popular in the Community