Books books books, my house is awash with books. Every dusty corner has a bookshelf. Some rooms have several. By my bed, behind the door, is a vertiginous tower of books. It precariously teeters towards the ceiling, on the very top sits a much loved teddy bear. He is ancient and appears to be suffering from an advanced case of alopecia. His once effulgent fur is but a distant memory. He sits like a nervous Greek philosopher atop his hermit's tower. He has a mournful but patient air. Other rooms are equally clogged. I felt the urge to crash through, to liberate myself from the thraldom of all these oppressive pages. Since the creation of the kindle i have found myself increasing wondering why the novel still creeps and skulks around my home. Finally my wife has agreed. But from the beginning of deciding to purge ourselves of the cheaply produced novel we found ourselves contemplating a deeper, profounder task. We were going to tackle our university books!! Astonishing to realise that shelves are still squatted by yellowing copies of Hamlet, that I scribbled telling comments in, supposedly to help me write essays. These are numerous in quantity. Poor cursed editions of Yeats poetry defaced and flaking, lurking there reminding me of the fact that I barely scraped a second. Suffice to say their moment has come. Boxes have been procured and the bank holiday weekend has been sacrificed to a book clearance.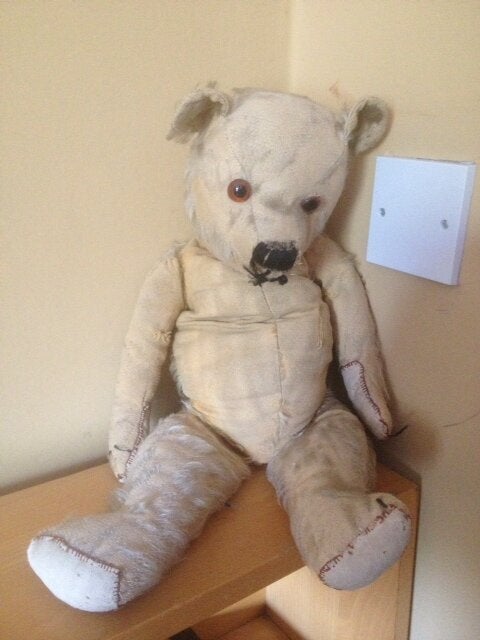 Every shelf has a reference book. Bought or given as a guide to knowledge or self improvement. My particular weakness is gardening. There is here a mixture of ignorance and indolence. I hate gardening but I have a really charming small sun trap at the front of the house and at the back a patch of scraggy grass flanked by overgrown beds of weeds. I have a lot of gardening books that aspire to drag me out and dig. Their purpose is to drive me to learn the names of plants in Latin. I am over 50 and it is still not working. Those books have to go.
Earlier this week my wife and I were invited to the house of the Royal Hospital Quartermaster Andy. (I have mentioned him before when we introduced the Hospital team to our CEO Nazy) He and his wife host each year a party which allows his guests to roam around the Chelsea Flower show after the official closing time. It is a wonderful treat. They ran the event with a perfect mixture of charm and military efficiency. They both have dedicated their lives to the service of others both at a local and at a national level. We are privileged to know them, especially as they are both such fun. Wandering around the flower show I could not escape the visual echoes and massive differences to Masterpiece which is only a month away!! The flower show is huge and sprawls right through Ranelagh gardens as well as all the way round to the flats on Embankment Gardens. I found it inspiring trying to come up with ideas that would enhance and expand our Masterpiece project. I could already, in my mind's eye, see the Sculpture Walk that we are launching this year enriching the area around the entrance to the fair. The show gardens are impressive as are the big flower displays in the main tent but my wife led me into a side tent dedicated to flower arranging. There was a delightfully bonkers and old school character to this. The arrangements were in many cases dazzling and original. But you could not escape memories of village fêtes and Mr Burroughs unfeasibly large vegetables that the local vicar has always awarded a rosette to. It was charming and nostalgic. But I know now that the gardening books can go.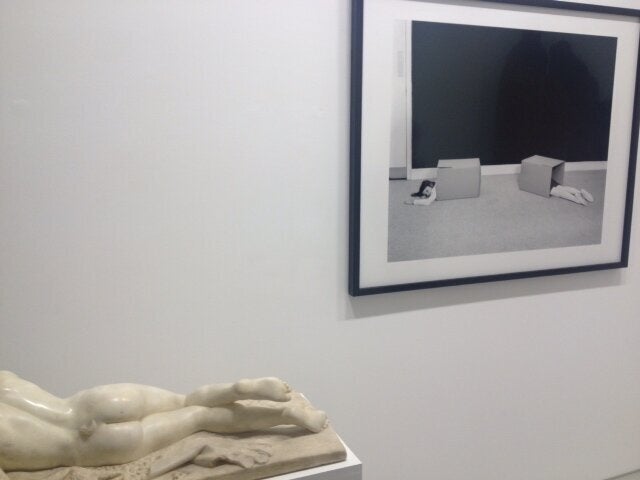 I have an extraordinary number of books on art and interior design. They have now come before my executioner's eye. I realise that an interior illustrated without names and locations is quite frustrating and annoying. Especially when I don't look at them from one year to the next. Now, there are lots and lots of design books that pass the survival criteria but there is a small mountain that don't. Many many casually and recklessly acquired at boot fairs and charity shops for pennies and almost never perused after their purchase. But disposing of them is quite an emotional and intellectual wrench. I think of my exhibitors and I wonder whether I should distribute book largesse amongst them, in as appropriate a way as possible? Then I remember last week when I went to the opening of our exhibitors Bruno and Ricardo. The Brancolini Grimaldi gallery in Albemarle Street have a show of contemporary art merging with the renaissance pieces of Bacarelli and Botticelli. The names alone are poetry but I doubt they would like a deposit of art book cast offs? They had a good party and there was a healthy smattering of the right crowd of enthusiasts and collectors. We went to dinner afterwards at HIX in Browns hotel. They looked after us well, with rather too much attention to filling the glasses. I cycled home slightly unsteadily. I think the art books will have to go to a charity shop.
When you look at books you don't see the shelves. I am suddenly confronted by the hideous selection of rubbishy flat pack shelves that adorn, if that is the word, my house. On Monday the landlords of Masterpiece, Mallett had a party for an exhibition of very grand English furniture. They have put the show out with everything on a plinth and it looks very special and museum like. We chatted and quaffed and admired the walnut. My bookshelves look even poorer by comparison. Perhaps I should put everything back and look at the smelly paperbacks rather than the smelly shelves. But I have started so i will finish. The literary enema must take its course.
The real worry is that nature abhors a vacuum. In addition I have a self made cliché about myself. I say I love minimalism, but I love lots of it. Something will creep in. In fact I know what it is. It is "objects". I am an obsessive and compulsive buyer of stuff. This habit has been catered for by decades of buying for Mallett and others but now the outlets are drying up and the urge is still intense. Yesterday before the book thing began I went to Portobello to pay for and collect a wonderful tortoiseshell triptych dressing mirror I had bought from people at the Battersea fair. Of course, I bought some other things too. Over a decadent full English at the refurbished Electric house I reviewed my acquisitions. I had to reflect that I had no one to sell them too. I had bought them simply because they were charming and well made, and the right price.
Those empty shelves will soon be full and I won't have to notice the shelves.