New York is not London. As soon as you queue up at immigration you know you are not in London. It smells distinctive, it looks distinctive. It acts in every way distinctive. The dread of a massive line, the TV broadcasting news, the size of everyone and everything, it all compounds to render the scene both awe inspiring and slightly intimidating. Despite the obvious language false familiarity it seems as if you need to talk your way in. Travel in Europe does not require you to 'blag' your way in. But to enter the United States you have to chat up the bored and aggressive gun carrying officer. I must reassure him of my good intentions, one of which is that I will, in due course, leave.
Once through, New York beckons and is thrilling to arrive in. The clouds are grey and the night has fallen by the time I arrive at my hotel. But the taxi ride is worth every penny. The traffic, the terrible roads that make the car bounce and shake in a bone jangling fashion, then the bridge and a view of the ultimate shining high rise city. Anybody who is not elated by their arrival into Manhattan is missing a piece of soul. The Soho Grand Hotel is superficially quite cool. The stairs are made of iron and have glass inclusions that make the walk up from the ground floor to the lobby on the first floor quite twinkly. There is a dash of showbiz. However that is where the pleasure ends. I have a theory that they draw their staff from Ryanair rejects. With a grin and a cocky comment they manage to delay your checking-in as much as is humanly possible. Once in, you go to your room where your card "key" does not work. Back down to reception and the card is recharged, or whatever, and you gain access to your room. Then you wait for your luggage that you weren't allowed to take yourself by the doormen at the front door. A flash of service disguises the desire to torture the recent arrival.
I escape to meet my friend Nicko for a drink and a plate of food. Not before i run into the Dutch contingent. Stabilo are here in the incarnation of Marianne and Janneke. They have come to support the exhibitors and we have two days of meetings ahead. Every aspect of stand building will be discussed and Nicola and I will make sure that everyone knows all the plans we have for the fair and all the events that are scheduled. The girls have come with their husbands and have added a couple of days for their trip to turn it into a bit of a holiday. We greet in the bar and the torturers/ staff kick in. There is no wine I want by the glass only by the bottle. So I decide to have a cocktail and they don't have the ingredients. A Black Russian is not a really obscure drink with an arcane list of ingredients. It is just vodka and Kahlua. I have never known it to be unavailable anywhere in the world. I feel like a snack so i order a chicken club sandwich and a portion of chips. These take over an hour to come and they come twenty minutes apart. I realise I am sounding quite spoilt at this point, but I think staying at a hotel is such a treat and when it isn't it is sad, that's all. The Dutch are on great form. They have walked all over the city and have embraced the native culture of beer and pizza. Janneke is up for an adventure so she asks me to recommend a cocktail. I suggest that NY classic a Negroni. They bring it, amazingly. She loves the colour but the bitterness is a shock. She looks at me with a sad and accusatory face like i had played a trick on her.
Nicko arrives and we separate off to reminisce and catch up. He used to work for me at Mallett at Bourdon House. He then moved to the NY shop, fell in love with a local girl and stayed on. He is married now and recently has set up on his own as mid century furniture dealer. He seems to be doing well. He has amazing knowledge coupled with great charm. He will be fine. We gossiped for a while but then I hit the jet lag wall and had to bale. Back in my room my telephone had a red light blinking. I had a message. I rang down to the desk, listened to the message. The red light was still on, blinking at me. I looked at the phone, I couldn't see any way of switching off the flashing light. I rang down again. The desk said that they sorted out the blinking from the main switchboard. Suffice to say the phone blinked all week. I covered it each night with a pillow. I got used to it, it became like an annoying friend.
On Wednesday we had the decorator and dealer preview party for Masterpiece. Our host was the New York decorating legend Ellie and her husband Ed Cullman who sweetly allowed us to invite many of our supporters in the city. The apartment was elegant and the staff attentive, Philip gave a very confident speech which said it all about the forthcoming fair. Copies of Architectural digest were handed out and a general mood of elegant civilisation pervaded.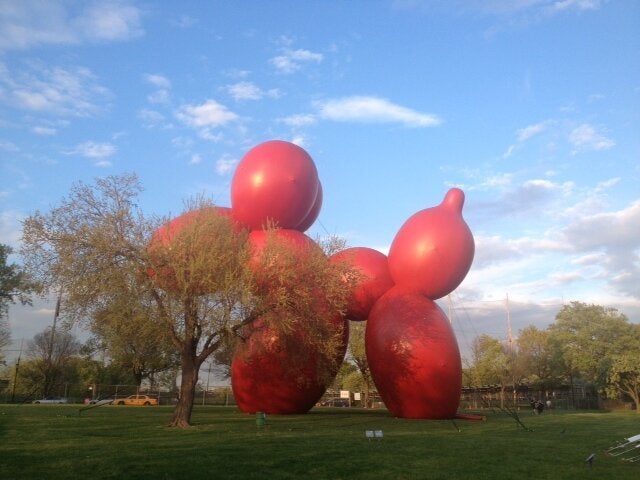 The next day was the opening of Frieze NY. We took the ferry from 34th st. The city looks superb from the water and my colleague Francesca sat on the top deck oohing and aahing to her heart's content. The massive serpentine tent was enriched at the front by a huge inflatable balloon dog by Paul McCarthy. It is supposedly an ironic reference to Jeff Koons. But it was huge and red and it looked eager at the entrance as if waiting for its owner to come out and play. Maybe he or she did before the end of the fair. Hours passed and the fair became a bit of a blur. Certain galleries stood out, as did certain works but in the end I think I liked them simply because they were shiny.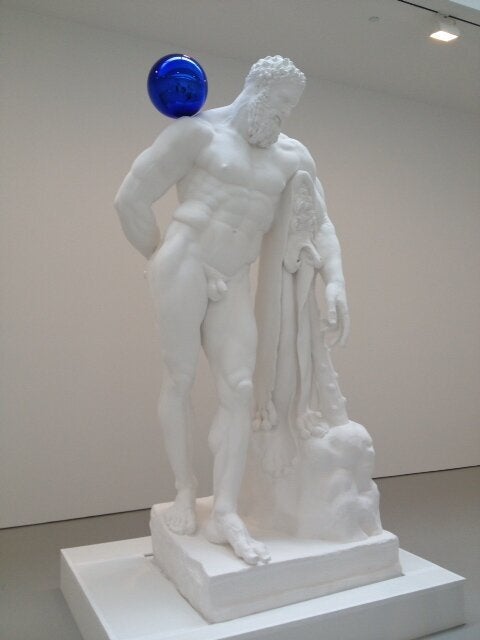 We headed back into town in order to visit Sebastian and Barquet. They had put on a show of modern sculptures from the historic Talavera pottery in Mexico, and the presentation of Johnny Swings latest designs and catalogue. We arrived late but we luckily got to meet Johnny and admire the Mexican pottery. We will see the Swing piece at Masterpiece.
The next days are packed with the amazing shows that fill NY this week. Hauser and Wirth have a Paul McCarthy show of monumental wooden sculptures that are both eerie and über kitsch. They have a café installation alongside which is truly amazing and strikingly disturbing as it is both weird and familiar. Then on to David Zwirner and his Jeff Koons show of heroic plasters of masterpieces from antiquity coupled with trashy garden ornament, the common link being the dazzling blue gazing ball, which is the exhibition title. Both Christies and Sotheby's had massive sales which by the time you read this you will see many auction records have been broken. Unusually at Christies, up on the 20th floor they had taken over a space to show the work of Ruth Asawa, a Japanese American artist based in San Francisco. Beautiful, floating and delicate, work that is reminiscent of baskets and yet is very powerful. It was a straight selling show, not an auction at all. This seems to be the future.