The young men in sharp suits with slicked back hair and thick glossy ties are out in force. Sotheby's is packed. Upstairs on the 10th floor the Giacometti fills the space, as does the Warhol. But these stellar attractions are not the only ones. All the iconic names, from the Impressionists through to the Modern Masters, line the walls like supermodels ready to be taken home by the next generation of plutocrat collectors.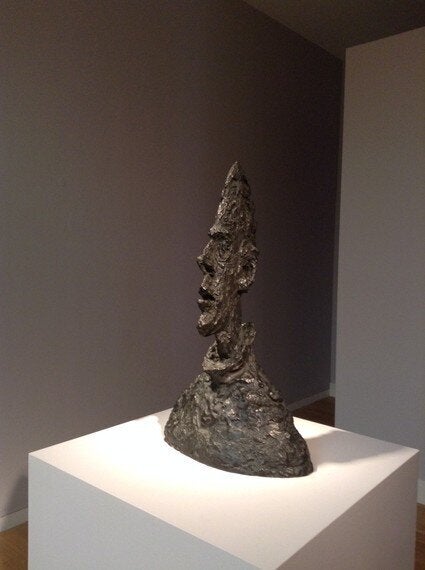 I had taken the subway from 42nd Street up to 79th Street by the Natural History Museum. On the train, a passionate evangelist was berating us passengers for our sins and predicting our imminent destruction. I was bizarrely grateful for my online Spanish course, as I understood quite a lot more about my impending doom than I would have a done a few months ago. It had been raining as I boarded the train but it was a wonderful warm blue sky when I descended but a few minutes later. A hop on the cross-town bus, and I was by the Mallett emporium on Madison Avenue. My erstwhile colleague of over 20 years, Henry, was in residence and he has put together a great small show of fine English furniture. We chat, drink coffee, and walk through the collection. It is quiet in the shop and we are able to have a calm moment to reflect on the surprise that we find ourselves still fascinated, intrigued and charmed by the subject of English furniture.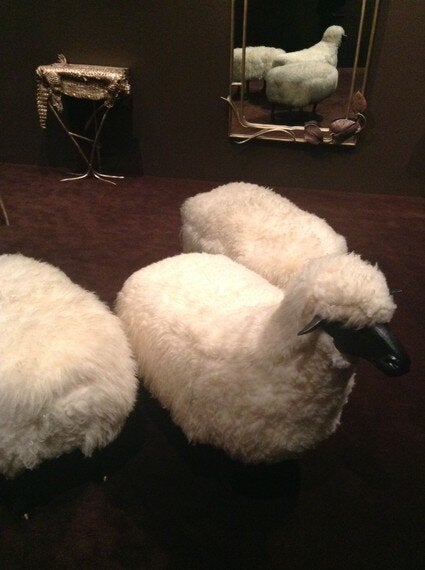 After a fond farewell, I walk over to Sotheby's and the buzz and hubbub of a well oiled machine. From the 10th floor I go down and see a show by the French designers Les Lallane that is a true 'Alice in Wonderland' moment, as concrete sheep and giant apples vie for attention with Lily-pad garden chairs amid aromatic leaves and astroturf. From there, on to the Alexandre Reza jewels which shimmer and glisten in a magical way that allows one to almost forget the white hot values, and admire the sheer brilliance of both the craftsmanship and the imagination. Finally I saw a few highlights of other sales, including some that I had seen in Hong Kong, and I head off for lunch.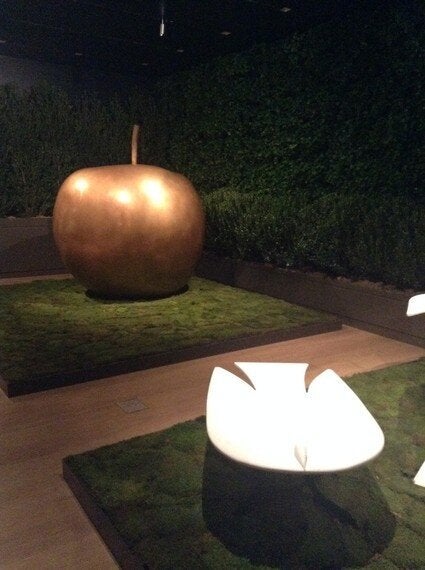 MOMA has a bar-bistro and a restaurant beside it. I meet with our Chairman, Philip, and unexpectedly also Melissa from Christie's. The plan is to have a quick lunch and then head off to the Rockefeller centre to enjoy the shiny staff at Christie's and their assembled Impressionist and Modern masterpieces. Philip is on great form, and Melissa is a revelation. We have known of each other for over 20 years and she is the maestro behind their English furniture sales. She is elegant, tall, well-dressed and apart from being the ultimate professional, I discover she is extremely funny.
Banksy is all the rage in NY at the moment as he has blazed through the city graffittying hither and thither and stirring up a hornet's nest of opinion about what art is. The outgoing Mayor has ultimately spoken that all graffiti should be removed, but Banksy's celebrity means that people are trying to preserve the work. Complex indeed. Outside MOMA, cunning vendors are putting Banksy style stencils over used subway maps, and selling them for 20 dollars. The obvious fierce debate rages at our table and we amuse ourselves all the way through to cheese. The only detour on the way was a nostalgic tour of our varied experiences of eating white truffles- that fabulous, pungently aromatic Italian treasure that arrives briefly in our local delis about this time of year. We discover that we have all had key experiences in a now closed restaurant in Pimlico in London which was called La Fontana. Back in 1985 my mother was so pleased and delighted that I had found a job that she took me out for dinner there on the evening of my first day of work. I was wearing the new shoes, the new suit, and had taken off the new coat that had generously accompanied my new job, rewarding me with the princely salary of £6,000 a year. We had truffles shaved onto our delicately oiled fettucine, and I was a 'goner' for life. The taste and wonder of that moment in my mouth as I told the story and as I write it now. Suddenly we discover that it is 5pm, and Christie's will be shut. At this point my secret unexpected saviour steps up. Melissa will show me around.
Whilst Philip amuses himself doing early Christmas shopping and looking for a white truffle for his supper, we enter Christie's. It is virtually empty. The usual hum now a soft tread as the guards are almost the sole occupants. A few waiters skitter around with trays- clearly there is going to be a party later on. We walk though the ground floor. As with Sotheby's, there is a cavalcade of masters. But we have them to ourselves. Bronzes, terracotta works, oils, works on paper all are there to admire or dislike in total privacy. It felt like our own private collection. Then we went out to the lobby and down the ramp to gallery six to see the Francis Bacon triptych. It is huge, the colours are amazing and it is an obvious masterpiece- an introspective work by and of an artist, playing with contexts of religion, renaissance painting and an analysis of the nature of figurative painting. I am sure it will make a record price.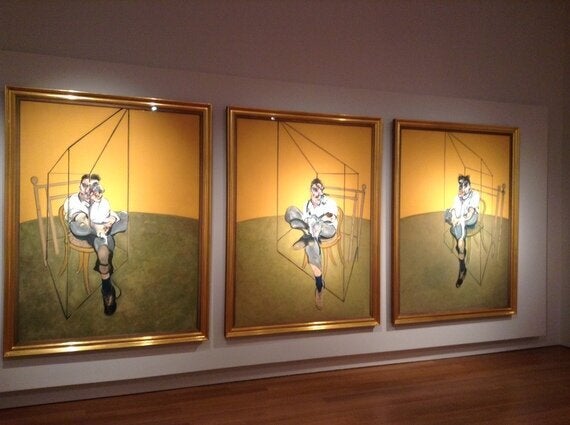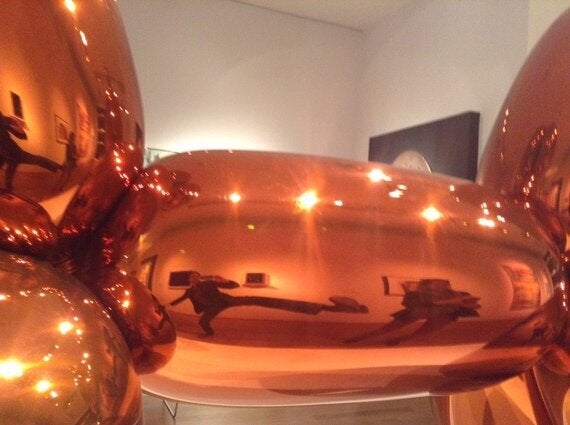 In the same room is a massive Koons balloon dog. It is vast and dominates the space. It is also very shiny and we quickly discover that is like a fairground hall of mirrors. The curves distort and shift our reflections in myriad and increasingly hilarious ways. We while away a frivolous few minutes taking silly pictures of ourselves in the reflections. Then I notice the small abstract canvas hanging round a corner. It is, of course, a Jackson Pollock. Painted in 1949, it is an extraordinary work. The sweeps, swirls and dribbles of paint speak of such passion and intensity that you can almost sense the breath of the artist on your neck as you stand before it. I just stand and stare, and I pass through some magical field imagining the harsh world of 1949, the Second World War and the paranoia about communism dominating contemporary minds, and I feel humble in front of this work of genius. I am not emotional in front of art- I don't leap for joy or fall into a heap of tears, but I felt a lump in my throat out of respect for the endeavour and wonder for this 'thing' and I had to move on to avoid being embarrassing. I bade a hasty but fond farewell to my saviour, and headed off into the twilight.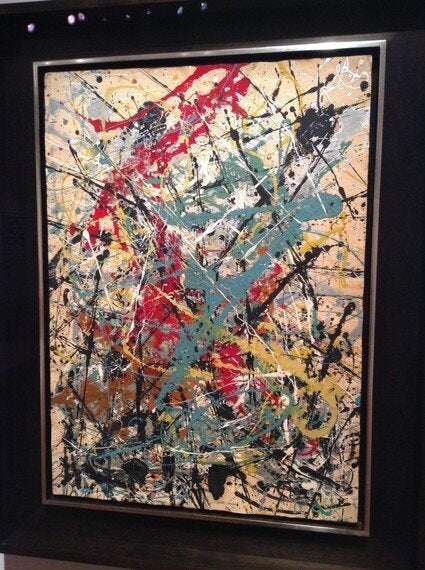 The clocks go back in the USA tonight and the Marathon is being run. I am off home to London in the morning and I worry that I will miss my plane. But all is well, and squished into an economy seat beside a man writing a report about a bank who manoeuvres around the largest laptop I have ever seen, I watch movies all the way back to London.
Popular in the Community