The walls are painted grey and there is a binary split in the nature of our humble 10 square metre stand. On the left, glittering, fashionable costume jewellery sparkles and shines. On the right, like some retired Colonel standing formally but redundantly, my mahogany and satinwood furniture resides. The fun began on Tuesday, the doors to the Battersea decorative fair were flung open and everyone flocked to Mrs Sungoose's stand. At one point I noted over 25 people huddling avidly and greedily over her display cases. The only visible sign of her being her hand, held high aloft, trying to get a signal for her card-reading machine. She took so many payments the machine had to be left alone for a while to cool down! By the end of the fair, she had sold just under 70 items. My chairs were used like a doctor's waiting room, with the disgruntled having to wait to either pay or try something on. I tried to look keen and enthusiastic but it was hard. I did manage to sell a couple of things but they were hers!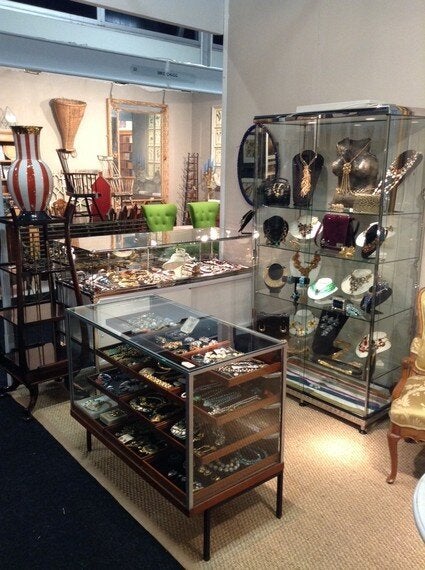 The joy of Battersea is its relaxed attitude. Dogs wander around, sniffing and occasionally chasing each other. Children wander. The side doors are always open and folk wander in and out, chatting, smoking or discussing a sale or a purchase. There is security, but most of all there is trust, it is a very friendly environment, more like being in Canada or Ireland. The stall holders metaphorically leave their front doors open. The food at the fair is provided by Megan, she used to be an antique dealer but changed her shop on the Kings Road into a cafe and has not looked back. Returning some years ago to her native Australia, she returns three times a year to cater for this fair. She brings her team and her engaging family and they keep us all fed with Beetroot cake and slow roasted duck with Savoy cabbage. My neighbour, the always charming William Thuillier, an old master picture dealer who did Masterpiece at the beginning, is kept alive by Megan's culinary enchantments. Opposite I have Callaghan, an energetic much-travelled ambitious Irishman who sells limited edition bronzes of animals and ballerinas. On the other corner we have Marcelline who is a traditional furniture dealer based in the Blanchard Collective. Together we form a motley crew but chatty and positive and kept buoyant by the occasional espresso or glass of Prosecco.
On Wednesday night, I fulfilled a long held dream. I dined at the India Club. On the Strand by Waterloo Bridge just by Somerset House there is an unassuming doorway that leads up to a second floor dining room. This is the India Club. It is just a plain unadorned room of about 12 basic tables: the tops are Formica and the floor has seen better days. This is not luxury, positively the opposite, but I have heard of this place for many years, reported as a wonder of both good value and delicious fresh food. Recalling my swap shop moment in Stow I nipped out to the local Tesco and procured a bottle of their Portuguese Mateous rosé rip off. Commendably cheap, coming from their 'simply' range it was chilled, and, as is traditional, slightly fizzy. It was perfect. We were served with piping hot, brightly seasoned and flavoured, traditional fare. The menu is short and classic but we ate off the scarred and polished silvery metal platters that are the paradigm of such places. We left charged with both nostalgia and food, but equally less money than I have paid for a meal in years.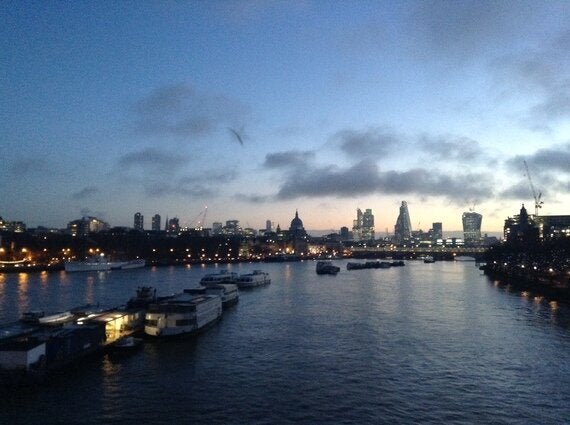 Thursday morning I cycled off early to St Pancras to catch the train to Brussels in order to see the opening of BRAFA. Though long-established, this fair has recently become a major show on the world fair stage. No longer a parochial event, it draws in exhibitors and visitors from all over Europe, and some from America. Dawn broke as I made my way over the river and the cloudy, cold, but bright London looked particularly fetching. I was travelling with Natalie from the office and Giles from Mallett. The purpose of this visit was to both buy and to visit the fair. There are a number of our current Masterpiece roster and quite a few who would like to talk to us. The train is painlessly quick and before we had time to get bored, we were presenting our vast preview tickets at the door. The ticket was more like a place mat than a ticket, enormous. The entrance to a fair is crucially important, it sets the tone. Here we were confronted with a timber version of a 1960's space station, all curves and bright white, but in strips of wood. The impression I had was as if Robinson Crusoe had been asked to build a rocket ship interior. Passing through into the fair normality returns barring the occasional massive pendant floral ornament.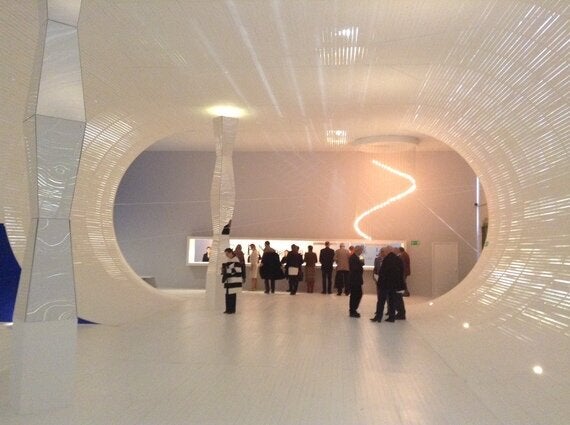 The fair takes the form of three aisles, and they are very long. It is a long walk down each one, but it is very particular and it gives the fair an identity and a character. I think the challenge of every fair is to create both an environment that is conducive to sales for the exhibitor and an atmosphere which is totally unique. BRAFA achieves this admirably. The fair seems to drive business, it comes at a good time to kick the year off, and it is quintessentially Belgian. I could not define for you what makes it so, but everyone I speak to agrees that it is. We spend 4 hours looking and discussing and make a few small purchases, then head back to the hotel to prepare for dinner.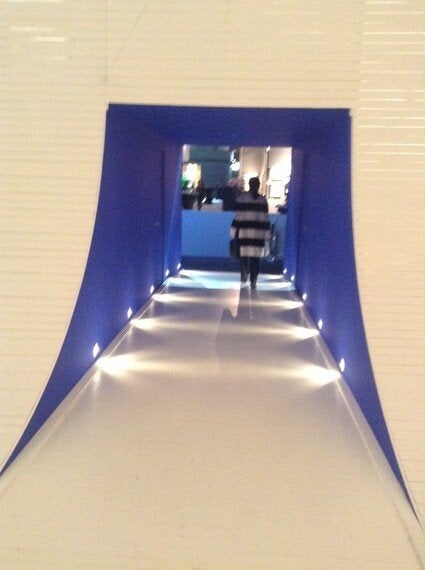 Giles has damaged his foot and consequently walks carefully with a stick. I have therefore booked my favourite Brussels fish restaurant because it is only a few minutes away. Walking with Giles is an altogether interesting and challenging process. His pace, given the dodgy foot issue, is snail-like. This means that we do not rush and I find that far from being frustratingly slow, it is quite the opposite. Our Papal-slow progression allows for calm and conversation and I find that I look around and reflect on the day and what we are discussing in a smoother and more dignified way. Walking with Giles is rather therapeutic.
Vismet is now firmly established in my mind as one of my favourite places. The wooden interior set on the ground floor of a traditional Flemish gabled house, is instantly comforting. The menu is a photocopied hand-written one and only consists of about a dozen dishes. All the food is prepared visibly in the open kitchen at the back of the room. The chef writes the word 'top' beside his preferred dish each day. I am not sure if it is English or that the word has become seamlessly international. The top dish is always a good choice. A few super fresh really salty oysters, followed by sea bass and accompanied with an icy Alsace wine, allowed us to drift off on a reverie of the day and we made our slow progress back to the hotel content.
Popular in the Community