I am British, I love my nation but I look out not in. I live in the Oval in London. I live near the tube - I love it when the tannoy says: "this station is oval". I am also served by a myriad of bus routes. From my home I can be at almost any major train station within half an hour and within an hour at all the London airports. I also drive and in an hour and a half I am at the Eurotunnel, from there the whole of Europe is but a few further hours away. This is all necessary to me as I am an antique dealer, I need to travel and I need to travel far and wide.
My sons are respectively a musician and an artist. The musician seems to find it convenient for me to travel back from nearly everywhere I travel carrying heavy and fragile recording equipment that he has bought on the internet. My other son sees the artistic world through spectacles fashioned from all periods of creativity and all countries. His body is in London and that colours his experience but his mind roams the four corners of the world looking for inspiration. They need the wider world too.
Just a few weeks ago there was a general election in Britain and the result was that the Conservatives won a full overall majority and are in power on their own for the first time in 18 years. Their majority is slim; in 1992 the Conservatives also won but they saw their majority dwindle over their term of office and they crumbled to inertia. The future is uncertain for them despite their success.
They have been elected in part because they have committed to holding a referendum on whether Britain should stay as part of the European Union. For anyone in my business that is a crucial issue and one that threatens the centrality of London to the art trade. Politicians seem not to rate the importance of the art business. It is perceived to be intellectually and financially elitist and therefore the preserve of a privileged few. As such no politician hoping to garner the popularity of the masses can afford to be seen to be endorsing or supporting it. However I am in it and I survive because of it. I pay my bills because I buy and sell. I need Europe to be both an accessible and friendly market to sell to and to buy from. My friend Sylvain in Paris who has one of the most elegant shops on the Quai Voltaire is exquisitely French. He dresses immaculately and treats everyone with charm and discretion. Grey haired and small of stature he fights every day to buy and to sell internationally. My friend Marcus in Munich does much the same thing, or Paul in Belgium, Antonio in Madrid or Michael in Copenhagen - these are all successful people and I suppose they deserve no ones sympathy, but they work every day at their jobs doing their best and it is essential for them to trade across borders. They are all good citizens with one eye focused at home and another abroad; we are all the same.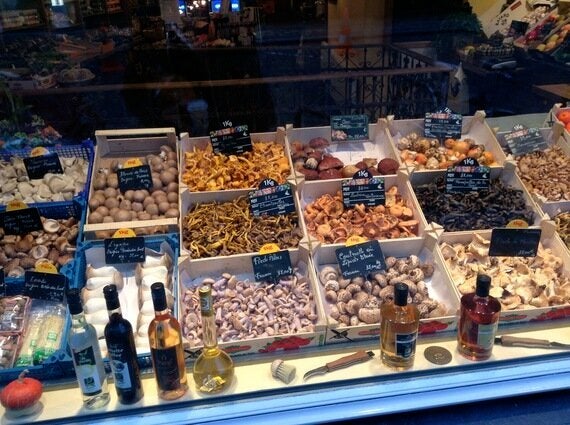 European Union expressed through mushrooms, photograph writer's own
I love to eat in restaurants and I strongly feel that the activity of eating out with ones professional colleagues is one of the best bonds one can forge. A meal enjoyed creates a memory that the deal that precedes or follows it simply does not. You build trust. Europe isn't just about trade it is about the relationships you forge. If you travel to a country and try to immerse yourself in its culture you become sympathetic to it. In my travels I have found that I have become a European. There is hardly a country where I have not forged friendships and made purchases. We think globally but eat, buy and sell locally.