Trains and their guardians, train stations, play a huge part in my life. They are playing an increasing role with the cost of petrol and the opportunity to simultaneously play with the internet. The car is super, you leave your house, you enter the warm cosy bubble and then you set off. You listen to music or the radio and you do so at any volume you choose. The appeal is obvious, but nevertheless I love trains. Yes, you have to take the tube or cycle and park like I do. So, thereby you add an extra journey there and back. But walking into one of the magnificent London railway stations is a soul-enriching treat. On Tuesday I head off to the country from the recreated Kings Cross St Pancras I know well from the Eurostar, but Kings Cross station side of it I rarely use. They have taken down the hideous cheap-looking huts that sat like an encampment outside the station. The bold sweep of the arches is now clear and its brick magnificence can be properly enjoyed. Inside they have created a ticket hall at the side of the station which has a marvellously anthropomorphic white tubular metal fan of struts supporting it. Almost art nouveau revived. Enriched with a cup of coffee, I head out. The train rocks, creaks and shuffles its way out, heading past the still active works. Fields soon appear, the houses become more spaced out and I am entering another world. You can muse, reflect and day dream on a journey like this, but before you can say or do much you are getting off at some random station.
Outside London is always colder and has fresher air. Shivering in badly-chosen thin clothes, I wander round one of the last few antique warehouses. My host has found a few things to offer me and he drinks instant coffee and chain smokes, occasionally fidgeting and running his hands over his bald head. I don't drink instant. Even so, I am doubly grateful for my eye-opening cup on the station platform. At the warehouse nothing quite works, and as he mostly shows his stuff to everyone before he shows me, there is not much point in me trying anything I see on my other trade friends. I hop back on the train and swiftly rattle back into London.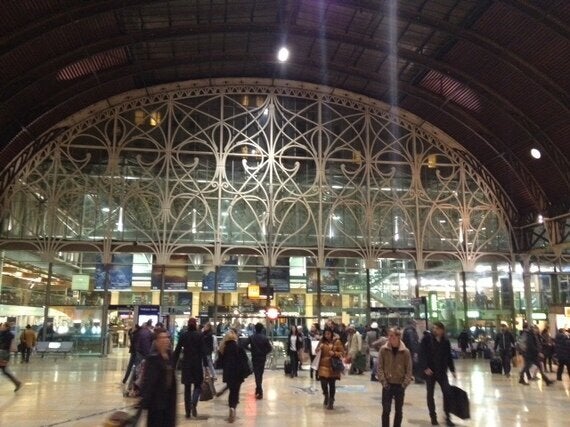 My next station is Paddington which has equally recently been refurbished. It is a terrific sweep of multiple iron-glazed arches like a giant conservatory or green house. The new Great Western rolling stock looks wonderful lined up obediently on their tracks, seemingly eager to carry their passengers to exciting destinations such as Exeter St Davids, or Swansea. There is a homely romance to all this. When waiting for a train at the Gare de Lyon it's easy to be seduced by the fabulous 'Train Bleu' or the myriad holiday destinations in the warm south that beckon and tempt. But the UK offerings are just as good- a lovely cup of tea rather than a glass of champagne. Both have their appeal and their moment for perfection. From Paddington I visit a giltwood console table. My experience of the table is not one of love, in fact my conviction was that it was not even old. But my host here took me to his local pub where we sat in a corner and ate. We talked too, the usual moaning about no-one coming to visit and the trade shrinking. I suspect I could bore for England on that subject, having heard it from so many mouths. The conversation moved on to more positive subjects as we drank from beakers a pale blush rosé from Faugères and consumed our warm potted shrimps. Peppery, with a smooth salty tone, they were the perfect beginning. I remembered making potted shrimps in vast quantities one New Year in Norfolk. This is an easy dish but for thirty or so people it was a mission. Luckily I was only the sous-chef, following instruction from my original and elegant temporary boss from English Heritage. Eating self-potted shrimps, especially ones fashioned in such a manner, is a particularly happy memory. Back in the pub the mood improved still further as our pheasant pie arrived at the table. With its fatty crunchy nut brown pastry pouring over its sides our hearts sang, as the first few mouthfuls silenced us. The light but massively flavoursome juices joined forces with equally succulent flesh, and helped on with the pastry we found ourselves suddenly thinking that the antiques business still had hope and with hard work and conviction we would survive and even flourish. An intense little espresso ushered me back on the train and back to the metropolis.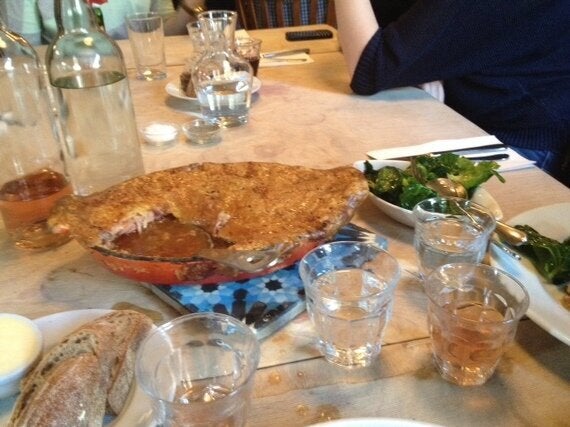 Portobello is my destination for this Saturday morning. I used to visit often, but now I do so rarely. It is an obvious and much discussed truth that the street has changed. Most of the dealers from whom I bought antiques 20 years ago have left or retired. But it survives and great things do still appear, probably every week! Gradually everything is being pushed down the hill. The Admiral Vernon Arcade still throbs and is crowded. Despite the absence of much in the way of art, the street does not care. Quite frankly, walking along after 9.30am requires patience and dogged determination. Portobello is for tourists and a smattering of die-hard dealers and collectors. But I am going to see a specific object that someone has put aside for me. Sadly I don't like it. I feel really guilty, as I had said that if he ever found such a thing I would be sure to acquire it. Like all ones worst clients, I turned down the sure-fire certain sale (in his mind). But all was not lost, because I had breakfast at the Electric House. The post-fire redesigned interior is soft, plush and welcoming and my coffee was pungent and hot. Full English is the greatest culinary contribution that Britain has ever made. Despite being the epitome of formulaic, it still offers, counter intuitively, infinite variety. In this iteration- the chunky and stumpy salt and sweet bacon, the beef tomato grilled with pepper and herbs, the plump perfect brown sausages, the weeping field mushroom, the fried eggs with pert bright orange yolks, rounded off with sourdough toast, crunchy, chewy and warm with butter- all work hard as a team to make my world seem happy in its orbit.