I am lucky enough to travel frequently to Paris and I am used to the tube to St Pancras followed by the journey on the Eurostar. However I very rarely step outside that comfort zone of familiarity. This Monday, having slipped back to London for a meeting I crossed Paris on the elegantly quiet rubber wheeled metro and found myself at the Gare de Lyon. This station is dedicated to warm summer locations and the painted murals that adorn the walls celebrate in schematic but atmospheric ways the many destinations that await the eager traveller. They are so evocative of the turn of the 1900's. The crowning glory of the station is 'Le Train Bleu' one of the most glamorous restaurants in the world. Shining with brass and glass, with leather and velvet softening the sound, the painted walls and cavorting stucco encourage and endorse the excitement of train travel. The restaurant is more like an opera house or a room in a chateau. I did not have time to eat but I pushed past the rather worrying presence of guard at the door who was sporting a short black machine gun, and had a quick wander around and a swift cup of coffee.
The train arrived in Montpellier and my new best friend, the taxi driver Olivier, was waiting for me. A few years ago he moved his family from Paris and now lives in the small village of Lauret where he controls the taxi market. From the hurly burly and anonymity of Paris he is now like a ministering vicar bustling around running errands and whistling passengers around the neighbourhood. He is a modestly sized man, of medium everything and exudes an aura of cheerful bonhomie. He chatters away, regaling me with tales of dishes he has cooked. There is a local farmer who leaves the occasional chunk of beef by his back door, or another neighbour who deposits chickens from time to time. There is a local barter system for which his contribution is a ride to the city. He is very keen on having a fig sauce with all the meat he cooks, partly because it is delicious but partly because he has a glut from his garden fig tree. He spoke for a full five minutes about buying and eating the perfect peach, waxing effulgently on each aspect of its colour, texture and juice and even price. Underlying each anecdote is the assertion of how much better everything is in Montpellier than Paris. Indeed, it is hard not to succumb to the charms of the south. London and Paris were rainy and cold with a sharp autumnal bite to the air. In the south the sun is bright and the air just about still holds summer in its grip.
Back at the hotel, the Auberge de Cedre, I sit in the now empty dining room and drink a glass of wine with some cheese. This lovely hotel has the atmosphere of a rambling farm house, guest rooms are all over the place in a sort of scatter shot way, the public rooms meander into each other like the tributaries of a lazy river. The floors are cracked tiles for which being level is a distant memory. But below this ramshackle superfice there is a beautifully run hotel. Francoise does front of house and the engine of the kitchen is run by her husband Lutz. The food is simple but well constructed and sourced and feels like the best of proficient but not fancy home cooking. The wine here is the thing and they have a long list of local wine producers and their output, with a lean towards the organic. We drank a Muscat sec which was a lovely rich honey colour and was dry but with an echo of fruit and sweetness. A creamy soft goat's cheese spread onto rough sourdough. It was an exquisite end to a long but lazy day.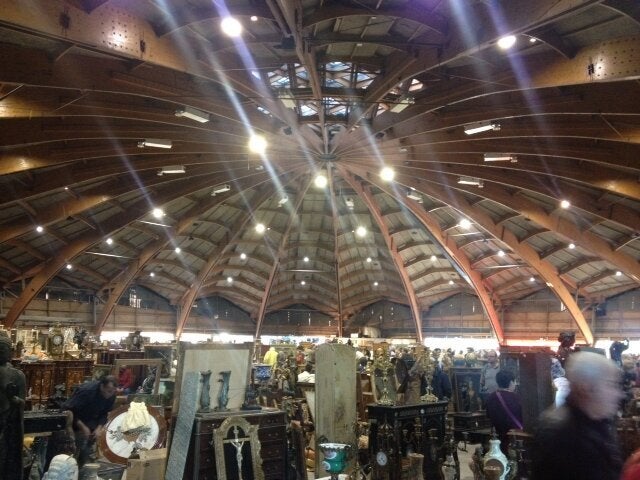 At 8 am I return to the Brocante trenches. Montpellier 'parc des expositions' opens its gates and we all flood in. The next morning Avignon does the same. The days pass in parallel. I punctuate the day by heaving objects and pieces of furniture over to the shippers. I have given all my stuff to Alan Franklin who carefully pack and note down each crumbling treasure that is brought before them. A dog sits quietly and patiently beside them like an old retainer that has seen and done it all many times. Walking out on the second day I am haunted by a Louis xv giltwood console table I saw earlier. It was too much money and I have spent all the money that I took. It is a cash only economy at these fairs. I am with a couple of friends and we are all heading off for lunch. I pat my pockets disconsolately and realise that I really want that table. My pals sweetly open their wallets and I rush back in with our combined funds. The table is still there and I open negotiations. 10 minutes later I am back with Alan Franklin with the table. It cost exactly all the money I had. I sat back in my car with exactly zero Euros left. Now I have to wait a fortnight for the table to arrive. I hope I still like its carving and proportions. We have a celebratory lunch in on the way to the airport and I impressed by one thing. The toilet has a piano in it! A first for me.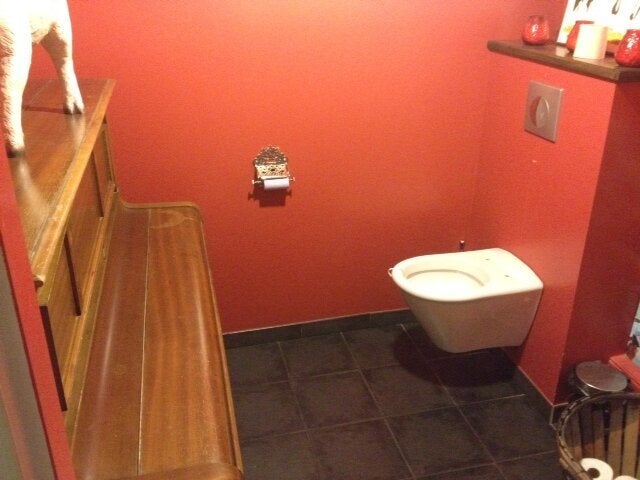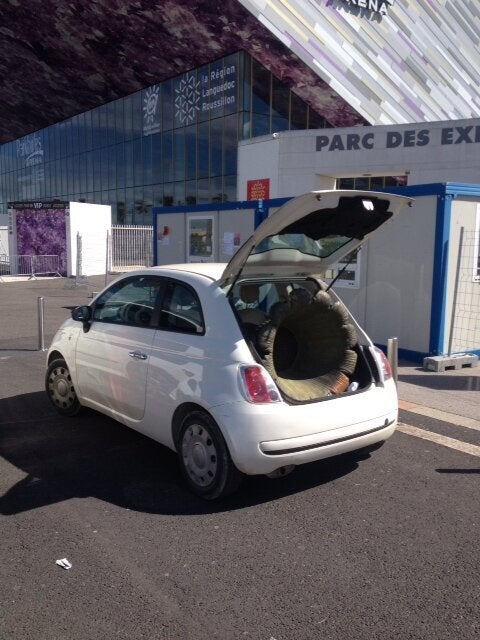 On Sunday I went with museum friends to Sussex to visit Uppark and Petworth. They are both National trust properties and conveniently only a half hour apart. My pal is giving a talk in NY about the relationship between English Regency sculptors and the Baroque. Whilst many English artists at the time went to Italy to study antiquity they seem to have been simultaneously infected by a love of Bernini and his contemporaries, and why not? Especially because the artists they admired were following the same educational route as themselves. I joined up to the Trust as it seemed both sensible, as I was visiting two houses, and a good deal. The contents of both houses are famously remarkable. The sweep of rooms and their contents dazzle and amaze. Petworth in particular has treasure after treasure. We spent a great deal of time in the sculpture gallery admiring both the antiquities and the works by Flaxman, Westmacott, Cardew and Rossi. Especially the magnificent boxer, Rossi's "Athleta Britannicus" He typifies the way artists were able to be totally contemporary but reference both ancient and baroque themes. This powerful work exudes British confidence as much as anything else. Implying in its manner and effect that England can take on the world. All these wonders installed by the 3rd lord Egremont when he built the gallery in 1827. But, and this is a big but, we were shocked by the terrible lack of information; both houses don't have guide books available. We noticed at Uppark in particular where everyone talks in every room about the fire. (Which was terrible but the house speaks itself eloquently about its architecture and contents). Many of the pictures and pieces of furniture don't have any labels. One guide, when asked about a pair of chairs, knew nothing (no room notes even) advised us aggressively to go and buy a guide! And then was unrepentant when informed that there wasn't one available. In fairness and counterpoint, we did encounter a wonderful volunteer beside a curious hybrid of an 18th century bed, who could not have been more helpful, obliging and informative, through her we engaged in a close examination of some seemingly unique embroidered damask.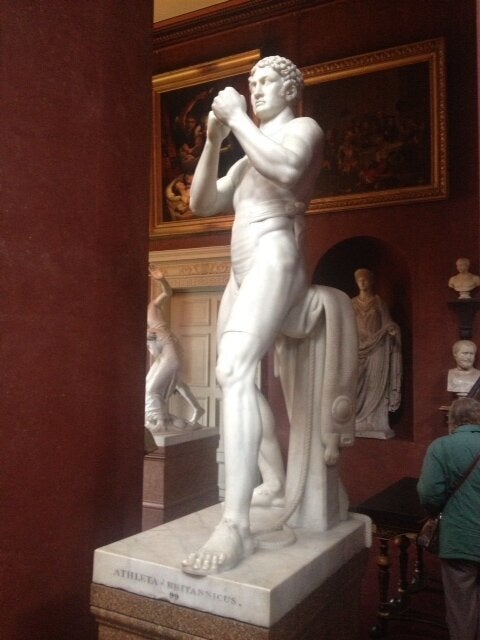 As you leave Uppark there is a 'wish tree'. We were all sorely tempted to put up a wish for scholarship rather than 'amusing' tea towels and branded chocolate
Related