I am on the bridge at Avignon but I am not dancing. Curiously it turns out that the famous nursery rhyme relates to bacchanalian shenanigans that took place 'sous' le pont d'Avignon rather than 'sur'. Allegedly, an uproarious tavern was known to shake the foundations of decency in this temporary home of the popes for a number of decades during the 14th century.
The idea of wild dancing counterpointing with papal morality is of great interest to me, especially the thought that the dance has passed into nursery time lore whilst the papal occupation in France has become a bit of a footnote. The bridge is a wonderful fragment poking out from near the Papal palace in an expectant rather than broken way. I have always known and sung of being here with only one thing to do; now I am looking and reading, but not dancing: too shy to fulfil my destiny.
I have been in Avignon for a few days in advance of that five times annually triple Brocantes at Beziers, Montpellier, and Avignon. In addition you have the permanent Brocantes at Isle sur la Sorgue, which kindly and generously lends a purpose to the off day between fairs. Each fair begins at 8 am which means even the most diehard enthusiast has to head off to lunch by 12, or at a push 1 pm. That fevered rush, the manic careering from one stand to another inevitably gives way to coffee in a flimsy plastic cup and a scarily garlicky sausage: coated in sweet but vinegary mustard, in a rough-hewn slab of baguette. Hands are shaken, grunts and pleasantries exchanged. At midday the regulars are now holding packages and downing rosé champagne from local vigneronnes with the gusto of the condemned. The afternoon ushers in the sybaritic pleasures of Provence cuisine and wine. Yes, like champing hounds the dealers hover and slaver by the gates at 8 am. They then finish and have to wait until the next narcotic hit. Before this 'volte face' no friends are made. I ran into a dealer from Norfolk who pointed out as he passed that he was "overtaking you on the inside!" What can you do? Everyone is eager to share the observation of an egregious fake but they remain silent about a killer purchase that will change their month (or even their year) - unless of course they think they might sell it to you! Thus the phrase, "Meissen Elephants, those are rather your sort of thing aren't they, I might have a pair to offer you." So the scene shifts to the myriad restaurants and bars and the conversations continue well into the wee small hours.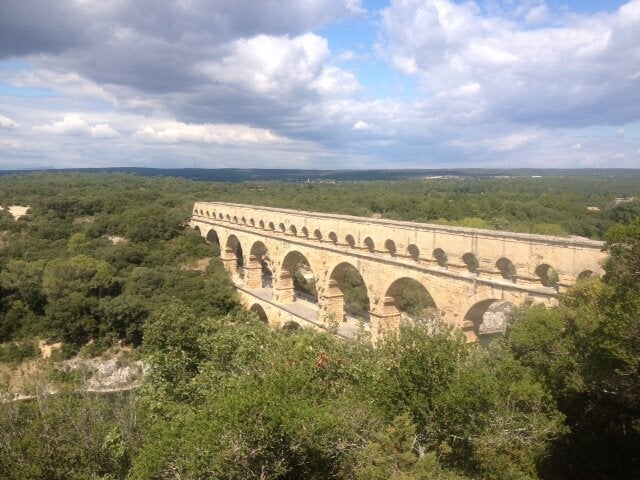 However, I have been here for nearly a week and the twin appeals of the Roman age and the medieval vie for my attention. This area of the south has a profusion of large and ancient buildings in a remarkable state of conservation. The secret to their survival seems counter intuitively to have been pretty much in constant use. Those structures that fell into disuse were pillaged as a free stone supply and disappeared into the cityscapes only to survive as random blocks to be spotted by enthusiasts. The concomitant of survival seems to be that all the structures have been covered in tattoos.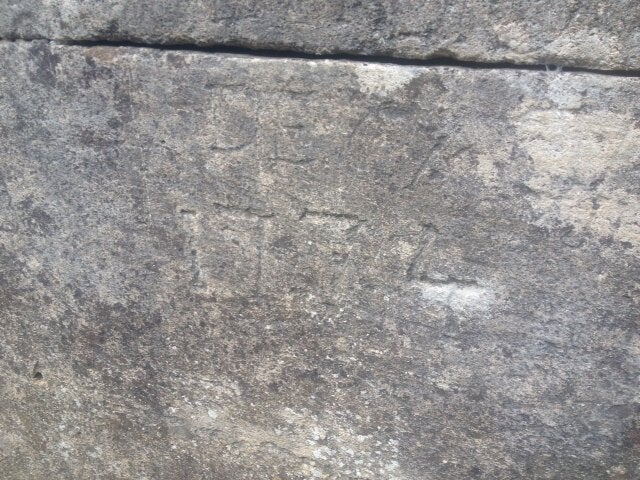 The most prolifically graffitied thing I have ever witnessed is the Pont Du Gard, a massive and nearly perfect Roman aqueduct. Rather brilliantly, the guide notes give the construction dates about 40 to 60 AD and the cost of building: 30 Million sesterces. I assume this is a lot. The water flowed at an astonishing rate into the city of Nimes for almost 500 years but was then blocked due to poor maintenance. However it has remained as a strategic route and over the centuries warlords charged travellers for safe passage. Waiting was often lengthy and the walls are bedecked with names from across the centuries. In the end tourism arrived and brought even more enthusiastic graffiti. The earliest inscription I spotted was from the late 18th century, but naughty visitors have added their names to the bridge for nearly two millennia.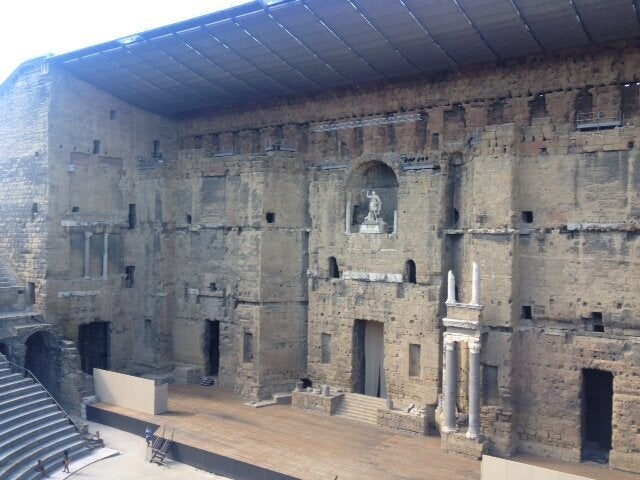 We then have the charming city of Orange that has both an amphitheatre and a triumphal arch - the show offs! In the Amphitheatre Augustus looks down, full figure from above with his arm raised; there is no doubting who paid the bills here! On to Nimes to enjoy the complete surviving colosseum and a perfect crisp white temple, which looks like it made from cut sugar. The temple is called, rather unromantically, 'the square house', "la maison caree'.
In the first century BCE the Romans clearly sunk a lot of cash into the south of France. It must have been pretty rebellious to have warranted such splendid and lavish civic expense. The weather is bright and blue, the wind is zephyrous, and as we sit in the amphitheatre watching the German, Greek, and Spanish tour groups pass we try to imagine bawdy comedy, profound tragedy and the hubbub of the toga wearing crowd. With such an amazingly preserved setting the leap of faith required is far from taxing.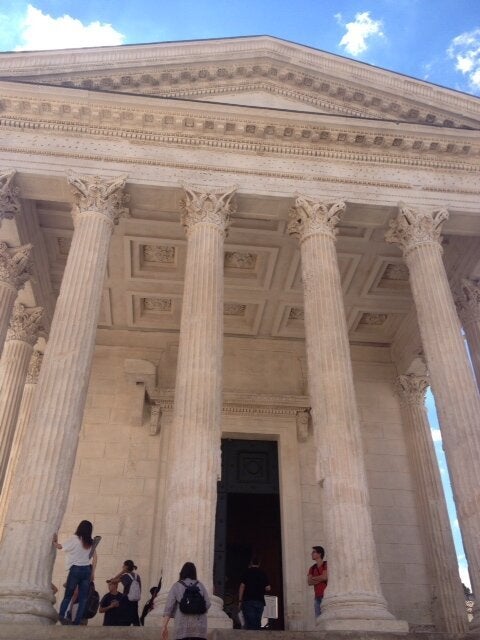 When staying in a hotel food takes on a disproportionate importance. There is nothing else to do. So I browse through Trip Advisor and the Michelin guide, and calculate where we should eat. Ironically there is one restaurant in Avignon that has managed to divide these two advisors. It is an art nouveau restaurant on the first floor in the main street. Michelin raves about it, they write at length about the historic setting and the traditional Provencal cuisine that is both an essay on, and a reinvention of all that the area stands for. By contrast Trip Advisor loathes the place for its surly service and trenchantly unobliging staff. The food for them is stuffy, boring and takes too long to arrive. This apparent contradiction finds resolution in that there is really no conflict between the two interpretations. It is the difference between being supremely French and appealing to a more international audience. I chicken out, however, intimidated by the fear of a rough waitress. Instead we go to a restaurant called L'Essentiel. We dine in a stone courtyard and immerse ourselves in the warmth of the night, and the intensity of local flavours. An intense beginning with poached egg, wild mushrooms and shaves of truffle nestling in a bed of Brandade, accompanied by an aromatic Champagne that had a rich colour, full body and a fresh tingle of minerality, Mayot-Lagoguey. A dish I will remember for a while. This was followed by duck breast with smashed black olives and a bouquet of tarragon. To round off the meal: an extravaganza of three different sorts of chocolate pudding - a crispy crunchy one, a smooth creamy one and one oozing raspberry liqueur. A decadent catalogue of delights.
I do adore food and I particularly adore unusual but happy combinations of ingredients. Each mouthful should delight, and educate in equal measure. Alongside great food comes great service. At Masterpiece the Caprice group provide in our pop up spaces a lesson in service. The visitors are always stressed and in a rush, but we get only compliments for the way they are looked after.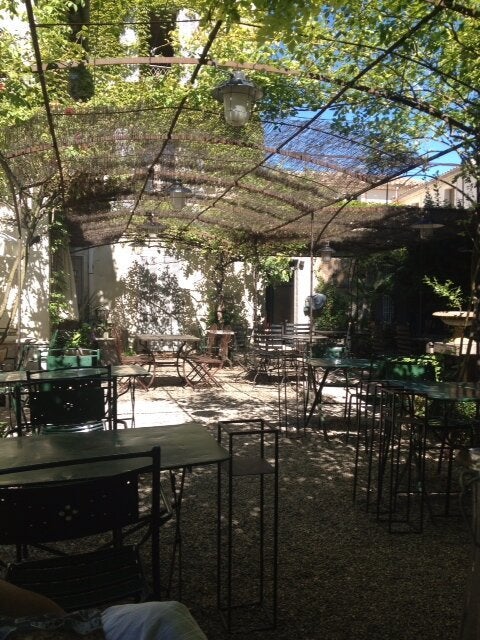 We went to the Isle sur la Sorgue to search for an elusive treasure. We walked up and down slightly disconsolately as nothing emerged that tempted us. I had never been before and the town is a waterside treat of bright colours, pretty shops and restaurants. The atmosphere bodes well but we found nothing. We had been recommended to lunch at the Jardin du Quai and as we entered that oasis, inauspiciously just by the major road artery into the town and the railway station, we were struck by the cunningly and artfully arranged garden. Beautiful staff ushered us to a shady arbour where we were looked after with a consummate professionalism that was a great comfort. Our every need was attended to with speed, grace and a smile. The food was good too, but my abiding memory is of the perfection of service. We left on a cloud of content, so mellow were we that we wandered into a shop we had not seen before, promptly made a few small purchases, which even when we got back to the hotel we did not regret. A perfect end to a perfect meal.
Tomorrow we have the big fair at Montpellier followed by Avignon itself.
Popular in the Community