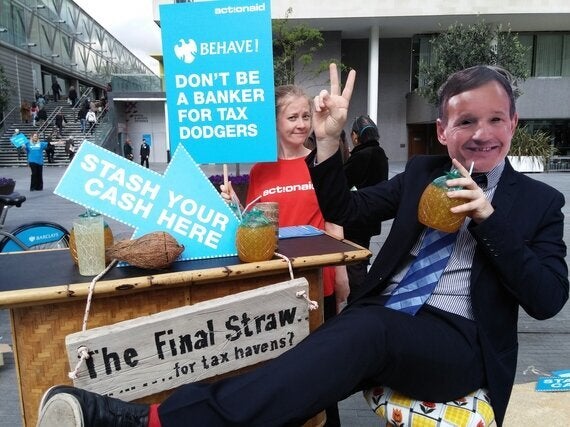 CEO Antony Jenkins was never going to enjoy today's AGM but it seems he had one core mission: stop a rebellion on executive pay.
Round after round of increasingly uncomfortable questions from shareholders constituted the majority of the meeting, including one that called Barclays the 'Go-To-Hell Bank' (rather than the 'Go-To Bank' that Jenkins envisioned on his arrival in the job and now adorns most of his strategy documents). But the biggest sting came from Standard Life that led the calls to reject the report on pay, rightly worrying that it would impinge on the bank's reputation. I wouldn't have blamed Antony Jenkins for thinking he'd sooner just drop the issue and get stuck into the free buffet. But he stuck it out, won the necessary votes and walked away with his bigger bonus pool.
The deep irony of today's showdown, however, is that the millions given in bonuses are dwarfed by the impact of Barclays' other mischief: helping clients to set up in tax havens.
Recent estimates suggest that over USD $20 trillion is currently stashed in tax havens around the world. Barclays, which uses its Offshore Corporate arm to target companies investing in Africa and help them bank in tax havens, is clearly part of the global machinery that allows the scandal of tax avoidance to continue. That they're doing this after Antony Jenkins declared his bank will be a "force for good in Africa" demonstrates that there might be a gap between reality and his rhetoric. If that $20 trillion was taxed, the revenue could be used to send every child to school that currently misses out, and fund the agricultural investments needed to end hunger (twice!).
Antony Jenkins told us that he's reformed the bank by shutting the infamous tax-dodge factory that devised and sold tax avoidance products. But he cannot claim true reform if Barclays continues to sell banking services in tax havens to companies that have no real business there, but are just setting up to avoid paying their corporation tax in developing countries, where 3 times more is lost to tax havens than is received in development aid each year.
We don't doubt that Antony Jenkins is serious when he said he wanted to clean up his bank, but to do so he must start to really listen to his customers, be that around executive pay or tax havens. To ignore the 50,000 complaints that have been levelled at him as part of ActionAid's tax haven campaign is to fly in the face of his own reforms and become just another boss of a big bank that has lost the trust of everyday people, both in the UK and in Africa.
We were encouraged to see that, after a question put to them by ActionAid campaigner Will Davis, Antony Jenkins made a personal commitment to continuing to talk to ActionAid about their Offshore Corporate business with a view to finding common ground. We hope that he remains true to that commitment and that his highly publicised quest for Barclays to be 'a force for good in Africa' doesn't become relegated to low-priority in favour of keeping his investment bankers sweet.