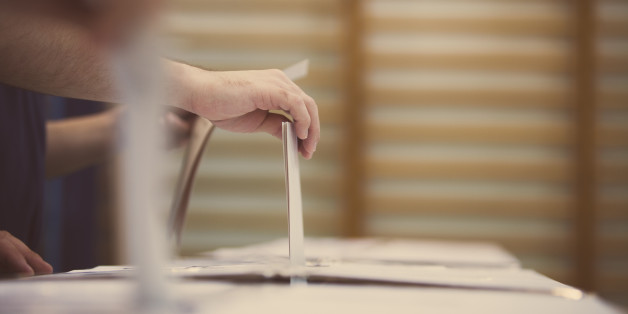 bizoo_n via Getty Images
Are more democratic exercises leading to less democratic outcomes? "We are witnessing", claimsCraig Berry of the Sheffield Political Economic Research Institute, "the undermining of longstanding democratic norms in the British polity". From this perspective, our choice on 8th June has been whittled away to whether or not we "rubber stamp" Theresa May's interpretation of the Brexit vote.
However, Compass is marshalling those "ready to collaborate to reset the political system" to form a progressive alliance. Here are the arguments in favour:
The 1997 strategy simply won't work for Labour, arguesJeremy Gilbert. It lacks the energy to speak to swing voters in Conservative marginal constituencies, and the party's base has now fragmented beyond repair.
Anne McLaughlin and Tommy Sheppardargue from the SNP perspective that a progressive climate is essential for further progress towards independence in Scotland, and that solidaristic politics are important in the meantime.
Paul Pettingerreminds fellow Liberal Democrats that no significant electoral reform has been achieved without Labour support.
Green Party co-leader Caroline Lucas floated the idea in 2015 when Corbyn emerged as frontrunner to lead the Labour Party, and despite being rebuffed by both the Labour and Liberal leaderships has authorised local parties to do the same.
Green candidates plan to stand aside in favour of Labour in Ealing Central and Acton, Brighton Kemptown, and most recently Ilford North. They are giving Women's Equality Party leader Sophie Walker a clear run against incumbent Conservative MP Philip Davies in Shipley. Green candidates have stood aside in Richmond Park and North Kingston and Twickenham, while Liberal Democrats are not putting forward a candidate in Lucas' own seat of Brighton Pavilion.
Does the electoral calculus actually make sense for progressive parties? A YouGov survey - carried out in November 2016 with a sample of 6196 English voters - suggests that seven in ten voters would back some kind of pact. This would seem to reflect the increased propensity of English voters to swing - as Birkbeck professor Rosie Campbell finds in two excellentepisodes of BBC's Analysis.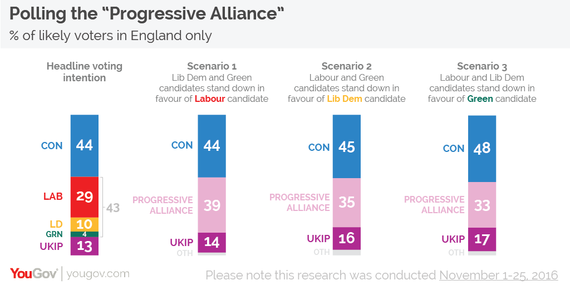 In 2015, as many as 40 per cent of voters switched parties. However, YouGov's Marcus Roberts and Matt Smithargue that potential progressive swingers are in the wrong place. They are mainly of the ABC1 socio-economic class, who mainly live in safe seats.
How about younger voters? Traditional electoral wisdom says they don't turn out to vote. Yet a new survey from the Higher Education Policy Institute of undergraduates suggests that students are planning to vote in strength. This does not straightforwardly translate into issues-driven or tactical voting. 55 per cent of the sample plan to vote Labour. Only 30 per cent would abandon their party allegiance for a party that's willing to oppose Brexit. Of these, just over half are prepared to vote tactically in principle. HEPI estimated that students made a decisive impact on five seats in 2015: providing slim Labour victories against Conservatives in places like the City of Chester and Wolverhampton South West. However, this election takes place when they've returned home.
Does it make democratic sense? Katie Ghose of the Electoral Reform Society strongly condemns the "grim game" where voters' preferred candidates lose out either to more marginal priority seats, or to super-funded progressive alliance candidates. She wants "a voting system where it's always OK for voters to vote for their party". But Campbell emphasises that the dramatic increase in swing voting last election reflected the chance that minor parties might sway a hung parliament. In her view, voters have compromised for decades thanks to the monopolisation of power by the Conservatives and Labour. In this sense, it's parties that stand in the way of democratic outcomes. This makes sense when you consider the seemingly unassailable personal popularity of Theresa May going into this election - 61 per cent of voters backed her in the latest poll, including a quarter of Labour voters.
Brexit has voters from both camps on the move, and has left many undecided. Here's where Remainers have travelled between 2015 and the end of 2016, according to the British Election Study: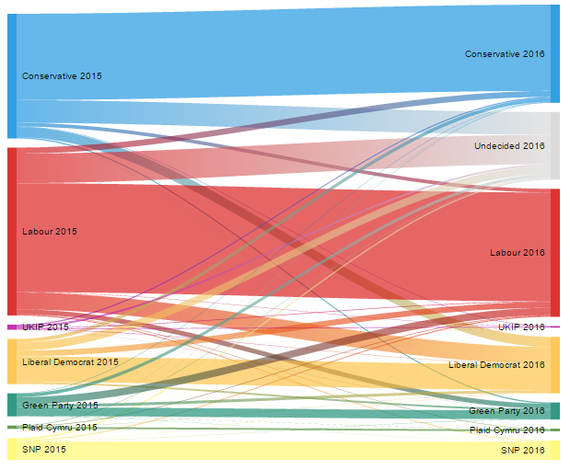 According to Hansard Society's most recent study of political engagement, 56 per cent of voters are 'absolutely certain to vote' this election - the largest proportion in 14 years. More voters are mobilising, with a broader set of electoral considerations than ever before. This confusing terrain means that a progressive alliance will probably not deprive Theresa May of the mandate she's asked for this year. The broader insight would seem to be that political parties are struggling to manage democracy in the way they are accustomed. In the long term, rather than narrowing our choices at the ballot box, shouldn't we have more?