How many of you have been on a blind date?
But have you ever been on a real blind date - a date with a blind person? Blind young people do not fare well in the love stakes. More than 50% of you told us you would be nervous to date a blind person and 80% of blind young people tell us dating isn't easy. London can be a lonely place until you build up a circle of friends through work or special interests. These are huge barriers for blind young people and the result is that the vast majority of them live their lives without experiencing that special bond with another person. London remains lonely and increasingly scary. So we tried to break through the barriers.
Last week we partnered with match.com as part of our London without Limits festival, to highlight the difficulties blind people face when dating. Together we held a pilot event: 'Love is Blind', inviting both match.com members and vision impaired singletons, to join us for a blindfolded Salsa lesson. This was our first foray into dating.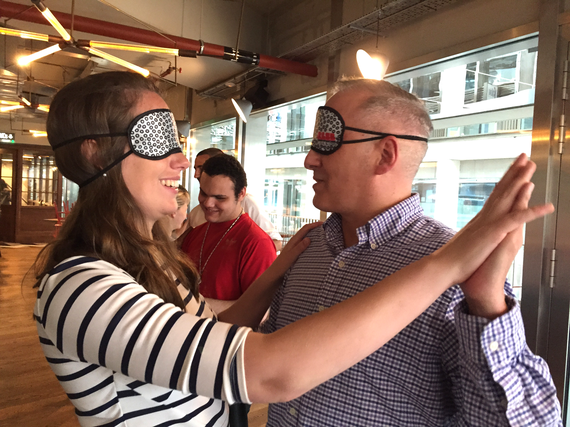 Overall the event was a success and feedback from those who attended, was really positive. However, despite the success for those who attended, sadly many of those who signed up to didn't turn up. It got me wondering why. To me it breaks down into three areas: practicalities of dating, being brave enough to put yourself out there and sighted people's perceptions about blind people. It's clear we have a long way to go, but we aren't stopping yet.
When I lost my sight, one of the first things I worried about was how was I going to get around. Even when you've mastered the cane (or the guide dog), then comes the next hurdle; learning routes and figuring out where you need to be. Going on a date you first have to figure out:
• Do my clothes look good (or even match)?
• Did I spill soup down them last time I was out?
• How am I going to get to the venue?
• How will I know it is the right place?
• How will I find my date when I get there?
• And about a million other questions in between
Smartphones and Google maps have made this somewhat easier, but they don't take you to the granular level of - this is the bar, the toilets are over there. Saying 'excuse me, can you take me to the loo?' is both embarrassing and slightly too forward for a first date.
The worst thing about being blind
The harsh reality is that the worst thing about being blind isn't that you can't see - it is about exclusion and depression. Communicating can become difficult, add this to depression and your confidence and self-belief plummet. We all know that dating is a minefield for anyone; choosing the venue, what to wear, what to say, and all the hidden rules and game play. And then, already struggling with communication, you have to add in 'oh, and I am a bit different to you - I can't see'. Deciding when to tell your date is a balance between whether to give them an excuse to dump you before you've even met or cause an awkward conversation when you can't find them at the chosen venue.
Am I really useless and disabled to you?
When we asked our young people what their biggest dating challenges were, one blind young person said: "People think this person is blind so how can they 'do dating'. Many think we are useless and disabled."
Then we know from our poll with young sighted Londoners that more than half would be nervous.
So what is it that makes people nervous?
Sight loss is not hugely common amongst young people - so many people may not know any blind people. Maybe they worry about accidentally saying something offensive or asking a stupid question. Don't worry we've heard it all before; everything from 'can blind people dream?' to 'do blind people cry?' Then there's the internal debate with yourself about how much help you should offer your date, you don't want to be patronising but at the same time you want them to know you can support them. Maybe approaching the end of the date some of you worry about whether your blind date would make it home safely and how to make sure they get home, without being too forward. And this I'm sure is just the start of many reasons why sighted people might be too nervous to take us blind people on a date.
Here at RLSB (whilst we aren't running a dating service our pilot event was just the start of things to come) we want blind young Londoners to go out and live their life - and part of this is having the self-confidence to find someone to share it with.
On behalf of the young people we work with, I'd like to challenge you to think about how you'd feel on a real blind date. Be honest, would you be nervous, would you think about bailing?
If there is a question you've always wanted to ask (yes we do dream!) or you have a dating experience you'd like to share I'd love to hear your thoughts. Share your experiences via #makeloveblind and #ldnwithoutlimits
To find out more about Love is Blind or 'London without Limits' and to find out how you can take part, visit www.rlsb.org.uk/londonwithoutimits or follow #ldnwithoutlimits on Twitter.
• [1] SMS poll carried out amongst RLSB's beneficiaries
• [2] Poll carried out by Gorkana Surveys between 2nd - 9th July 2015. Sample - 100 18-24 year old Londoners