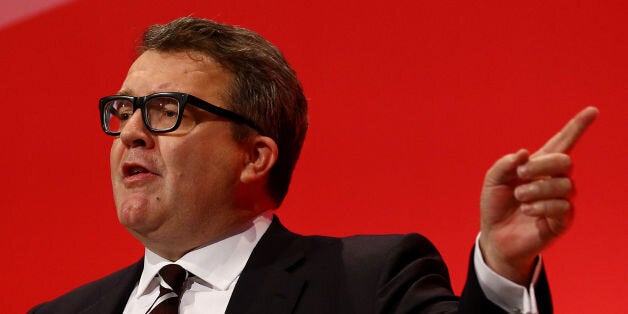 The fourth industrial revolution will transform our world. Driverless cars, delivery droids and robots doctors that can diagnose illnesses are already a reality. But we are only just beginning to understand how new technology will affect the world of work. Old certainties are being destroyed as rapidly as new jobs and new industries are being created.
So if you are worried about the future, you are not alone. New polling carried out exclusively for the Labour Party by YouGov found that 34% of workers think increased automation will decrease their job security, compared to 6% who think it will increase. Only 6% of workers think their wages will increase as a result of increased automation, while 22% think they will decrease.
That's why I announced the creation of a Future of Work Commission at the Labour Party conference this year, which meets for the first time today. It will seek to analyse and understand these emerging trends, and come up with thoughtful, evidence-based policy that addresses the challenges and opportunities they bring.
The pace of change can be dizzying. My first job was as a trainee assistant librarian in the Labour Party's Head Office in South East London. Today librarians are an endangered species in a world of Google searches and Twitter feeds. The sharing economy and online platforms provide mini-jobs for millions. And what we actually do is different. Social media managers, neuro-implant technicians and user experience designers are all 21st Century creations. Then there's the jobs that we just don't do at all - robots are drafting contracts and drafting articles as well as driving cars.
These are welcome advances. Automation could lead to better hospital care - a recently invented robot radiographer, for example, uses deep learning to read an x-ray over 50% more accurately than its most accomplished human counterpart. Mushrooming clusters of tech start-ups are revitalising parts of Aberdeen, Liverpool and Cardiff. Apps like Uber, Task Rabbit and Upwork are providing valuable flexibility for people who choose not to work the formerly standard nine to five.
Technology is changing lives and transforming communities. But, as we've seen with Uber, online job platforms can also mean that workers can end up with none of the traditional workers' rights that Labour has fought so hard over the years to establish. No sick pay, no pension, no protection against unfair dismissal and no ability to organise for better conditions.
The tech industry is creating some high paid, high skilled jobs, but we're not producing enough jobs to replace the ones we lost in traditional industries in the 20th Century - never mind those that will disappear in the future, as automation increases. Much of the new employment we are seeing is low paid, low skilled and temporary. Job satisfaction and job security are falling. Inequality is rising.
We risk creating a winner takes all economy, where the benefits of automation accrue to those who are fortunate enough to own or control the new technologies that make it possible. We need to ensure the wealth they create is shared more equally and that everyone benefits from the explosion of entrepreneurial energy they have unleashed.
The pace of technological change is increasing. Which means some paradigm shift might be accelerating towards us, about to transform our lives in even more dramatic ways. To unexpectedly (mis)quote Donald Rumsfeld, right now, we don't know what we don't know.
But that doesn't mean we can't shape our own future or control our own destinies. The Tories will leave all this to chance because they are ideologically wedded to outdated orthodoxies about the primacy of the market. But that isn't an adequate response to the tidal wave of change that is about to wash over us.
Labour's YouGov poll found that most people welcome the change in technology, but 50% of people feel they haven't been given enough information about the impact of automation on their job by the Government or by their employer (40%). Less than one if five respondents said they had enough information from their employer and just over one in ten said the same was true of Government.
They also don't feel confident the Government will support them to adjust to the new world. As the Select Committee for Science and Technology recently noted, Government leadership in this area has been 'noticeably lacking'.
There are choices to be made here about what we want work to be, how we want it to be rewarded and how we deal with the fact that new technologies tend to increase inequality by concentrating wealth in the hands of the lucky few who own or control them.
The Future of Work Commission will provide us with the information we need to make those choices.My esteemed co-chair Helen Mountfield QC is a lawyer and mediator specialising in the field of public and employment law. Our other commissioners include Naomi Climer (President of the Institute of Engineering and Technology), Prof Michael Sandel (Harvard University) and Prof Michael Osbourne (Dyson Associate Professor in Machine Learning, Oxford University). They bring a tremendous wealth of experience and expertise to bear on the issue.
We'll be facilitating new research. There's just not enough being done in this area. We need to know how many people's jobs might be affected, where, and to what extent.
Nothing's going to be off the table. So we'll be looking at cutting edge theories, talking to political philosophers about the big questions. About whether work has moral value in itself, about what gives us purpose if we don't work, about new ideas like community ownership and universal income.
We'll be working with universities, taking advantage of their resources and personnel. We've already established relationships with the London School of Economics, Oxford University, and Leicester University's Centre for Employment Futures. We'll also be working in partnership with the Centre for Research and Innovation, Royal College of Arts on their 'Place in the World' challenge, a project that aims to seek out and invest in innovative solutions to make work 'smarter, not harder'.
And we want to introduce these academic institutions to those with practical knowledge - to use the commission as a platform to connect these academic institutions to trade unions, business owners, and workers, to talk about how they're being affected and how we find the best way forward. We'll hold a public call for evidence, including a digital consultation, that anyone can respond to.
We hope the Commission will publish its report before the next Labour party conference in 2017 and it will inform Shadow Business Secretary Clive Lewis' Industrial Strategy and Labour's Workplace 2020 initiative.
It is vital the Labour Party does this. We are the party of work. We're the party of working people. These seismic changes go to the heart of who we are and they will shape our economy and our country for decades to come.
Stanford academic Jerry Kaplan has said that automation is 'blind to the colour of your collar' - professionals like architects and lawyers are at much at risk of redundancy by algorithms as factory workers are from production line robots.
Automation will affect us all. It poses profound questions for political parties, employers, schools and universities and for the trade union movement. We saw earlier this month how the GMB supported the Uber workers who want to reassert their collective rights in their fight against exploitation - a neat practical demonstration of what the Left can offer the new service sector workers.
It's essential for Britain's workers that Labour is the dominant voice in this conversation, that we fill the huge gap in research, analysis and policy that there is on this issue. That we lead the agenda, even in opposition. The Labour Party can't afford the Tories to lead the way in this debate. And nor can the working people of Britain.
Tom Watson is the deputy leader of the Labour Party, shadow secretary of state for culture, media and sport, and MP for West Bromwich East