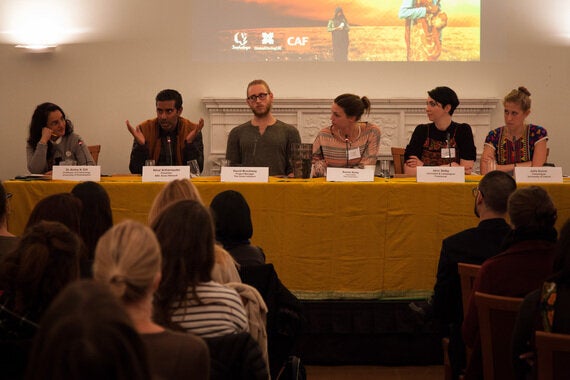 Earlier this month, Snehalaya UK joined forces with British journalist and campaigner Jenn Selby to launch #HerVoice: an initiative which aims to abolish India's rape culture and gender-based violence, by raising awareness and calling upon the Indian government to strengthen existing laws.
Last night, LSE held a debate at Asia House in London, with women's charity representatives, academics and survivors, to discuss the importance of solidarity and change. BBC radio DJ Nihal Arthanayake, criminology expert Aisha Gill, campaigner Julia Zulver and male feminist David Brockway of The Great Initiative, were amongst those in attendance.
"When it comes to ending violence against women -- in India, or anywhere in the world -- we need to be good listeners and good allies," Zulver said. "The voices we really should be listening to, are often the ones that are the most silenced or easiest to ignore."
"Coming together as a group of academics, practitioners, campaigners, and journalists, provided a space in which we could pool our resources and experiences in order to make practical suggestions about how we can be good allies."
Miranda Hudson, CEO of Snehalaya UK, added: "we at Snehalaya see a palpable change in tackling violence against women, both in our local level grassroots work and in Indian society at large. This spark of international support brings us real hope; it could ignite into a flame of change. We urge people in the UK to allow themselves to be moved, to action and support."
Rape culture isn't just an issue in India, but with incredibly high statistics and many victims falling prey to inhumane and illegal knap courts, it's an important place to start, in making waves across the globe. Sadly in most cases, the #HerVoice NGO's are often the only form of emergency service for victims of sexual violence.
"The politicians and institutions of society are corrupt, which leads to the emergence of criminal elements in society," says social activist Anna Hazare, for the Independent. "It is only pressure groups, like #HerVoice, that can fix this."
Leslee Udwin, director of India's Daughter, Labour MP Tulip Siddiq, Anita Dobson and Malala are among the campaign's leading advocates.
Image credit: Bram De Jonghe for #HerVoice