Music is a cornerstone of all of our lives, whether it's a song playing on the radio during the morning drive to work, an intimate gig with 100 people on the top floor of a pub, or a festival in a muddy field at the height of summer. With this in mind, we've selected eight of the most iconic music cities around the world, celebrating the cities that have influenced generations of artists, particularly the places that inspired them. From Bowie's Berlin to Memphis's Sun Studio, here's eight of the most iconic music cities around the world.
1. Manchester, England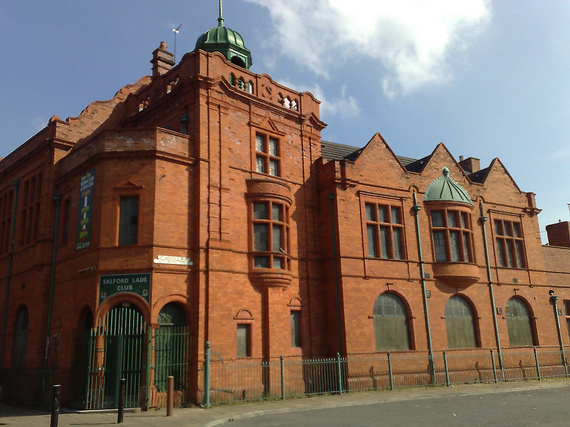 Salford Lads' Club (Source: Mark Hillary, Flickr)
The Sex Pistols' 1976 gig at the Manchester Free Trade Hall (now a Radisson Edwardian Hotel) was named as one of the three most important gigs of all time in a Channel 4 poll. Considered punk's Year Zero in the UK, it was a huge inspiration for the later post-punk and new wave movements of the 1980s. Those rumoured to have been in attendance include Morrissey, members of Joy Division and New Order, and the late Tony Wilson, owner of Factory Records. Wilson founded the influential Haçienda nightclub, forever associated with the "Madchester" rave scene of the late 1980s and early 1990s. The Haçienda closed its doors in 1997 under crippling debts and has since been converted into flats, but many iconic sites related to the city's musical heritage remain, including Salford Lads' Club, immortalised by The Smiths in the sleeve of their album The Queen is Dead. Bespoke music tours of the city are also available with ManchesterMusicTours.com and Manchester Guided Tours.
2. Hamburg, Germany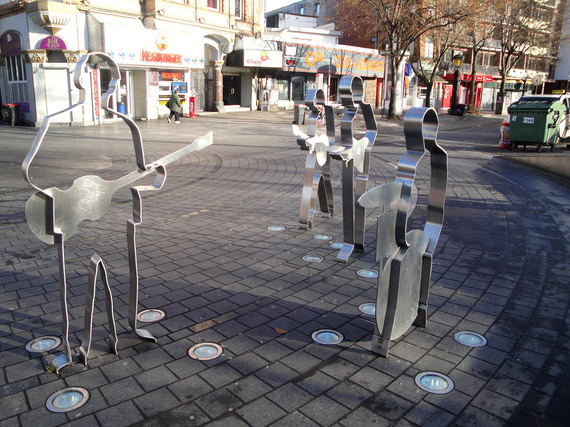 Beatles-Platz (Source: Lukas Koster, Flickr)
Although born and bred in Liverpool, The Beatles spent their formative years in the German harbour city of Hamburg. On his experience in Germany, John Lennon once said "I might have been born in Liverpool - but I grew up in Hamburg." The band regularly performed in clubs in Hamburg's lively Reeperbahn district, including the Star-Club, Kaiserkeller, Top Ten and Indra. The city is proud of its connection to the Fab Four, and even named a square after them (Beatles-Platz), which features a statue of the band. Beatles walking tours are also available. Fifty years on, Hamburg's music scene is still going strong. A short way from the Reeperbahn is the underground Golden Pudel club that plays a variety of music from trashy punk rock to minimal techno. From the stairs, clubbers can enjoy a view over Hamburg port and socialise with fellow revellers. The club was recently the victim of a fire, and met with a swell of support and messages of solidarity from around the world. The owners have pledged to rebuild and restore it to its former greatness.
3. London, England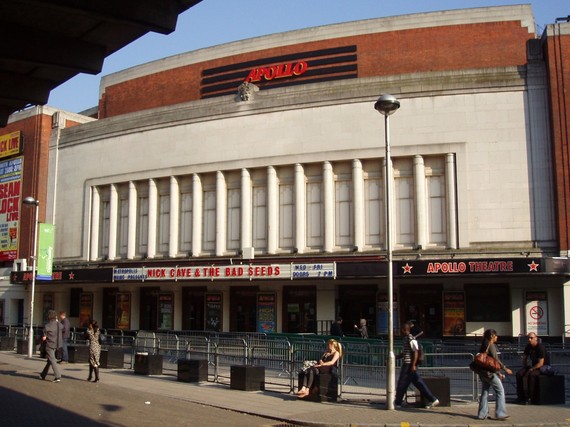 Hammersmith Apollo (Source: Ewan Munro, Flickr)
London's musical heritage runs deep. You probably knew that Abbey Road Studios, where The Beatles recorded many of their hits, is in the capital - but did you know London is home to the original Hard Rock Cafe? This American-style diner was first opened on Old Park Lane in Piccadilly in 1971 and is now a global behemoth, with restaurants, hotels and casinos all over the world. London features a whole host of music venues, including large arenas such as Wembley Arena and the O2 Arena and mid-sized venues such as the Hammersmith Apollo and the Shepherd's Bush Empire. Many iconic artists started out in the capital, including David Bowie, The Rolling Stones, Elton John, Fleetwood Mac and Cat Stevens. Rough Trade record shop opened at 202 Kensington Park Road in 1976, later moving to 130 Talbot Road, and became an independent record label before spawning more shops around London and even one in New York. London was also instrumental in the development of punk music, with the Sex Pistols and The Clash based in the city.
4. New York City, USA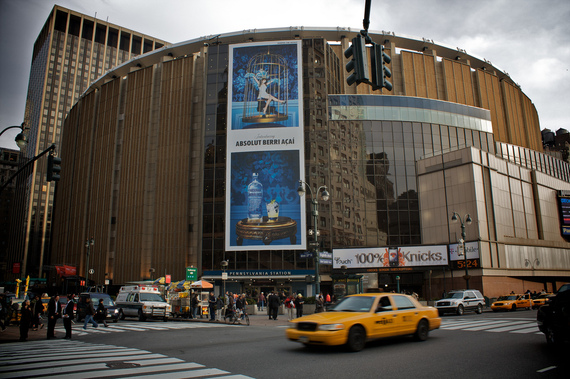 Madison Square Garden (Source: Ryan Vaarsi, Flickr)
Much like London, the music of New York City is diverse, with a range of music scenes and venues establishing themselves since the early 20th century. Greenwich Village was a hotbed of culture and political activism during the 1950s and 1960s with folk musicians like Bob Dylan, as well as Beat poets and Bohemian artists, putting the district on the map. Several walking tours are available to learn more about the architecture, history and culture of the area. A city renowned for its art scene, bands such as The Velvet Underground and Talking Heads, led by enigmatic singers Lou Reed and David Byrne, were early pioneers of art rock. The Velvet Underground were managed by pop art icon Andy Warhol, who also designed some of their most famous cover art. Disco was born in NYC discothéques such as the long since closed Paradise Garage on 84 King Street in the Hudson Square neighbourhood in the early 1970s. Hip hop emerged in the 1980s and evolved in the 1990s, as artists such as Wu-Tang Clan (from Staten Island) and Nas (from Brooklyn) rapped about their inner-city experiences. The recently-reformed LCD Soundsystem are one of the most influential bands in the city's dance-punk scene, and their 2011 farewell concert played to a sold out Madison Square Garden.
5. Berlin, Germany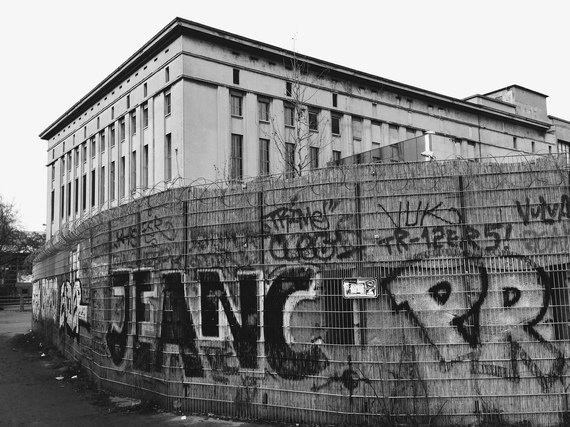 Berghain (Source: James Dennes, Flickr)
Having taken an interest in the burgeoning German music scene led by Kraftwerk, David Bowie moved to West Berlin at the back-end of the 1970s to revitalise his music career. Bowie shared a flat with Iggy Pop on Hauptstraße 155 in Berlin Schöneberg and recorded his "Berlin trilogy" of albums at Hansa Studios, located on Potsdamer Platz. This included his signature song "Heroes", about lovers kissing by the Berlin Wall at the height of the Cold War, capturing the zeitgeist of the era. During this period, Bowie also produced two of Iggy Pop's most highly-acclaimed albums, The Idiot and Lust for Life. The three-hour Bowie Berlin Walk takes in many of Bowie's old haunts. These days, Berlin is renowned for its techno scene, with the 1,500-capacity Berghain nightclub, located in a former power plant, the focal point.
6. Glasgow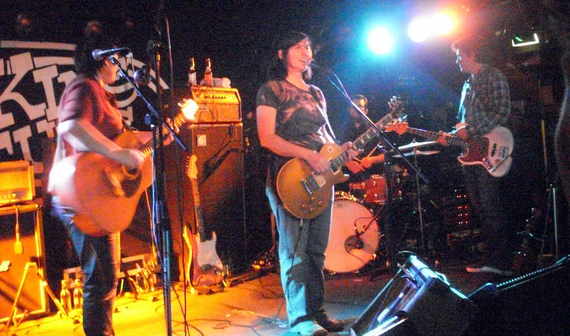 The Breeders at King Tut's Wah Wah Hut (Source: Tom Brogan, Flickr)
Glasgow has many live music venues, pubs and clubs, some of which have a particularly strong connection to modern popular music, including King Tut's Wah Wah Hut, (where Oasis were spotted and signed) and the Queen Margaret Union, who have Kurt Cobain's footprint locked in a safe. A whole host of indie bands have emerged from Scotland's second city over the years, including Belle and Sebastian, Franz Ferdinand, Mogwai and Primal Scream. Each Friday and Saturday, visitors can embark on a lively and informative guided walk exploring the places, the people and the performances which have shaped Glasgow's musical heritage.
7. Dublin, Ireland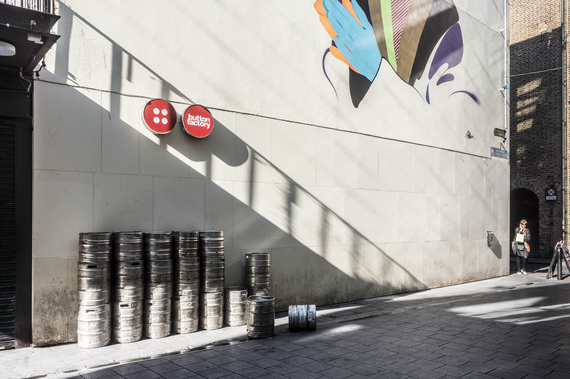 The Button Factory (Source: William Murphy, Flickr)
Dublin's musical heritage is a varied to say the least, with U2, My Bloody Valentine, Boyzone and, er, Jedward all starting out in the Irish capital. There are a range of large arenas and smaller venues throughout the city, from the 14,500-capacity 3Arena to smaller venues like the Button Factory in Temple Bar, Dublin's cultural quarter. As well as sport, Croke Park often plays host to huge outdoor music events headlined by international superstars, and welcomes Beyoncé this summer. In terms of places with a more cosy atmosphere, the Cobblestone across the Liffey river on 77 North King Street is a great place to drink Guinness with the locals and enjoy a range of live traditional country, folk and bluegrass music.
8. Memphis, USA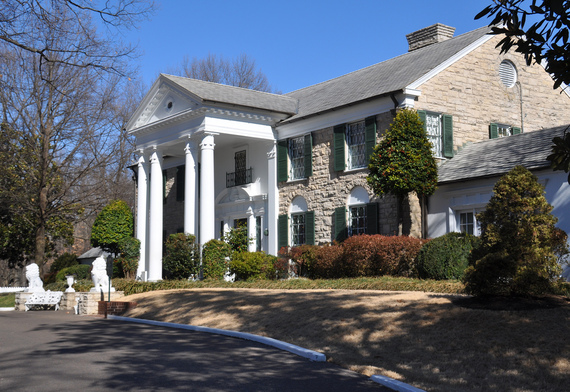 Graceland (Source: Kees Wielemaker, Flickr)
Memphis is the home of founders and pioneers of various American music genres, including Memphis soul, gospel, rock n' roll and country music. Johnny Cash, Aretha Franklin and Jerry Lee Lewis all got their start in Memphis in the 1950s and 1960s, but the most famous of these is undoubtedly Elvis Presley, the best-selling solo artist in the history of recorded music. For over 20 years Elvis lived in Graceland, a mansion on a 13.8-acre estate in the Whitehaven community. Since his death in 1977, Graceland has been preserved as a museum, and each year tens of thousands of fans make the pilgrimage to 3764 Elvis Presley Boulevard and take a guided tour of the house. Elvis recorded at the seminal Sun Studio at 706 Union Avenue, regarded as the birthplace of rock n' roll, which remains in operation to this day and is also open for tours.
For more travel inspiration, please visit our blog at Checkin.