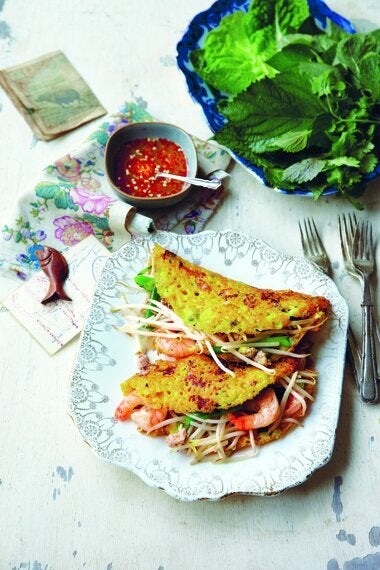 Photography by Clare Winfield, published by Ryland Peters & Small
There is so much talk nowadays about the need for things to be "healthy" gluten free this and sugar free that which lends a great hand to the South East Asian cuisines where the food is "healthy" already without meaning to be, without trying to be, without any sacrifice or disguises.
The Vietnamese, Thai & Cambodians eat a delicious crêpe as a snack (bánh xèo in Vietnamese. It translates as sizzling cakes from the sizzle in the pan). It is mainly enjoyed in the evenings with a few beers and a horde of friends.
The light, crispy and delicate crêpes are usually filled with pork, prawns and beansprouts however clams, scallops and an array of seafood offerings are also favourites. The batter is made from rice flour, coconut milk, coconut water (or regular water), spring onions and turmeric - which gives its yellow eggy colour. It is a canvas in which you can add anything you like to it.
The filling is usually fried off for a minute or so in a very hot but small frying pan. Then a thin layer of batter is poured over and swivelled around to cover all the surfaces of the pan then covered with a lid immediately for all the ingredients to be steamed and cooked. After another minute or so, the lid is then removed so that the batter can become golden and crispy. It is then folded over and served immediately.
To eat the crêpe, you will need an abundance of lettuce leaves, herbs such as mint, perilla, coriander, chives and so on. A slice of crêpe is placed on a lettuce leaf in the palm of your hand, then rolled up with lots of herbs and dipped into a fish sauce-based dipping sauce (There is sugar in my nước chấm recipe but if you have to, you can substitute it with raw honey or maple syrup)
These crêpes are perfect for a dinner party, summer barbecue or Pancake Day. Get a couple of table stoves out and make them at the table. Arrange herbs and raw ingredients on the table for everyone to cook their own.
Although the crêpes are gluten free and you eat them with plenty of salad and herbs, they can still be a little naughty because they are fried in a lot of oil. I've found a way to make them less unruly by using Extra Virgin Vita Coco Coconut Oil. It has many medicinal properties known to be really good for you, helps your body burn more fat as well as being a good cleanser of harmful things in the body. What a bonus to making pancakes taste even better than they already do.
Try these sweet crêpes for breakfast, dessert or snacks
These use coconut water, coconut milk and coconut oil. You can be all gluten-free, diary-free, egg-free, sugar-free and vegan without meaning to be when you are serving these crêpes inspired by the Vietnamese bánh xèo.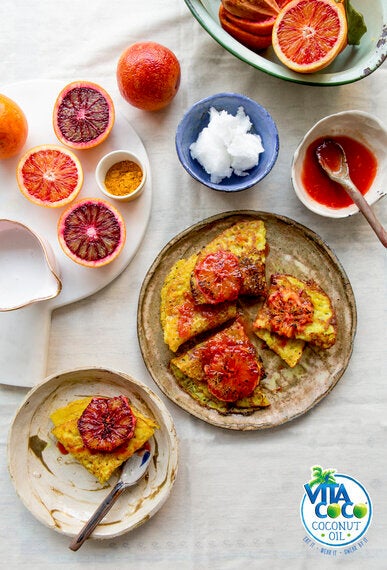 Handmade spoons, plates and bowls by Ana Kana