Photography: Andrew Montgomery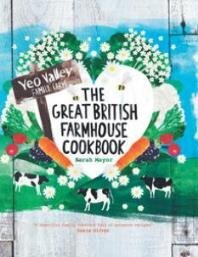 The introduction to The Great British Farmhouse Cookbook is a background to the Yeo Valley Farm, it's not hugely related to recipes but beautifully written and lovely to read. There are also nice notes about the farm and the business at the front of each section as well.
The sections are in some parts too wide and in some too specific, it's hard to know what you're going to get in Pastures, or Farmhouse kitchen. However, the index is fantastic, easy to navigate and as well as the index there is a handy recipe list at the back of the book so that you can see which recipes are in which categories.
There are many simple ideas as well as the recipes that are dotted throughout the cookbook to help liven up or adapt food. The recipes themselves are well written with lots of detail and are organised to make it really easy to cook through. The majority of the meals take a while to prepare and not many of them are fast-food. The dishes often include tips about flavour variations and ways to try new ideas. The font is a little small but still readable and most recipes are fitted onto one page.
Both the photography and design is gorgeous, it suits the country style of cooking without being boring and it all looks appetising. My favourite dishes were the Celery and Stilton Soup, the Rhubarb, Orange and Hazelnut Cake, the Cheddar Farls and the Braised Rabbit with Cider, Mustard and Crème Fraîche. Mayor has managed to create a good balance between meat and vegetable savoury dishes, there are also lots of really lovely sweets included throughout the different sections. As a 'farmhouse' cookbook the ingredients are seasonal but readily available and the foraging section is great to see new ways of approaching food.
This is an inventive and exciting cookbook, although many of the ideas are traditional all of the ingredients are carefully chosen. The feel of The Great British Farmhouse Cookbook is very unhurried and natural, it is a joy to cook from and the recipes are sure to become favourites.
Disclaimer: I received a copy of 'The Great British Farmhouse Cookbook' from Quadrille