Photography: Jonathan Gregson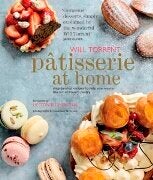 The foreword by Heston Blumenthal and the introduction by Torrent set up the philosophy of the book with "keep it familiar but make it new!"
There is a really sensible progression through the cookbook so that you 'learn' as you go along. A lot of the recipes need a good bit of prep work but there are enough that can be made quickly when you need a sugar hit. Also while many of the ideas are complicated or require practiced skills they are well explained and worth trying out. The ingredients are all easily available and although with baking, buying the best ingredients is always a bit of an investment it's not out of the realms of an everyday shop.
Pâtisserie at Home has made wonderful use of photography to show how to make the more difficult or involved recipes. The styling and images throughout are exquisite. The pictures and ideas can be a little daunting but the recipes are clear and easy to follow. Even complicated recipes are usually on one page so you don't need to flick between the ingredients list and instructions while cooking.
Although many of the basic recipes will be familiar there are lots of unique touches and the book works wonderfully as a whole approach to Pâtisserie with many techniques included. It's great to see both UK and US measurements for the ingredients and there are recipes all the way through for the finishing touches - the candied oranges and nuts for example.
My favourite dishes (although it was a tough choice) were the Strawberry and Pistachio Tartlets; the Apricot and Ginger Florentines; the Cinnamon, Orange and Clove Sables; and the White Chocolate and Almond Truffles.
Pâtisserie at Home has a really wonderful range of recipes - it's a fantastically comprehensive look at pastry for beginners from tarts to crépes. It's very indulgent, there is no skimping and lots of big flavours.
Disclaimer: I received a copy of 'Pâtisserie at Home' from Ryland Peters & Small.