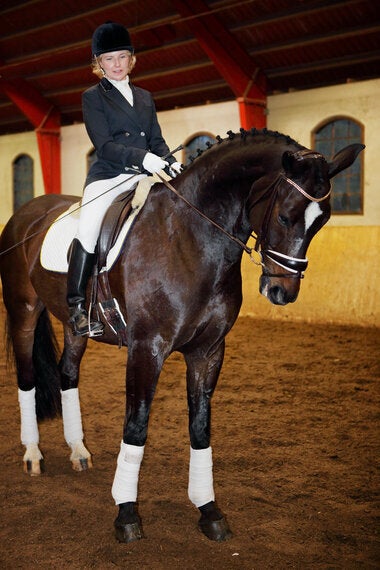 My horse Szekit and I recently had our first competition for the National Summer Dressage Qualifiers, and the fact that the date of the competition was Friday the 13th did set off a few alarm bells in my head. Nevertheless putting superstition aside and with entry fees paid, my final preparations began. Being blind these preparations were a little more complex than for most riders. Not only did I have to make sure that Szekit was good to go, but I had to rally a troop of 9 callers whose job it would be to call the letter markers around the dressage arena, as if momentarily seized by a bout of alphabetic Teretz, in order to help me with my accuracy.
Being new in the area I really didn't know that many people, at least not an entire alphabet's worth , so my 9 were made up of an eclectic group of friends, most of whom were non horsey and most of whom were over the age of 65. I affectionately named them 'the Scoobie Gang', on account of the amount of Scoobie snacks they consumed and only hoped that in their short crash course of calling they would be able to unravel the mystery of my test programme on competition day.
Having people surrounding the edge of the arena sporadically screaming letters at us as we passed was also a new experience for Szekit. This was not dressage as he knew it! It was also strange for him to be asked to ride seemingly straight into someone, which during the course of the routine he had to do, as I aimed and fired him across the arena in extended canter at our target which was a slightly terrified Tanya shouting X that quite literally marked the spot. It was like playing chicken and Tanya would hold her ground until the last moment before leaping out of his way. Being such a gentleman, Szekit, not wanting to plough over her, naturally wanted to swerve, a violent wiggle in our choreography that was certainly not in the programme!
I awoke the morning of the competition at 5am to the sound of a howling gale and pouring rain and my first thoughts were 'whatever happened to yesterdays tranquil blue skies?'. Yes, thank you Friday the 13th, it was quite literally the worst conditions I could have imagined for myself, for Szekit and my poor, soon to be soggy, callers. The wind would put Szekit in a spin, and it would also disorientate me completely as hearing where the callers were would be a challenge. Not only would it be hard to hear them but the wind also had the effect of displacing sound which would leave me quite literally pinning the tail on the donkey as opposed to riding dressage on a horse...
On arrival at the competition ground things were spiced up even more by the close proximity of the M5 motorway which roared a mere 200 metres from the competition arena, leaving my callers not only drowned by the pouring rain but drowned out by the traffic noise! Prior to show time, we decided to have a team chat to make sure everyone was clear about what they needed to do, during which it didn't occur to me to explain to the non horsey members of our troop that the competition started when the bell rang... The bell did ring but sadly half my callers at the far end of the arena, on the motorway side, didn't hear it and actually wouldn't have known what it signalled if they had, my having forgotten to explain to them...
I did hear the bell ring and began the test to silence aside from the roaring juggernauts and force 9 whistling in my ears. Nobody called a letter as they were all still examining their soggy test papers thinking I was still warming up. I spent the first few moments shouting call! speak up, I can't hear you! Tanya , centre stage at X, seeing our impending doom valiantly tried, like a mad conductor, arms waving and test paper flapping, to rally her silent orchestra. Being Swedish, Szekit took the wind and the rain in his graceful stride but being a horse, he was completely put off by the suspicious pot plant between B and M that gave him the collywobbles.
When everyone finally found their voice the arena turned into what sounded like an episode of Sesame Street with letters being spasmodically shouted from various corners by various characters. It was an absolute hoot. All the horses and riders in the warm up arena apparently stopped to watch, their heads peering over the fence like a long line of beautifully groomed sheep, and when we finally came to the end of the test and saluted in front of the judges we recieved a big round of applause and a standing ovation from the lady in the bacon butty van!
Aside from myself, Szekit and my callers being blown away by the gale we were totally blown away by the result. We came second!
Popular in the Community