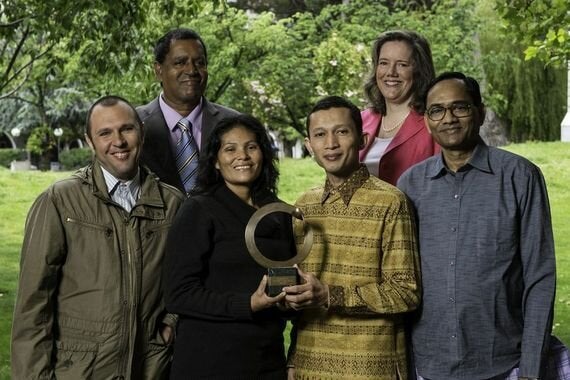 2014 Goldman Environmental Prize winners in San Francisco/Courtesy of Goldman Environmental prize
The Goldman Environmental Prize - known as the green Nobel Prize - announced this year's winners in San Francisco this week. Like in the previous years, the six winners, one from each of the six inhabited continents, are ordinary people fighting for the preservation of our planet. They have been each awarded $175,000, which makes the prize the largest environmental award in the world. But more than anything else, the Prize amplifies the voices of these grassroots environmentalists, offering greater recognition for their work and inspiring other people to follow suit.
This year marks the 25th anniversary of the Prize and I am thinking of all the winners over the years and across continents: all these men and women - 150 of them in total - who campaign against fracking, forest and marine destruction, dam building, toxic and nuclear contamination and the protection of wildlife. They challenge government and multinational corruption, sometimes risking their lives to make a difference.
Some past winners have gone to win Nobel Prizes and other recognitions, like Wangari Maathi; others were killed like Ken Saro-Wiwa. Some have achieved resounding victories while others are still fighting.
I have met and interviewed many of these environmental heroes over the years for various publications in the UK and the US, and have been in awe of their commitment, resourcefulness and personalities.
I am thinking that so many of the issues they have fought over some 10, 20, 25 years ago are still very current today and that the Goldman Environmental Prize is more needed than ever.
Take, for example, Lois Gibbs. She was the first recipient of the Goldman Prize in 1990 (USA) and became a household name when she exposed toxic dumping in her neighbourhood in Niagara Falls, New York. Wondering if her children's unusual health problems and those of her neighbours were connected to exposure to leaking chemical waste, she discovered that her neighbourhood was built on top of 21,000 tons of buried chemical waste - the now infamous Love Canal. Although Gibbs' campaign spearheaded a government-led clean-up, 25 years on, there is a $113 million lawsuit currently pending as new residents in Niagara Falls fear that history is repeating itself.
And toxic waste dumping continues to threaten many communities around the world today. Last week, I spoke with this year's Prize winner for Africa, Desmond D'Sa, who fought against government and multinationals to end toxic dumping in "Cancer Valley" in South Durban - one of South Africa's poorest and most polluted areas. He denounced the environmental injustice of uprooting people to force them to live in heavily polluted areas and letting the industries there do as they wish.
I also remember Willie Corduff from Rossport in Ireland who won the Prize in 2007 (Europe). He campaigned (and was imprisoned for it) against a $60 billion Shell project, which would run a pipeline across his land. He wanted to raise the question on a national scale about economic development versus community consent and environmental concerns. He is still fighting.
Two years later, I interviewed Marc Ona Essangui, an environmentalist who had been jailed for his fight to protect Gabon's rainforest. Ona, who has been an activist since he developed polio as a child, campaigning for disabled rights and the environment, told me: "My fight is the fight of all the people concerned with the survival of the planet. Our forest is home to the most extraordinary biodiversity. To destroy it would mean the ruin of humanity."