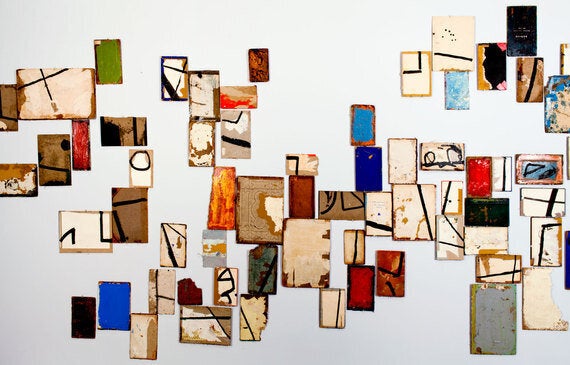 Unearthed (in Memoriam), 2014, repurposed book covers/credit: Emma K Freeman
Over the last three years, Issam Kourbaj, a Syrian artist living in the UK, has been watching from a painful distance the war eviscerating his homeland: its people, its cities and villages, its past and present, and its memory.
He brings the images of death, destruction and displacement reported by the media to his studio in Cambridge. There, in his attic rooms crammed with all matter of reclaimed objects, he tries to digest, respond and translate the war images into subtle forms "with meaning rather than anger.
"My work is a quiet gesture, an archive to remember those who have been forgotten, and an invitation to ponder what the future might bring to what's left of my people and of my country," he says.
The result is Unearthed - a mesmerizing and haunting body of work in multimedia: his response to the Syrian conflict, as well as fragments from his childhood in a small village in the Druze mountains south of Damascus. The exhibition opens at the P21 Gallery in London on 4th July and runs until 16th August.
Kourbaj was born in Syria and studied art, theatre design and architecture in Damascus, St. Petersburg and London. Since 1990, he has lived in Cambridge where he is artist-in-residence at Christ's College and teaches at the university. His work has been widely exhibited and is held in numerous private and public collections, including that of the British Museum.
For this exhibition, he has worked with a wide variety of media, from drawings on paper and photographic and optical work, to large-scale installations made for and assembled in the gallery itself. The exhibition is arranged as a journey, where pieces echo one another and create a multi-layered experience.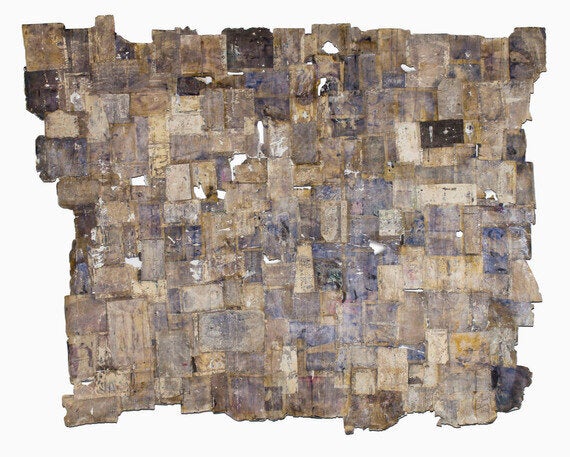 Damascus I, 2013, ink, collage and cut-out paper/credit: Emma K Freeman
For example, the exhibition opens with Damascus I, a piece based on an aerial map of the old city. Assembled from loose pages from reclaimed books, inked and sanded, it looks like an ancient wall or perhaps mummified skin. "It is the entire city - its many layers, its history." At end of the exhibition, we see Damascus II. It has a sculptural feel to it. It is the buckled, distorted version of Damascus I - a fragile, skeletal city - a city being destroyed by war.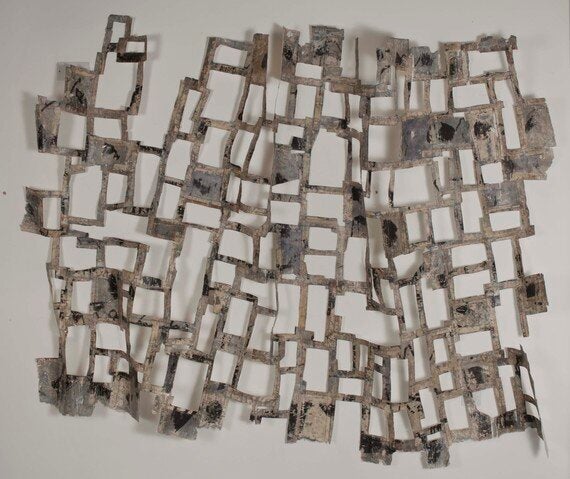 Damascus II, 2013, ink, collage and cut-out paper/credit: Emma K Freeman.
Most of Kourbaj's work is created from "excavated" objects - discarded poster fragments, X-rays plates obtained from a local hospital, sales records from a furniture shop, broken chairs and book covers found in a bookbinder' skip behind his studio.
The 7-meter long Border, the other side of sky is the reverse side of a huge torn piece of billboard collected from a nearby skip. It looks like the rusty wing of an airplane. Scattered underneath, as if falling from the other side, are tiny pieces of colourful paper like little flecks of hope. "They represent all the people who are trying to cross the border, going to the other side of the sky. They don't know where they are going or whether they are going to make it."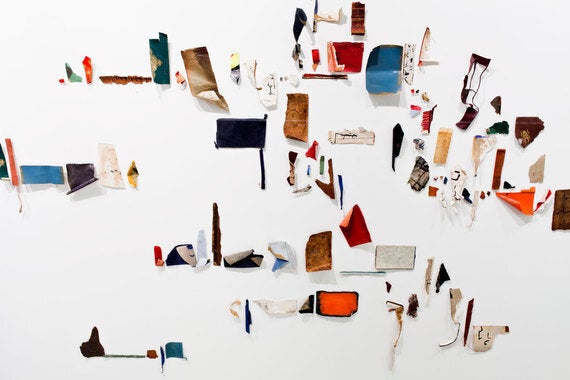 Counting, Alphabetising, 2014, paper, fabric and leather fragments; insect pins/credit: Emma K Freeman
Counting and Alphabetising is a moving, 17-meter-long piece about loss. Small, colourful pieces torn from cardboard, fabric and leather book covers ("but they could be pieces of flesh or clothes") are pinned on the wall like butterflies in an immense entomological display. There are tiny ones arranged in neat rows and larger ones more randomly displayed. "They are a sort of archiving of what remains, of the fragility of life."
Part of the same display, After Image was inspired by his mother. "I taught her to read and write. She was almost making drawings instead of writing. I wanted to connect with her and the struggle to make oneself heard or seen." In order to do this, Kourbaj formed his large letters upside down and with his left hand.

Unhearted (in Memoriam), 2014, repurposed book covers/courtesy of P21
For Unearthed (in Memoriam), the artist covered 18 meters of wall with mounted discarded hardback book covers. Some are painted with bright colours and some are plain, but most have a black line painted across them, reminiscent of the traditional black ribbons used to indicate mourning in many countries. The sheer number of them - "all these lost, redundant books of which only the cover remains" - is a poignant reminder of the growing number of lost lives in Syria.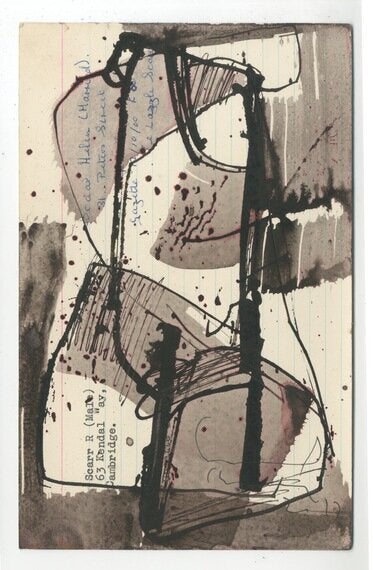 171 weeks and ongoing..., 2011 onwards, ink on paper//credit: Emma K Freeman
One of the exhibition's last works, 171 weeks and ongoing..., is a diary of the war. Kourbaj started making abstract ink marks on cards (old record sales from a furniture store) during the first week of the conflict and keeps adding a new one every week. "They are inspired by the news, but I re-digest them. The images of the war from the media are too much to take. I needed to filter them."
The P21 Gallery is a London-based non-profit organisation promoting contemporary Middle Eastern and Arab art and culture. Proceeds from the exhibition will be donated to Médecins sans Frontières who are working in Syria.
Exhibition dates: 4th July - 16th August, 2014
Readings by Ruth Padel and Hisham Matar: 16th JulyArtist's talk with Venetia Porter: 23rd JulyCurators' talk with Bibiana Macedo and Louisa Macmillan: 30th July
Related