As a record-breaking and ever-increasing number of British students are becoming curious about the possibility of studying in another country, there is growing demand for information about studying abroad.
Three quarters of 16-20-year-old students in the UK would like to know more about their higher education options beyond Britain's borders, according to recent research by The Student Room.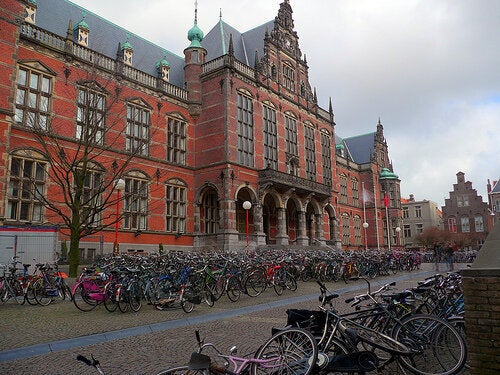 Among the various ways of getting information - Google searches, student forums, foreign university fairs - study abroad talks in colleges are gaining strength.
"The demand for information doubled from 2010 to 2011," says Mark Huntington, founder of A Star Future, which liaises with career advisors and gives talks at schools and colleges across England. Established in 2006, the organisation's presentations provide an overview of international higher education opportunities to British students.
So what is the most popular destination among students? "There has been a big change," says Mr Huntington. "It used to be USA and Australia, but now it's the Netherlands. British students are entitled to loans and maintenance grants from the Dutch government."
This financial support can be used to cover the £1,700 a year average tuition fees at public Dutch universities. A sum of this kind is laughable when compared to the £9,000 a year figure in England.
Another reason for the popularity of Dutch universities, says Mr Huntington, is their gradual climb up the world rankings. They also usually have a good number of courses taught entirely in English.
For example, the University of Groningen, in the north of the Netherlands, offers over 100 English-taught degrees. It is currently ranked 89th in the world, according to The World University Rankings, a noticeable jump from 134th in 2011-12 and 170th in 2010-11.
Deciding to study abroad is not meant to be an easy choice. Mr Huntington describes it as "life changing" in a positive way. His reasons for why British students should consider enrolling on a degree in another country include:
Employability - studying abroad can enhance your employment prospects
"International experience helps you stand out from the crowd," says Mr Huntington, "and people with international awareness are very attractive to employers." He adds that work experience is often integrated in the foreign degree and that more work experience models and options are available abroad than in the UK.
Languages - improving or learning a language while studying overseas can also improve your job prospects
"It's a smart investment of time and effort," says Mr Huntington.
Fun - the most important reason for studying abroad, according to Mr Huntington, but also one that would require hard work
Student lifestyle will be different and British students will have to adapt to the local way of life. "As someone representing a minority group, you will be forced to mix with people from other cultures."
Apart from getting the above benefits, Mr Huntington says it's easier for British students to secure a place at overseas universities, as the entry requirements are lower than in the UK. "Most foreign institutions just want three A Levels, with top Australian universities requiring three Bs."
Final piece of advice from Mr Huntington? "Go for it with your eyes open and don't expect it to be as in the UK."
Around 20 sixth formers attended a recent talk by A Star Future at City and Islington Sixth Form College in London. It's the first session on foreign universities the college's higher education advisors have ever hosted. There is evident hunger from the students for learning more about what is available to them abroad. Some of them are specifically interested in USA, Australia and Asia, others in Spain and even Eastern Europe.
Jade is currently completing A2 further maths, philosophy and psychology at City and Islington College. "I first became interested in studying in other countries when I left secondary school. I wanted to do a language degree, so I thought that maybe I could go to a university in that country or close to that country."
The 17-year-old is keen on exploring full degrees in Japan, South Korea, Canada and Australia, which offer a year abroad in the country of the language she wants to study. Jade says that studying abroad "would enable me to experience a different way of life and it would be incredibly interesting to explore somewhere completely new".
Amanda, 18, is studying English literature, Spanish and Italian A Levels at the same college. The sixth former, who is interested in doing international relations with Spanish in Argentina or Spain, says that going abroad is a way of gaining independence. "I like the idea of starting something new and different," says Amanda. "If I'm studying a language, it would be good to get a first-hand experience and an insight into the culture."
Neither of the two students is completely decided on continuing their education abroad, and so they are currently applying through the UCAS system to UK courses starting next year. However, both say they would take a gap year if they decide to pursue higher education abroad.