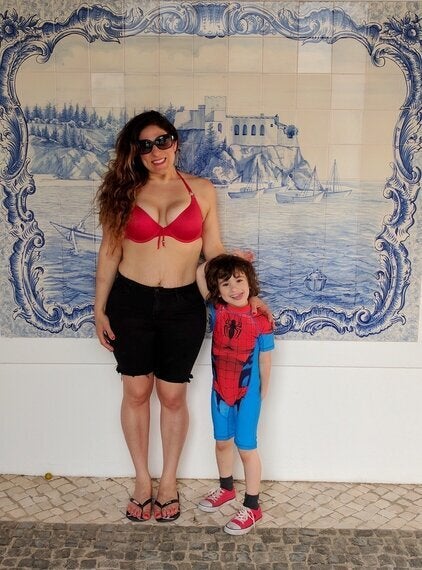 Pregnancy and post-baby pressures on our bodies can feel overwhelming at times.
The pressure from the media as celebrities are often depicted and celebrated for their quick baby-weight loss, pressure from our peers in real life and online, and most often pressure from ourselves - that desire to return to the body we had before babies which is normal but not instant.
It's natural to want normality, particularly at a time when everything feels off-balance thanks to the hormonal rollercoaster and sleep deprivation.
After kids, we often find ourselves in a body, and mind we don't recognise as our own.
Social media can connect and uplift (of course it can) but it can also exacerbate low self-esteem as we endlessly compare ourselves to others - forgetting our own individuality, bodies, DNA, and experiences, which made us who we are, and what we look like today.
Before we know it, we've found ourselves in a cycle of self-loathing. It's such an easy default to have when mood can already feel low after having a baby.
For many, post-pregnant bodies are changed forever, yet this isn't spoken about enough. It's not normalised.
I have a four year old and a one year old and my mumtum will never recover after two c-sections. Do I like it? No. Have I come to accept it? Yes.
I hated my body post-birth truth be told, particularly after my first child, Oliver. It was inevitably damaged from the emergency section, sore and flabby, and it made the trauma I was suffering, worse.
This was ironically the cherry on the cake to a lifetime (OK my tweens) of bad body image. A slim child, adolescence was unkind to me (when is it anything but?) and a yo-yoing weight thanks to PCOS (polycystic ovary syndrome) meant feeling new lows when my body was transformed after my first son was born.
PCOS messes with your mind. My body changes literally week to week, where I can morph from a UK 8-10 to a large 12 depending on the time in my cycle or even what I've eaten. My wardrobe is as confused as my body-image. Yes, those are not big sizes by any means but it's not about size per se, it's about my frame and what suits me.
Pre-holiday I tried to lose weight that had accumulated over the last couple of months of me taking my eye off the ball. I'd eliminated egg, wheat and gluten as well as yeast after intolerance tests showed those to be bad for me and have forced myself to move more. It sounds simple to add more exercise into your life, and whilst I love physically doing it, like many others, the motivation bit can be lacking when life becomes busy.
I've lost weight (dropped a dress size and am mostly back in my size 10 dresses) but I would like to tone up more. I've come to terms with my tiger stripes and never really think about them now. Stretch marks don't stop me wearing a bikini.
That doesn't mean I feel super confident in my swimwear but I still wear a bikini so I wanted to share a snap to hopefully inspire others to do the same.
To not let having babies stop you from feeling free and having fun, ever.
This is the caption that accompanied the photo above:
'So the tummy has stretch marks and it will be a mumtum forever thanks to my little Spider-Man over here, and his older brother Oliver, but to those little guys, I'm a superwoman and that's good enough for me⚡️! A picture I shared two years ago in my bikini (this exact one in fact) went viral (which was a shock) and I still receive emails to this day from women saying they feel more confident about their shape because of it. That they went swimming with their kids when they wouldn't before. That they feel proud of their post-baby bodies and less pressured. Yes to that 🙌🏼. I'm working on my own body image every single day, for myself and most importantly for my kids. It's not always easy, we're our own worst enemy at times and social media can ramp up the pressure to appear perfect (which doesn't exist of course) but we owe it ourselves and the future to feel fierce whatever our size and shape. We've got this people. Please join me if you fancy it when you share shots of your badass selves in your swimwear with the hashtag #proudinmybikini'
This photo comes two years after I shared a picture of me wearing the same bikini, in Jamaica which went viral much to my utter shock and disbelief.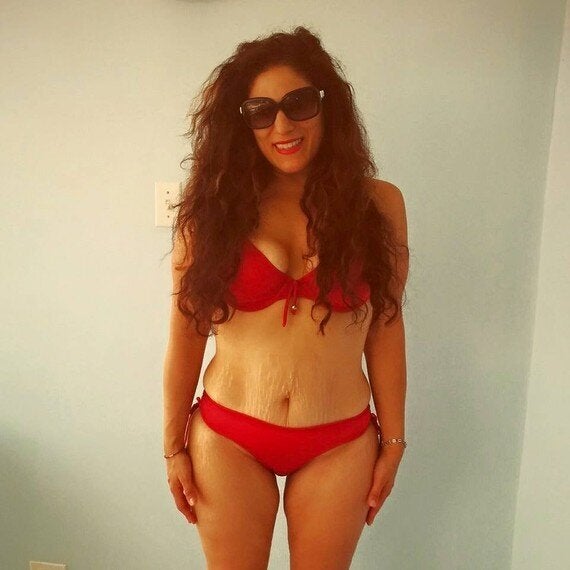 I still get messages from women to this day telling me the positive effect it had on them (a lady even came to a workshop to hear me speak because of that photo). The strength the photo gave others in their own journey to accept their bodies and feel more confident meant so much to me. It made me feel strong in return.
Here's another one we took the other day, too.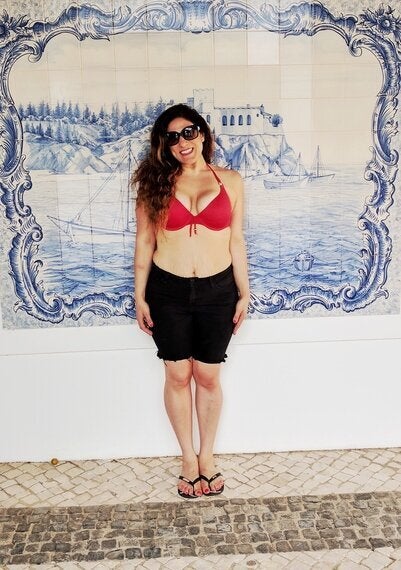 It's hard but vital we keep the conversation going about our bodies, however difficult that might seem because that honesty will enable us to feel less alone, and more badass about ourselves. All shapes and sizes are beautiful and remember that we did good mama, we made babies and are raising children.
Let's be more confident for them as much as for ourselves.
Little people have big eyes and ears and are watching and listening to how we behave and what we say about ourselves as well as others.
To raise confident kids, we need to be strong adults. Don't forget the brain is malleable, the more we tell ourselves we look good and are enough, the quicker we will believe it.
Please do share your pics in swimwear on social media if you like too, along with the hashtag #ProudInMyBikini inspiring other women to do just that and feel good about themselves. I'll share a collage of everyone's pics on the blog at the end of the summer!
All images are my own and free to use.