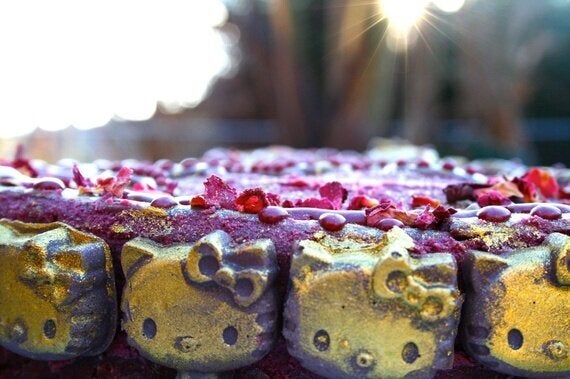 I was explaining to our 8-year old recently how important it is to check the ingredients of food and drinks. I used to have asthma attacks after drinking a certain lemon drink when I was younger so I feel it is important to know what is going to go into our digestive systems and how it is going to affect us.
We looked at the back of a very dubious pack of sweets and saw that the green colour derived from spirulina and pea protein. OK, so the sweets were also full of sugar but I felt that was a step forward in the right direction.
We looked at the label of a delicious red cake. Carmine was one of the ingredients. Otherwise known as boiled beetles!
Have you eaten your insect quota today?
My daughter professed that the cake looked so good and we discussed the process of how the scaly beetles are boiled in ammonia or water and salts added to bring out the red. Carmine (also known as Crimson Red, Cochineal, Natural Red 4 or E120) can also be found in cosmetics, ice-lollies, drinks and yoghurts. In some people, it can also cause severe allergic reactions and anaphylactic shock.
You will never see on the labels of food 'contains insects' however because of course, people will not buy that product! Tricky!
Happily, there is a fabulous alternative to eating beetles and the colour effect is just as amazing.
I use it in all my cakes and sweets when I want to achieve a vibrant red or pink colour. It does not taste all earthy and beet-rooty if used in the right way.
The cakes and treats I make for my family and friends are usually all 'no-bake' and one thing I insist on is using natural ingredients.
For green you can use wheatgrass or barleygrass powder or spirulina/hemp protein/pea protein. These are all widely available now in super stores, independent shops and online.
Would you like to make a bright yellow frosting?
Rather than using the very dodgy Sunset Yellow (which incidentally is banned in Norway, Sweden and Finland!) use the amazing turmeric root instead which can provide you with lovely vibrance and nutrition as well.
If you want a spectacular blue, you can get an amazing natural spirulina blue in Waitrose now and online you can get a powder called Blue Majik.
I make cakes that only contain natural colours. I serve these at parties, events, to superstars and to my own children. No ill effects and they taste amazing!
Would you like to learn how to make these amazing cakes for your children, your family and superstars too?
I am offering my nine-week international online 'no-bake' cake crafting course to everyone who wants to learn for a fiver!
It's time to stop eating beetles... and start eating beetroot!
Beautiful cakes from my cakery with stunning natural colours.