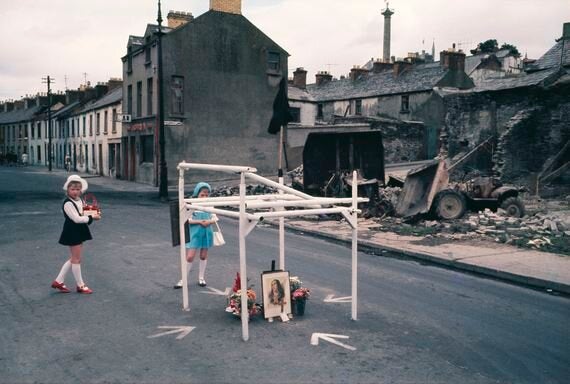 If, like me, you're a fan of street photography and social documentary, you'll love Strange and Familiar at the Barbican Centre, a new photography exhibition that examines the changing face of Britain's landscape, its communities and its rituals over the past century.
Only this show comes with a twist. For it is Britain captured through the lenses of international photographers, rather than domestic talent. How do others see us? What can they see in us, our communities and our conventions, that we cannot see ourselves?
Class remains an ever constant theme in Britain and that didn't pass the photographers by. Tina Barney's works are staged shots of Britain's elite, deliberately reminiscent of the old tradition of the rich and powerful commissioning portraits of themselves to hang on their walls. And contrast these with Raymond Depardon's evocative images of Glasgow in 1980, a city in decline with all the signs of the profound impact of recession, record unemployment and industrial unrest.
On a lighter note, it's perhaps unsurprising that the Swinging Sixties was an era that attracted photographers, with images from Gian Butturini and Frank Habicht reflecting the profound social and political changes that swept through the country.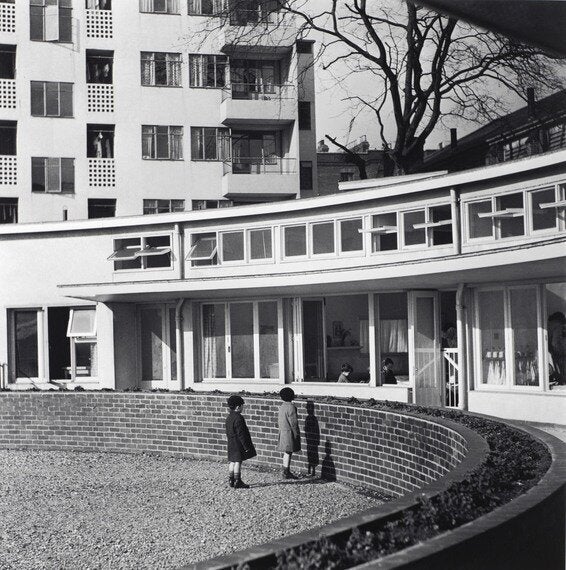 But as well as these expected subject matters, there are some wonderfully surprising works and unexpected gems.
A highlight for me was the collection from Dutch photographer Hans van der Meer who, in the 1990s, photographed the spectacle of lower league amateur football in the Netherlands. He then extended this project across Europe, including Britain. And his photos are absolutely glorious.
They capture a magical connection between British culture and landscape. The passions of a competitive football match where only pride is at stake played out in the beautiful rolling hills and green fields of the British countryside. The makeshift goalposts, the odd row of terraced houses... There is something so quintessentially British about this, yet obviously this was part of a wider international project so, really, how unique is our culture in a globalised world?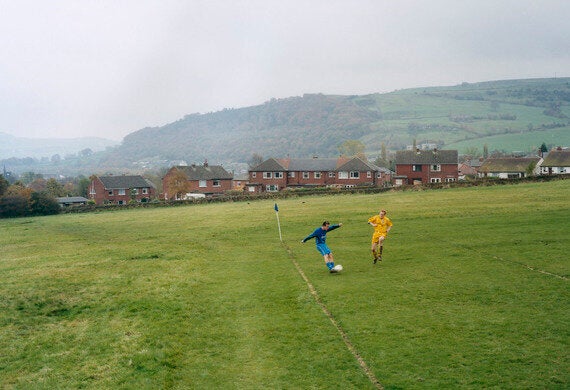 And that tension between unique British identity and global culture comes to the fore in an impressive and vast collection of images of street shoppers, all surreptitiously snapped around The Bullring shopping centre in Birmingham. These photos from Hans Eijkelboom are shown on an ever-looping projection and they reveal so much more than words could ever manage. As these photos of random shoppers pass in front of us, one after the other, you realise they are all wearing the same thing. Endless pictures of people in adidas clothing, endless photos of men in beige jackets, endless photos of women in Missoni-esque prints... Such conformity in the expression of individuality.
Curated by iconic British photographer Martin Parr, the breadth and variety of photography on display is impressive. In addition to the shots of urban and rural settings, there is also some impressive and revealing portraiture.
Bruce Gilden's close ups of everyday people are blown up to such size, and cropped so closely - the frame tight around the face - that every wrinkle, line and spot is so sharp, so imposing, that you almost need to look away, so intense is the intimacy.
I also loved Rineke Dijkstra's The Buzz Club series. Rineke is more well-known for her pictures of young girls in swimsuits, but here she examines the complex conformity and individuality of young women out on the town in 1990s Liverpool. There's a sense of uniform in the obligatory little black dress and blonde hair, yet each has somehow found a way to reflect their own personality in their appearance.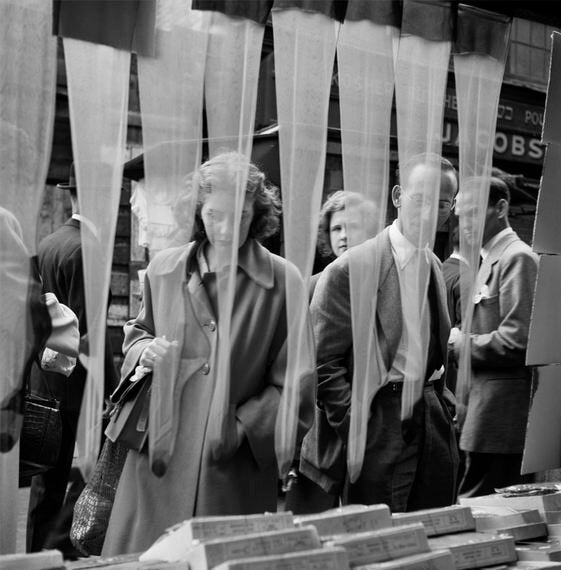 There's an element of nostalgia in parts of this exhibition but don't be fooled - this show does not pull its punches. There are some deeply unsettling reflections of our society included too.
Akihiko Okamura's photos of ordinary lives in war-torn Northern Ireland are pretty sobering, and Axel Hütte's shots from the 1980s of the empty and decaying communal spaces in London's council estates powerfully convey the political change of the period, which led to many of these estates - once seen as dynamic and modern - to instead become synonymous with alienation and exclusion.
But above all, this exhibition is a reminder of how fleeting, how temporary, all these facets of our existence are. Trends come and go, our landscape is constantly changing. Is there something enduring that is quintessentially British? Take the opportunity to visit the show and consider that question for yourselves.
Barbican Centre, London to June 19, 2016
Admission: £12 (concessions available)
1.Akihiko Okamura Northern Ireland, 1970s © Akihiko Okamura / Courtesy of the Estate of Akihiko Okamura, Hakodate, Japan
2.Edith Tudor-Hart. Kensal House, London ca. 1938 © Edith Tudor-Hart / National Galleries of Scotland
3.Hans van der Meer Mytholmroyd, England , 2004 © Hans van der Meer / Courtesy of the Artist
4.Cas Oorthuys London, 1953 © Cas Oorthuys / Nederlands Fotomuseum