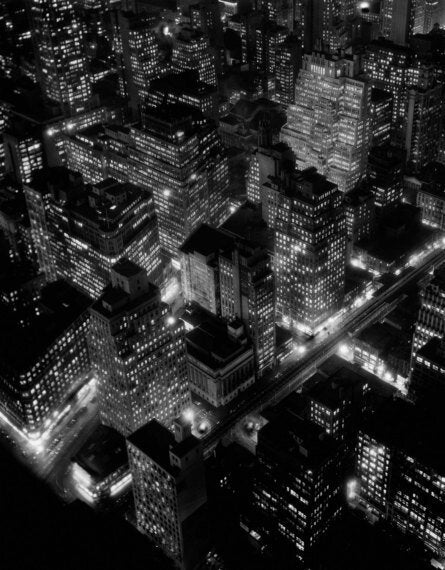 Constructing Worlds at the Barbican Centre is a surprisingly emotive photography exhibition that charts the impact of architecture on the global landscape over the past 100 years.
From Depression-era America to 21st Century China, this vast display of photographs shows how our architecture reflects our values and how our landscape has been transformed by economic boom and bust, all of which has been evocatively captured in this vast exhibition that examines the work of 18 photographers.
The instantly recognisable are included such as the towering skyscrapers of New York City lining the City's long narrow streets, the quaint terraced houses on one of London's residential streets and the chaotic urban streets of Naples.
But there are also those who pull our urban architecture almost out of context, analysing its geometric patterns, or isolating peculiar structures such as cooling towers, across the world to compare and contrast similarities and regional variations.
It's interesting how the 18 photographers on show have taken different approaches to their work, often building on and developing the work of those who have gone before.
The exhibition, which is hung in chronological order, starts with the pre-war work of Berenice Abbott and Walker Evans, two influential photographers who were determined to capture the impact of 1930s boom and bust in the American economy in the transformation of New York, with its glorious new skyscrapers swallowing out the communities that inhabited Manhattan at the time, and in the impact of the New Deal initiative on a rural America devastated by the Depression.
Their documentary-style approaches were hugely influential on all that followed but post-war, there was a push from photographers to explore the possibilities that new approaches and new technologies could bring to photography, and the challenges of capturing the landscape we see around us every day in a manner that challenges us and causes us to think.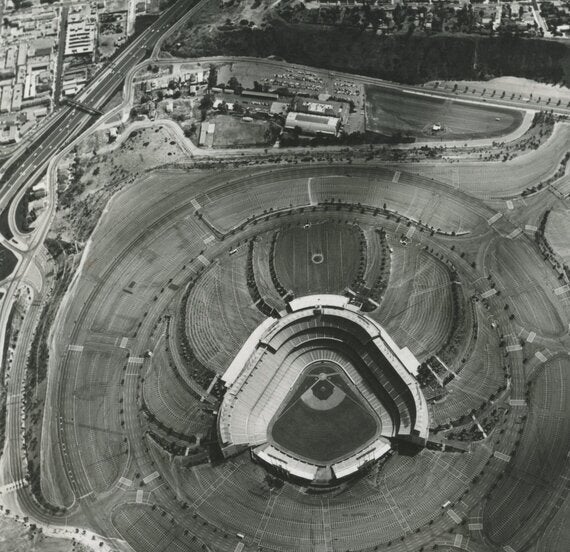 I particularly liked Ed Ruscha's photos of Los Angeles. There are many ways to photograph LA and many others focus on its crass superficiality or distinctively cool homes with pools, patios and large glass walls.
Yet early one Sunday morning, Ruscha hired a helicopter and took photos of deserted parking lots from the sky. The amount of land tarmacked over and scarred with the constant short sharp lines demarcating parking bays is quite sobering. Yet there's also a bizarre poetry in some if them, such as the drive-in cinema whose parking lot fans outwards. As the song says, "they paved paradise to put up a parking lot."
But the photography on show is not limited to the Western World.
Guy Tillim's photos of urban Sub-Saharan Africa - the Congo, Mozambique - emotionally reflect the death of the African dream. The urgency and passion of African nationalism personified by Patrice Lumumba can be seen in the splendid architecture of hotels and hospitals built in the heady days of the post-colonial era.
But much like the dream of African democracy, these buildings have been abandoned to their decay. Their foundations and walls split and their floors overgrown with weeds.

Yet whilst these photos are infused with tragedy and lost opportunity, Iwan Baan's photos taken in Caracas of the abandoned Torre David complex that was taken over by squatters challenge our preconceptions of squatting as living in squalid conditions.
The 3000 residents of the complex created a project of works to make their homes habitable and there's such a sense of community spirit and positivity in their makeshift churches, shops and homes.
In all these photographs though, there is a real sense of a brief moment of time, as if none of these photos could ever be taken again. Our urban landscape is constantly changing. We're forever layering over the past and redefining our skylines.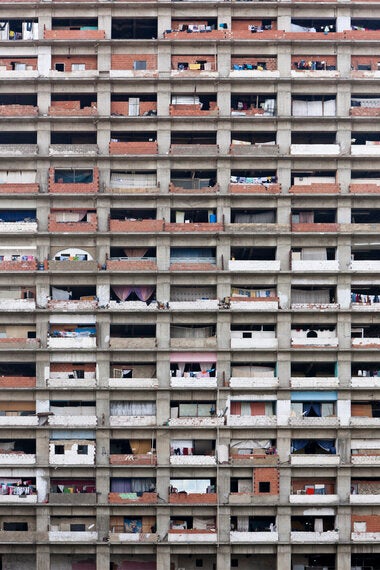 Nadav Kander's photography of the banks of the Yangtze River perfectly reflects this. The speed of China's transformation over the past 20 years has been dramatic and the scale of the impact on the Yangtze in particular has been profound with such extraordinary changes as the building of the Three Gorges damn.
Kander's photography captures this revolution. The huge concrete bridges in mid-construction dwarf traditional activities such as bathing and fishing in the river beneath them and the sense of scale in his photos is awesome.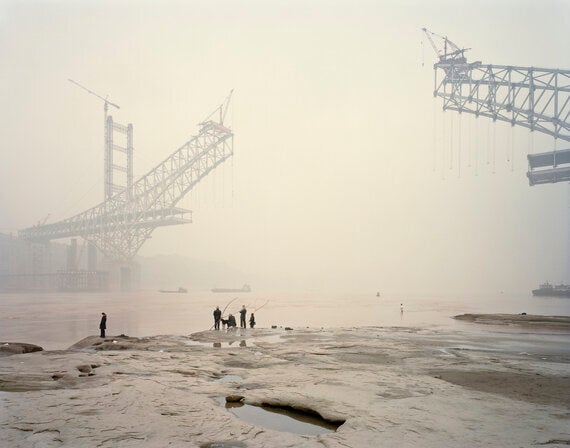 Nor is it just the effects of economics on our landscape that photographers have sought to explore but also the effects of war.
Simon Norfolk has been capturing the relationship between architecture and landscape from Afghanistan to Bosnia, from Iraq to Yemen. His photos are sad not just for the obvious immediate destruction but also the sense of lost civilisations erased or covered over by new occupying powers. They reflect the impermanence of civilisation and the rights of victors to dictate the landscape as they see fit.
As you can probably tell, I found this display quite profound. It's a little depressing how we have been overwhelmed, overtaken by this seemingly unstoppable push for urbanisation and our need for economic progress to be demonstrated in our architecture. There's a real sense of narcissism in man's desire to impose himself over the beauty of natural landscapes.
A remarkable and thought-provoking exhibition.
Barbican Centre, London to January 11, 2015
1. Berenice Abbott Night View, New York City, 1932 © Berenice Abbott, Courtesy of Ron Kurtz and Howard Greenberg Gallery, New York.
2. Ed Ruscha Dodgers Stadium, 1000 Elysian Park Ave., 1967/1999 © Ed Ruscha. Courtesy of the artist and Gagosian Gallery
3. Guy Tillim Grande Hotel, Beira, Mozambique, 2008 © Guy Tillim. Courtesy of Stevenson, Cape Town and Johannesburg (Diptych)
4. Iwan Baan Torre David #1, 2011 Image courtesy of the artist and Perry Rubenstein Gallery, Los Angeles
5. Nadav Kander Chongqing XI, Chongqing Municipality, 2007 © Nadav Kander, courtesy Flowers Gallery