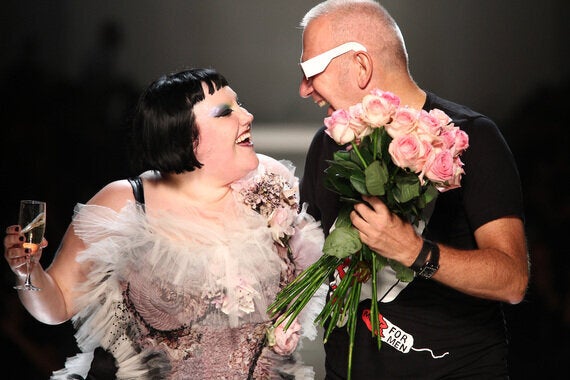 Image credits: Rock'N'Romantic collection Women's prêt-à-porter spring/summer 2011 Model: Beth Ditto, lead singer of the band Gossip © Patrice Stable / Jean Paul Gaultier
The Fashion World of Jean Paul Gaultier is the first comprehensive exhibition of the work of this celebrated enfant terrible of fashion. And it is a vast, extraordinary exhibition full of iconic celebrity pieces and sexually provocative fashion.
Jean Paul Gaultier is arguably one of the most important fashion designers of recent decades and the full scope of his work is on display in this show at the Barbican Centre, a show so encompassing it covers two floors.
Always considering himself a rebel, Gaultier constantly looks to shake up societal and aesthetic conventions. And always a non-conformist, Gaultier deliberately cultivates models across all genders, race, ages and body shapes, as well as looking to street style to influence his couture line.
As Gaultier says in a quote in the exhibition, "As a child, my attention was always drawn to these women who didn't look like everyone else." Certainly so much of his work encourages individuality and freedom of expression.
As you walk into the first few rooms of this exhibition, that variety and freedom is everywhere - from pleated leather skirts to a Breton-striped lace dress, from an exquisitely jewelled hinged corset, to Chinese-embroidered thigh-high boots. There really is something, some piece that you will be drawn to.
The recent Isabella Blow exhibition at Somerset House set the standard for fashion exhibitions with its multi-media approach and that is adopted here. The army of dressed mannequins is supplemented by fashion photography from the likes of Mondino and Stéphane Sednaoui. And video reels of Gaultier's colourful fashion shows run on loop.
Gaultier's much-coveted and much-adored stage and screen designs are also brought to life with footage of his muses wearing his designs including Kylie, Beyoncé and Milla Jovovich from The Fifth Element.
And where the dress mannequins in the Isabella Blow exhibition were all customised with Blow's signature red lips, here they are facially animated with film of real faces projected onto them. It's innovative, for sure, but it can be a little freaky!
Whereas mannequins usually have blank faces, these ones are fully animated with moving eyes that follow you around the room like some living, breathing Mona Lisa. Indeed even Gaultier himself gives a monologue from one of the mannequins with his face projected onto a plastic model wearing his familiar Breton-striped jumper and punk-rock kilt.
But the main draw is, of course, Gaultier's collaborations with celebrities - and most notably, Madonna.
Yes, that corset is here - and in touching distance (though that's as close as you're allowed!). I don't think either Madonna or Gaultier have had a more notable moment than the gold conical bra corset he designed for her Blond Ambition tour - the image defines them both - so it is great that this iconic piece has been made available to the exhibition. Well done curators!
Up close, you realise this gold corset is a very simple but perfectly designed piece. Structured at the front to give that highly-stylised look, it is also fully flexible to allow for Madonna' energetic choreography. And nor was this their only collaboration.
As the dozen or so sketches alongside testify, the two have worked closely ever since. A more recent corset from the singer's MDNA tour is there as well as a very famous pinstripe wiggle dress that the singer wore on his catwalk - complete with fully exposed breasts.
Madonna and Gaultier has been a mutually beneficial and long-lasting relationship. You sense they are like-minded individuals - both eager to pioneer and provoke. As the Madonna quote in the exhibition testifies: "Gaultier is different because he likes taking risks - sexually provocative but light-hearted." Just like the lady herself.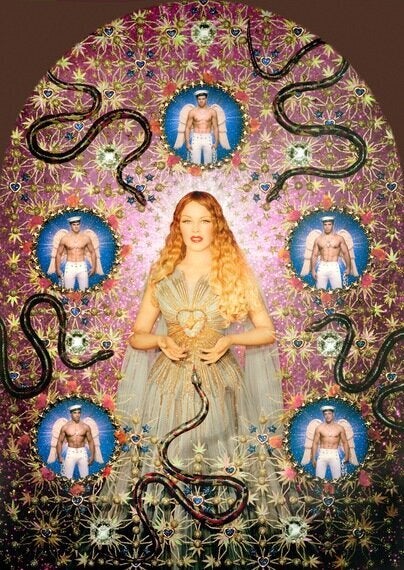 Image credits: The Virgin with the Serpents (Kylie Minogue), 2008 Virgins (or Madonnas) collection, "Auréole" gown. Haute couture spring/summer 2007 Sky blue pleated tulle gown with "rays of light" gold lame appliqués, long panels floating from the shoulders in the back Painted photograph, framed by the artists 181 x 137 cm (framed) Gallerie Jérome de Noimont, Paris © Pierre et Giles. Courtesy Gallery Jérome de Noimont, Paris
There is more to Gaultier though than his showmanship. His couture work reflects not just his craftsmanship but his incorporation of many fabrics and cultures - the jewelled wedding dress worn with a huge, elaborate white feathered Native American headdress, or the intricately beaded Islamic veil shown with a thick Sherpa-style coat.
His work with Chantilly lace, a nightmare fabric to handle as it's so easy to tear and mark, is a real highlight of the exhibition. Paired with bondage leather jackets, black feathers and masks, these dark romantic, very sexual looks are showcased in mini-bordellos on the upper floor, complete with red lighting.
In addition to this craftsmanship, I am also a fan of the way Gaultier has challenged politics with his clothes.
Corsets have been seen as both vehicles of symbolic and literal repression of women, with their tight-lacing confining and constricting women. Of course to Gaultier, these corsets are symbols of female sexual power but I thought an interesting variation was the corset he designed for expectant mothers. Historically corsets were used to suppress the baby bump - here, it is emphasised in exaggerated glory.
The prêt-à-porter pieces though were, for me, not as successful. Pieces such as the long jewelled sheath dress complete with large Eiffel Tower design, and the trouser suit with heavy pleating from the thigh downwards were not Gaultier at his finest. It's as if you can feel the guy is hemmed in, frustrated by the lack of freedom.
Only in the couture and the stage work is Gautier's creativity given full reign and that's really where the strength of this work and this exhibition lie.
As former mentor and employer Pierre Cardin says, "You are a true designer when people recognise your work without even looking at the label. This is the case for Jean Paul Gaultier." And in his high-end box-office draw pieces, that's where you look and say - Gaultier!