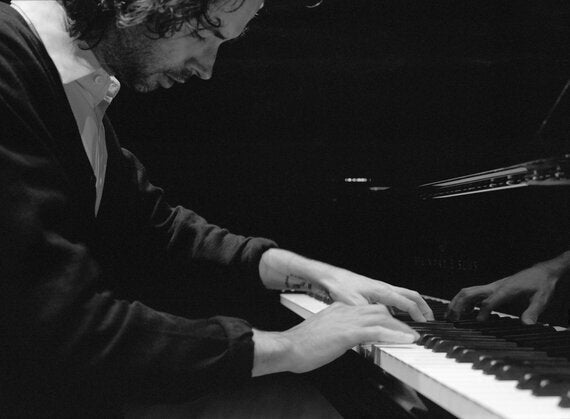 Photo: James Rhodes © Kate Baker
It's not often that I get excited about a classical music concert. Too often they're staid and aloof. But it's all so different when James Rhodes is playing and this week sees him kicking off a packed schedule with a string of shows at Soho Theatre.
For those of you who don't know who James is, he's a classical music pianist working hard to challenge the conventions in his industry, hence this gig being at Soho Theatre rather than the Royal Festival Hall. And hence James bashfully sauntering on to the stage in his jeans and cardigan rather than white tie and tailcoat.
The challenge to conventions is not superficial either. James' setlists have always taken the style of a mixtape, a collection of works that James feels, together, reflect a theme, luring audiences in with tasters and samples rather than overwhelming them for hours with a single symphony.
And James' USP, his chatty informal introductions for each piece and composer, is as much a part of the show as the music. After the first piece, Chopin's Nocturne in C Minor, James got up, bashfully hung his head, then with a twinkle in his eyes announced that his setlist for this year was when love goes wrong "or the venereal years, as I like to call them."
Sadly, as James wryly highlighted, too many great composers spent most of their lives in profound poverty and often suffering from syphilis and gonorrhoea, afflictions that not only shortened their lives but left some of them with a restricted ability to play.
Certainly the pieces were more reflective, more serious that the James Rhodes' mixtape of love that was his bright sparky setlist of last year. But as well as a change in tone, the pieces brought out James' profound work ethic.
The guy is talented and charming, for sure, but he is no gimmick. The set-list of Chopins , Schuberts and Blumenfelds was technically incredibly challenging and shows how hard James works at his craft.
Schubert's Piano Sonata in A Major had moments of dramatic intensity and then bursts of real frivolity and joy. James brought out the whole range, almost cacophony, of emotions in the piece beautifully.
The highlight for me was Blumenfeld's étude pour la main gauche. A technically difficult piece as it is, being that it is a piece to be played solely with the left hand across the full range of the piano. But James hand danced across the whole range of piano keys, really bringing to life the ripples of melody rising up into a triumphant and heartfelt finish.
James, no doubt, would be portrayed as the bad boy of classical music by his more austere peers, the l'enfant terrible, if he weren't so unassuming and self-effacing. And if he weren't just so damn funny. As he explained to the audience just how widespread STDs were amongst his heroes of classical music, he took the opportunity to point out there's a clinic nearby, for those in need. "I think it if you turn left out of the theatre, it's on the second road to your right. Beak Street... A friend told me."
James' growing success, for me, isn't reflected in his swelling numbers of followers on Twitter or his celebrity friends but in the demographic of his audience. In the year since I last saw him, James' career has really sky-rocketed with programs on Channel 4 and a book in the works so when I heard the shows had sold out, I had half-feared the audience would be made up almost entirely of fangirls hoping to catch a glimpse of James' most adored famous friend.
It was just so heart-warming, almost exciting, to see such an enthusiastic , varied crowd packed in to the basement cabaret theatre to listen to a classical music pianist. Young-old, male-female. Even a few OAPs. Just people you'd never see in traditional classical music venues which have degenerated into the sole preserve of the wealthy and the white.
Classical music is facing real challenges in attracting new audiences, getting a broader demographic excited and moved by what it has to offer - and it has so much to offer. It's just so sad (though understandable) that people are turned off by its intimidating, expensive, exclusionist outlook. Classical music isn't scary or obscure. It can move you as much as The Verve and can make you smile as much as Kylie (probably not in that way).
Not only does James have the right attitude in breaking down barriers to classical music but he also has the talent. Really, an hour listening to him play is exhilarating, emotional and entertaining. You won't regret it.