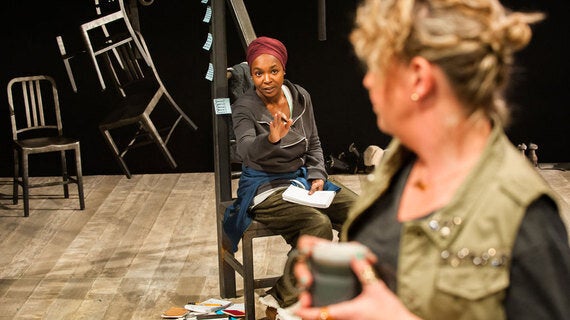 nut is a mesmerising production that brings to life the difficult subject of mental illness in a unique fashion, combining sensitivity and compassion with humour in a very sharply written play.
Elayne (Nadine Marshall) is a complicated woman. She wants to be alone but she desperately needs friends. Only the friends she has Aimee (Sophie Stanton) and Devon (Gershwyn Eustache Jnr), are as cruel as they are kind. She doesn't leave her house and spends her time writing her eulogy and planning her funeral.
Her sister (Sharlene Whyte) isn't much help either - too busy both keeping a distance and absorbed with her own problems with her ex-husband (Anthony Welsh).
You'd think that from that intro that nut is a dry, overwrought piece but you'd be wrong. Yes this is a play about mental illness - hence the play's title - but nut is a witty, well-structured play that is completely absorbing.
Written by Debbie Tucker Green, the subject matter is handled quite brilliantly. It would be so easy for this play to be ridden with clichés or to tread over familiar ground but Green's approach is dynamic yet sympathetic. Nor has the writing fallen into the trap of being heavy and dry. The piece is fast, funny and powers though its 75 minute running time.
The characters Green has created are complicated and full of contradictions. In that way they are perfectly realised. At times harsh and snappy, at other times warm and supporting.
Yet there is also real sensitivity and depth. Elayne, a brittle and fragile woman, and her complex battles are brought to life in a challenging way. Marshall does a superb job in the lead role, bringing real depth and warmth to a woman who spends her life pushing people away.
The whole cast is excellent. Green's dialogue is challenging - stylised and often overlapping - but the actors seem to have taken to it with ease. Each character was multi-dimensional and existed with purpose.
The play is being shown in The Shed, the National Theatre's temporary space that won the 2013 Empty Space award. Green, who also directs, makes great use of the black box studio.
She is supported with a terrific set design from Lisa Marie Hall. Tubes and girders balanced precariously, suspended from the ceiling, are a perfect manifestation of the inner turmoil of the characters.
A brave, daring production that succeeds in captivating its audience.
Related