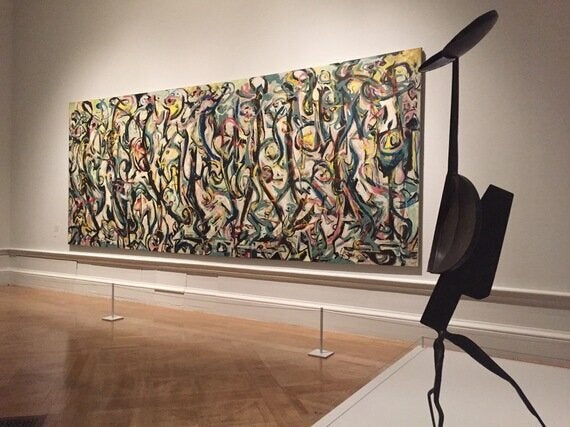 Where to begin when you don't know where to begin... Simply put, the Abstract Expressionism show at the Royal Academy of Arts is extraordinary, utterly extraordinary. Wandering around these large galleries - the beautiful high-ceilinged walls smothered, crammed to capacity, with these vast revolutionary canvases - I felt both lost for words and completely overwhelmed.
If this show achieves nothing else, hopefully it will finally lay to rest any lingering notion that this movement, genre (however you want to frame these post-war pioneers) was a collective of one-note artists with an incoherent view of the world. No longer let the caricature of the manic drip-drip artist absentmindedly flinging paint across canvases define abstract expressionism. Instead now let's credit it with the complexity and depth that it deserves.
This is a heady, intoxicating show that not only platforms some of the most exciting works from the biggest names in this field, including Willem de Kooning, Mark Rothko, Jackson Pollock and Franz Kline, but it also demonstrates the breadth of the movement in a show that is curated to perfection.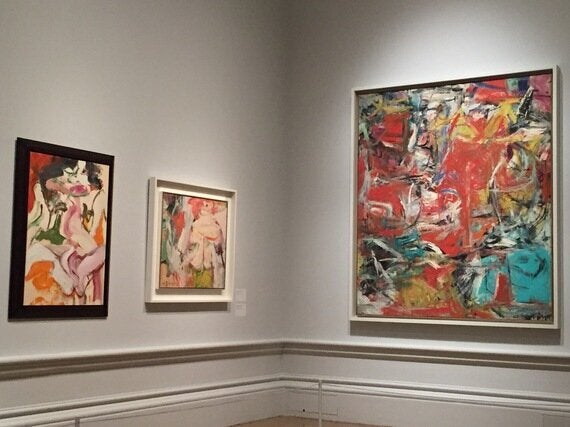 Much of the works are hung in dedicated single-artist galleries, and this concentration is a sublime decision. Unlike Impressionism, for example, there is not that strong a personal connection between many of the artists. But, moreover, it allows us to immerse ourselves fully into each artist's world, as well as to explore the nuance and variety within each artist's back-catalogue.
For example, alongside Willem de Kooning's abstract blurs of red, whites and blues, there are also many from his series of paintings on women - their fleshy tones and figures becoming less sensual and more explicit as time passes. And for all the drama in Ad Reinhardt's blackest of black canvases, there's also the uplifting joy of his chequerboard of yellows and pinks in his untitled watercolour.
The Jackson Pollock galleries are glorious - his almost anarchic paintings are spot-lit beautifully - but a real highlight for me (in a show of highlights and 'wow' moments) is the work from Clyfford Still.
Riots of oranges and reds clash in paintings that tower up to the ceiling. In another, a deathly pallor of white and pale pink is ripped through with splashes of blood red. There is something both terrifying and terrific in his paintings. And yet there is also representation - an intriguing knot of nudes hangs as a testament to this phase of his work.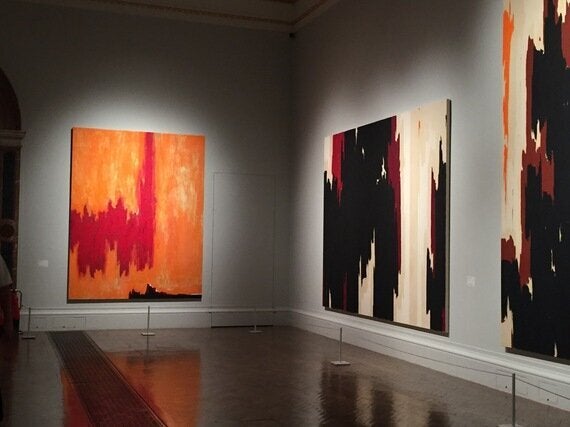 There is such energy, such drama whichever way you look in this show. It is heady and exhilarating. Yet for all the violent strokes and bold brushwork in Franz Kline's monochrome canvases, and the mania in Pollock's paintings, there are also works of immense beauty.
The Central Hall has been set aside for Mark Rothko. These distinctive, instantly recognisable towering canvases comprised of blocks of colour - blacks and yellows, salmon pinks and lime greens - stand shrouded in faint light. Just as Rothko has always instructed his art to be displayed. There's an air of solemnity, of reflection, yet his works remain as elusive and as enigmatic as ever.
Then there's the bright yellows and greens of de Kooning's luminous Villa Borghese, 1960, as well as Joan Mitchell's Salut Tom, 1979. Euphoric and uplifting. Even the show itself ends with beauty in William Baziotes's aquatic blur of blues and greens.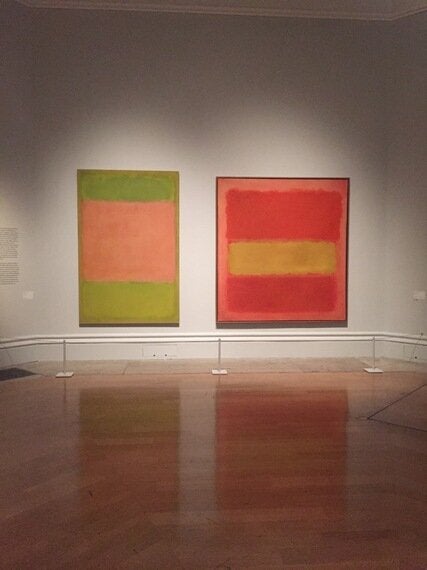 Such a gamut of emotions, such a sense of exploration of the human condition in these works. From calm to rage, from passion to hatred. From love to fear. From bold arrogance to immense insecurity.
The curatorial team at the RA has done an extraordinary job in collecting together a vast number of artworks - over 150 paintings, sculptures and photographs - most lent from galleries in the US. And though the biggest names associated with abstract expressionism are men, room has been made for women too. And the inclusion of neither Joan Mitchell nor Helen Frankenthaler is tokenistic. Their works effortlessly matching the male creatives stride for stride.
Yet I feel that no matter what I write, I cannot possibly capture the excitement, the dynamism of this show. This is art to be witnessed and absorbed for yourself. The last time I felt this excited about a show at the RA was probably Sensation back in the Nineties. That was a show on contemporary art; this show is comprised of works painted fifty, sixty years old. That abstract expressionism can impact you still, like this, after all this time, is testament to its power as a movement of lasting importance.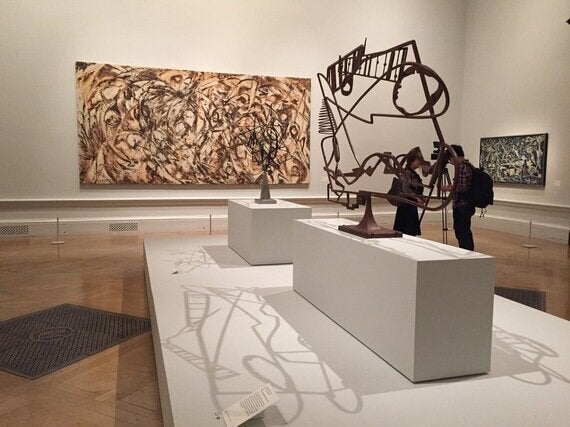 It's been almost six decades since the last show on abstract expressionism in the UK. Therefore for many reasons, I can't imagine we will ever see a show this good on this subject again in our lifetime.
Royal Academy of Arts, London, to January 2, 2017
Admission £17 (concessions available)
All installation photos by me.